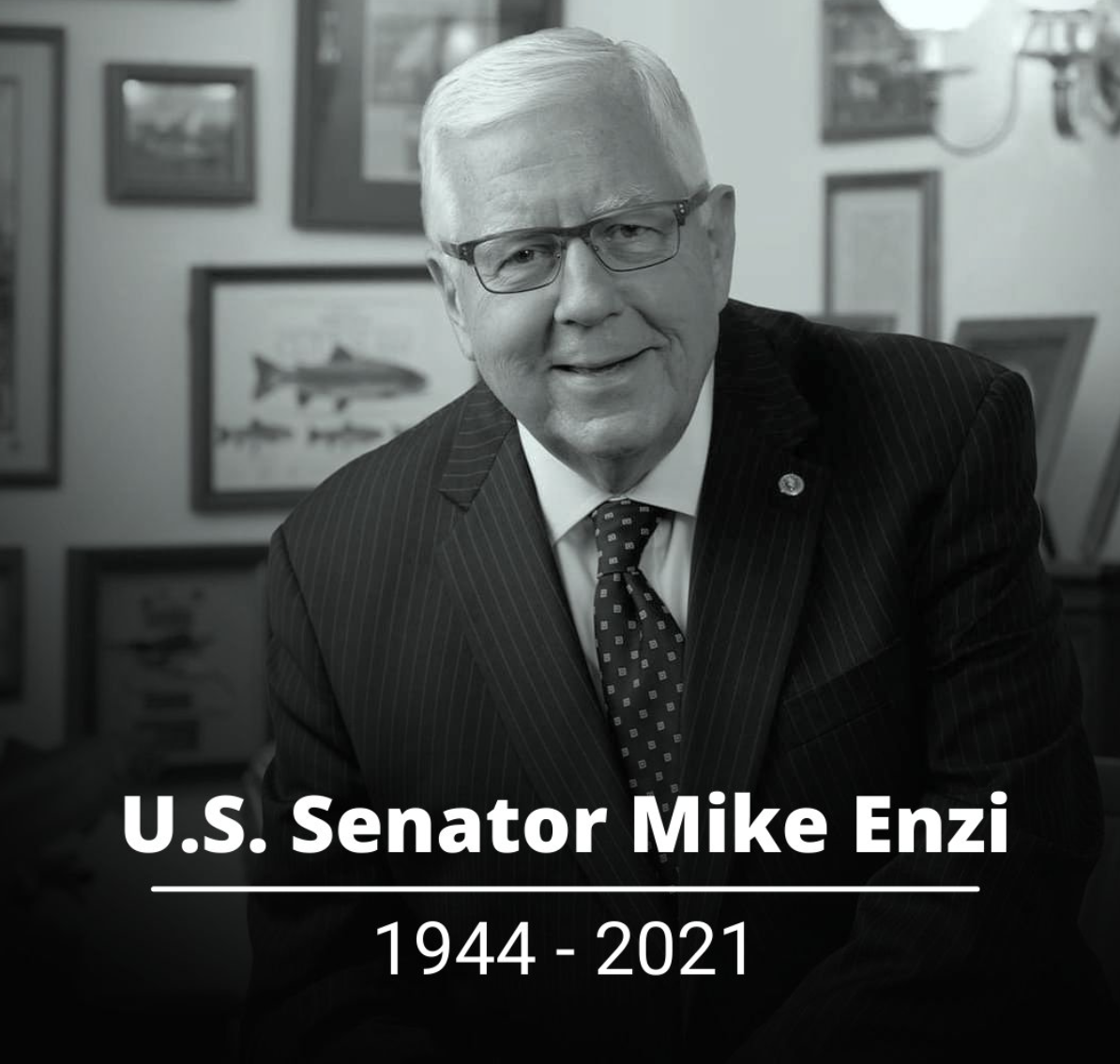 ***Update***
The family of Former U.S. Sen. Mike Enzi announced his passing at approximately 11:15 p.m. Monday night, July 27.  The announcement came via the Senator's Twitter account.
"His family expresses their deep appreciation for all of the prayers, support and concern. They now ask for privacy and continued prayers during this difficult time.  The family is planning to hold a celebration of a life well-lived, with details to be shared later."
————————–
By The Gillette News Record
Via- Wyoming News Exchange
GILLETTE — Former U.S. Sen. Mike Enzi remains hospitalized after a serious bicycle accident in Gillette on Friday night left him unconscious and with broken bones.
Enzi, 77, was riding his bike shortly before 8:30 p.m. near his home in Gillette when the accident happened, said Gillette attorney and family friend John Daly.
Someone found Enzi and called 911, Daly said. He was taken to the hospital and stabilized before being flown to Loveland, Colorado, via air ambulance, according to a Facebook post by his three children.
At 8:18 p.m. Friday, the Gillette Police Department received an Apple Watch distress call that someone had taken a hard fall on Morningside Drive and was not responding. Before officers arrived, someone called in to report a man laying in the roadway beside a bike, said Police Lt. Brent Wasson.
The Gillette Police Department does not release names involved in medical incidents, but Wasson said that officers found a 77-year-old man unresponsive at the scene and he was taken to the hospital.
There was no indication that anyone else was near or involved in the accident, he said.
Daly said Enzi had a broken neck and broken ribs from the accident. Gillette resident and longtime Enzi family friend Nello Williams said Monday morning that Enzi remains unconscious.
According to a statement from the family, Enzi is at the UCHealth Medical Center of the Rockies in Loveland. The extent of his injuries and the details of the biking accident are unknown at this time, and medical staff continues to evaluate his condition.
Enzi, a former mayor of Gillette and state legislator, served as a U.S. senator for Wyoming for 24 years, retiring at the beginning of 2021.

Let us know what you think!
Tagged:
U.S. Sen. Mike Enzi