By Davis Potter, Casper Star-Tribune
Via Wyoming News Exchange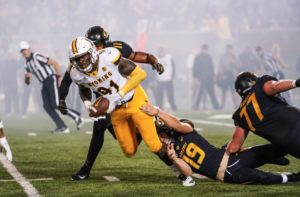 LARAMIE — A judge sentenced former Wyoming football player Carl Granderson to six months in jail Thursday morning in Albany County District Court, rejecting the terms of his plea agreement. 
During proceedings that turned emotional at times with both of Granderson's victims reading statements, Granderson pleaded no contest to one count of sexual battery and one count of unlawful contact after informing the court of his intent to change his not guilty plea in documents filed on his behalf earlier this week by his attorney, Megan Overmann Goetz. 
Both Goetz and prosecutors agreed to the terms of a plea deal, which included one year of unsupervised probation and a mental evaluation to be completed within 60 days in exchange for the new pleas. Granderson, who signed a free-agent contract with the New Orleans Saints in April, was originally charged with third-degree sexual assault in addition to one count of sexual battery after two female UW students accused the 6-foot-5, 250-pound defensive lineman of unwanted sexual contact while sleeping at his off-campus apartment on the night of Nov. 25 and into Nov. 26. But the felony assault charge was replaced with misdemeanor unlawful contact as part of amended information filed in the case Wednesday. 

"This has been a well put-together, thought-out plea agreement," prosecuting attorney Becky Farley said as she asked district court judge Tori Kricken to accept the terms of the deal. 
But Kricken rejected them and ordered Granderson to begin immediately serving six months in the Albany County Detention Center on the count of unlawful contact. Kricken also gave Granderson a one-year jail sentence on the sexual battery charge, but that will be suspended with one year of supervised probation once he has completed his six months of incarceration. 
After briefly consulting with Goetz once the proceedings ended, Granderson was taken into custody and led out of the courtroom. 
Goetz declined to comment on the sentencing. Granderson declined to make a statement when offered a chance by Kricken. The New Orleans Saints have not responded to a request for comment. 
During rookie minicamp in May, Saints coach Sean Payton said the team researched Granderson's situation before signing him. 
"We felt real comfortable with everything we knew, and so far he's done a good job here," Payton said, according to the Times-Picayune. 
Before Kricken handed down her sentence, Granderson's victims, who were identified as A.A. and D.H. in court filings and chose to only identify themselves by their initials in court, were given the opportunity to make statements. 
Both said they were under the impression that Granderson was going to plead guilty to the new charges and that they wouldn't have agreed to the deal if they'd known he was going to enter any other plea. 
They also spoke directly to Granderson, who was stoic throughout the proceedings while seated next to Goetz. Wearing an all-black suit, Granderson dropped his head for long periods of time as his accusers spoke of the mental and physical toll they said the abuse has taken on their lives. 
A.A., a UW student-athlete, said she was hospitalized this spring for depression and suicidal thoughts after being "harassed and bullied" by members of UW's football team and fellow student-athlete Ja'la Henderson, Granderson's girlfriend. 
"He's 100 percent guilty," said A.A., who paused numerous times throughout her statement to wipe away tears. "I literally almost lost my life because of him. I want him to face every consequence he can get. 
"You, Carl, know exactly what we went through, and you can now hear my voice." 
A.A. also criticized UW's administration for the way she felt it handled the allegations against Granderson. She claimed one coach's wife told her she should transfer because she was going to become the target of slut-shaming. 
"Carl, you traumatized me, and everything I went through is because of you," she said. 
D.H. claimed she was told to "suck it up" and that "we'd just be slut-shamed." 
She said she also had to be hospitalized for panic attacks after the incident. 
"I was terrified to go anywhere I may see you," D.H. said as she addressed Granderson. "Because of you, I'm no longer who I once was." 
In a statement released Thursday afternoon, UW acting President Neil Theobald said the school supports the victims in this case. 
"And I want to state unequivocally that UW does not tolerate bullying and harassment of students who report sexual misconduct," Theobald said. "Everyone at the University of Wyoming recognizes the importance of sexual assault prevention and enforcement. We are dedicating significant additional resources, including four new staff positions in our NO MORE campaign, to prevent and respond to sexual assaults. One of those new positions will be housed in the Department of Athletics." 
Henderson followed A.A. and D.H. with a brief statement of her own. Fighting back tears, Henderson said while she and Granderson have had an on-again, off-again relationship, Granderson has never been inappropriate with her and had never before been accused of this type of behavior. 
A senior who just finished her track career at UW, Henderson questioned A.A.'s bullying claims, saying the two had been friends and that she has had A.A. over to her residence before. 
She also questioned the timing of the criminal charges, which were originally filed in February — two months before April's NFL Draft. 
"It doesn't make sense to me at all," Henderson said. "It seems like it was planned with malicious intent." 
Kricken addressed Granderson one last time before issuing the sentence, telling him that "making bad choices doesn't make you a bad person." 
But Kricken added that Granderson had shown little remorse for his actions and that punishment should be doled out that's severe enough to deter him from repeating them in the future. 
"You betrayed the trust placed in you by two victims," Kricken said. 
Granderson, who did not participate in UW's Pro Day in March, reportedly signed with the Saints for $85,000 after going undrafted. The Saints are scheduled to begin training camp July 26 in Metairie, Louisiana.
Let us know what you think!
Tagged:
Carl Granderson
Casper Star-Tribune
New Orleans Saints