Formula Shortage in Star Valley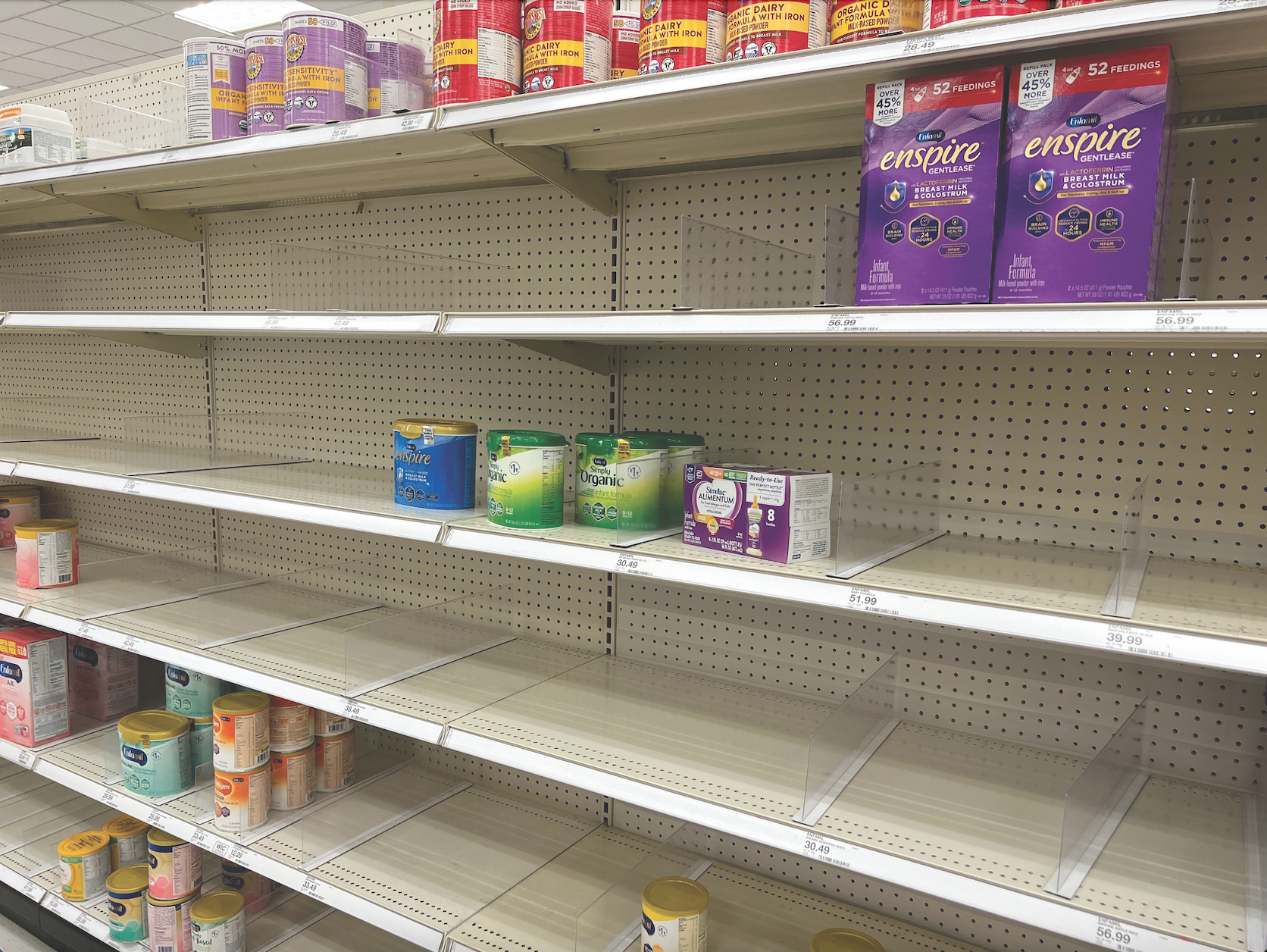 ◆ The national formula shortage has taken its toll on Star Valley, but parents have come together to feed their infants.
By Brianna Call
SVI Media
Not being able to feed a child is one of the greatest fears a parent can have. And because of the current formula shortage, many parents have had to face this fear. The formula shortage was sparked after Abbott, the largest formula producer in the United States, recalled its formula on February 17 and 28 after four infants who drank formula produced from their Michigan plant came down with a bacterial infection. Two of the infants died. Abbott claims that through its own investigation, there was no correlation between their formula and the infant illnesses and deaths. However, the FDA closed the plant after finding several health and safety violations.
Abbott's Michigan plant produced 20 percent of the nation's formula, and because the formula industry is dominated by only a few manufacturers, this shutdown created a devastating effect that has had parents scrambling to find ways to feed their infants. Nationwide, the out-of-stock rate for formula was as high as 43 percent.
On May 21, Robert Ford, chairman and chief executive of Abbott, released a statement in the Washington Post apologizing for the formula shortage: "We're sorry to every family we've let down since our voluntary recall exacerbated our nation's baby formula shortage. . . . I will not mince words — this is tragic and heartbreaking, and it is consuming my thoughts and those of my colleagues."
He stated that the company will be establishing a $5 million fund to support families whose infants have been hospitalized because of the shortage. He also stated, "You can feel safe buying any Abbott product you find on the store shelves. What is available has passed rigorous inspections and is ready for your babies." Abbott plans to open their Michigan facility the first week of June and are "making significant investments to ensure this never happens again."
On May 22, 70,000 pounds of formula were imported from Germany and sent to Indiana. According to the Guardian, this shipment should cover roughly 15% of the formula shortage and should make half a million bottles. More overseas shipments of formula are expected.
Currently, in Afton, Broulim's assistant manager Cody Crittenden states that "our shelves are currently almost empty. We do have a couple things of formula here and there, but compared to where it was, we are probably under half of what we normally have." Crittenden has been putting in three orders of formula a week, months in advance. He adds, "[Corporate is] working on trying to find formula through other manufacturers. They're trying to figure out what they can do to get some here. And unfortunately, nothing seems to be coming through." Crittenden says that he does not know when to expect formula shelves to be stocked at their regular rate.
Many parents in Star Valley have been feeding their infants what is available, which means switching between different brands of formula at an unregulated pace. Autumn Nalley, a mother from Star Valley Ranch, states: "We've had to resort to switching up formula. It's been really hard for our son. He's extremely fussy because he's constipated with the switch up. I'm always checking stores and online and rarely find what he prefers. It's really relieving seeing other moms offer brands they aren't using anymore. It's been a lifesaver on one occasion!"
Luckily, parents in our communities have come together to help feed each other's infants. Kylee Bird, a mother from Thayne, started the Facebook page Moms in Need specifically to help parents in the valley find the formula they need for their babies. On this page and other social media platforms, parents post looking for specific brands of formula that their infants can tolerate. Others are posting formula they no longer need for other parents to buy or trade.
Kim Deti, a public information officer from the Wyoming Department of Health, stated, "We do not have a state stockpile of infant formula. If people can't find formula and begin to examine alternative options for their babies, we encourage them to be cautious and to be mindful of safety recommendations from reputable groups, such as the American Academy of Pediatrics or from the doctor they already see for their child's care."
She also mentioned that the Women, Infants and Children (WIC) program has expanded its formula brands and sizing so that families with lower incomes have a wider range of formula they can purchase.
We do not know when the formula shortage will end, but as a community, we hope to continue to work together to ensure parents can find the formula they need and can feed their infants.
Let us know what you think!
Tagged:
Abbott
baby formula shortage
Broulims
Cody Crittenden
fda
Robert Ford