Friday Night Prep Recap: Braves Cross-Country claims 3A West
3A West Regional Cross-Country
The Braves put five runners in the top-10 in Lander to claim the 3A West team title. Peter Visser won the individual race by more than 20 seconds, breaking his own course record with a time of 16:31.94. Jessie Loveland, Conner Etzelmiller and Taylor Horsley were fifth, sixth and seventh respectively. Dillon Foley was tenth.
(Photo by Kelly Romine Kleeman)
As a team the Braves finished with a team score of 29. Lander was second with a score of 44. Mountain View rounded out the podium with a score of 87.

Mountain View's Katie Giorgis won the girls race by just one second over Lyman's Elena Jensen. In the team race the Lander Tigers took the top spot with a team score of 43, edging the Lady Braves who were second with a score of 50. Mountain View was third with an 88.
Jacie Angell and Emily Strasburg finished fourth and sixth respectively with Eve Mavy and Shaelee Angell just missing out on All-Conference honors by finishing in 11th and 12th respectively. Brooke Kallgren rounded out the varsity five with a 17th place finish.

The Wyoming State Cross-Country Championships will be in Afton at Star Valley View Golf Course next week on Saturday, October 26.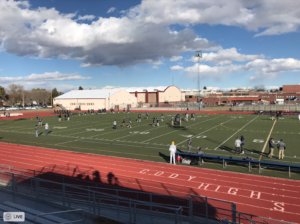 Star Valley 20 Cody 7
In a hard-hitting game that had points at a premium, the Star Valley Braves got a first half touchdown on a 21-yard strike from Brant Nelson to Chase Merrell to stake their claim to a lead that they never gave up. James Erickson took an interception back 61 yards for a score and Nelson plunged in the dagger late in the fourth quarter as the program won their 17th straight game and claimed the 3A West crown in a 20-7 win in Cody. It was also the 12th straight win for a Star Valley team on the Cody field, dating back to 1991. The Braves wrap up the regular season at home next weekend against winless Evanston.
Douglas 26 Lander Valley 31 – The Tigers ended a 12-game losing streak to the Bearcats (Per @WyoVarsity)
Riverton 17 Rawlins 6 – (Per @Wyoming-Football)
Mountain View 58 Kemmerer 7 – (Per @RobMilesSVI)
Jackson 62 Evanston 13 – (Per @JHNGsports)
Lovell 39 Pinedale 14 – (Per @Wyoming-Football)
Worland 28 Torrington 7 – (Per @Wyoming-Football)
Let us know what you think!