Geodome coming to Star Valley as a community partnership project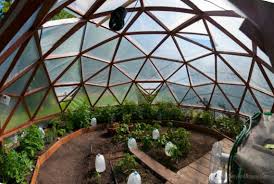 Today and tomorrow a geodome will be installed near the UW Cooperative Extension Office in Afton. The project is a partnership effort to bring a community garden and horticulture educational opportunity to the area.
"Our Uinta County co-worker Beth Barker and I talked with Jeff Edwards at a University of Wyoming Extension conference last fall," said Shelley Balls, RDN, LDN, of the UW Cooperative Extension Service. "Jeff Edwards was presenting his grant work with hoop houses and geodomes across the State of Wyoming."
"[We] were interested and wanted to be more involved in our communities with this project," Balls continued. "We were interested in getting a community garden in our counties to prolong our growing season and enable other community members the opportunity to utilize it."
The questions of where to locate the geodome and how it would benefit the local community were discussed.
"Shar Perry, Extension Coordinator, and I talked with Lincoln County Commissioner Robert King about this geodome opportunity for Lincoln County and he was very excited about it," Balls said. "Commissioner King has experience with hoop houses and gardening and was very interested in being a part of the project. It was decided that the geodome would be used for educational purposes at this time."
According to Balls, as an educational facility, the geodome will benefit a number of local programs and groups.
"Shar Perry is the 4-H Educator and is interested in using this geodome for 4-H youth projects," Balls said. "Hudson Hill, our Horticulture specialist, is planning to use the facility as a teaching resource."
"The Cent$ible Nutrition Program participants will be able to use the community garden if they are interested," Balls continued. "Sierra Mitchell, Afton Food Pantry President, was contacted and is interested in using it to grow fresh produce for their patrons, in relation to their Healthy Food Pantry Project."
"Don McAdams, Afton Food Pantry board member, and teacher at Swift Creek High School, may also be involving the students in the geodome gardening opportunity," she said.
The geodome will be located just south of the Lincoln County Extension Office/Afton Civic Center parking lot.
"North Lincoln County Maintenance Supervisor, Shane Robinson, North Lincoln County Road and Bridge, the Town of Afton and the Lincoln County Fair Board staff have prepped the construction area with water, pave stone, road base, pea gravel and have inserted a frost free hydrant," Balls said. "The geodome will be 21 feet in diameter and will be able to fit approximately 11, six-foot watering troughs and a center key hole gardening box."
Construction of the geodome is scheduled to take place on Monday, August 26 and Tuesday, August 27.
"Coleman Griffith and Ted Greg will be installing the geodome with the help of some community members," Balls said. "This is an opportunity for the community to learn more about geodomes if they are interested in building their own, and will be available as a community service opportunity."
"This is a great partnership within our community and we are excited to utilize it," she added.
Tagged:
Afton Food Pantry
Cen$ible Nutrition Program
Lincoln County Commissioners
University of Wyoming Cooperative Extension Office