Girls 4 x 400 sets new school record at State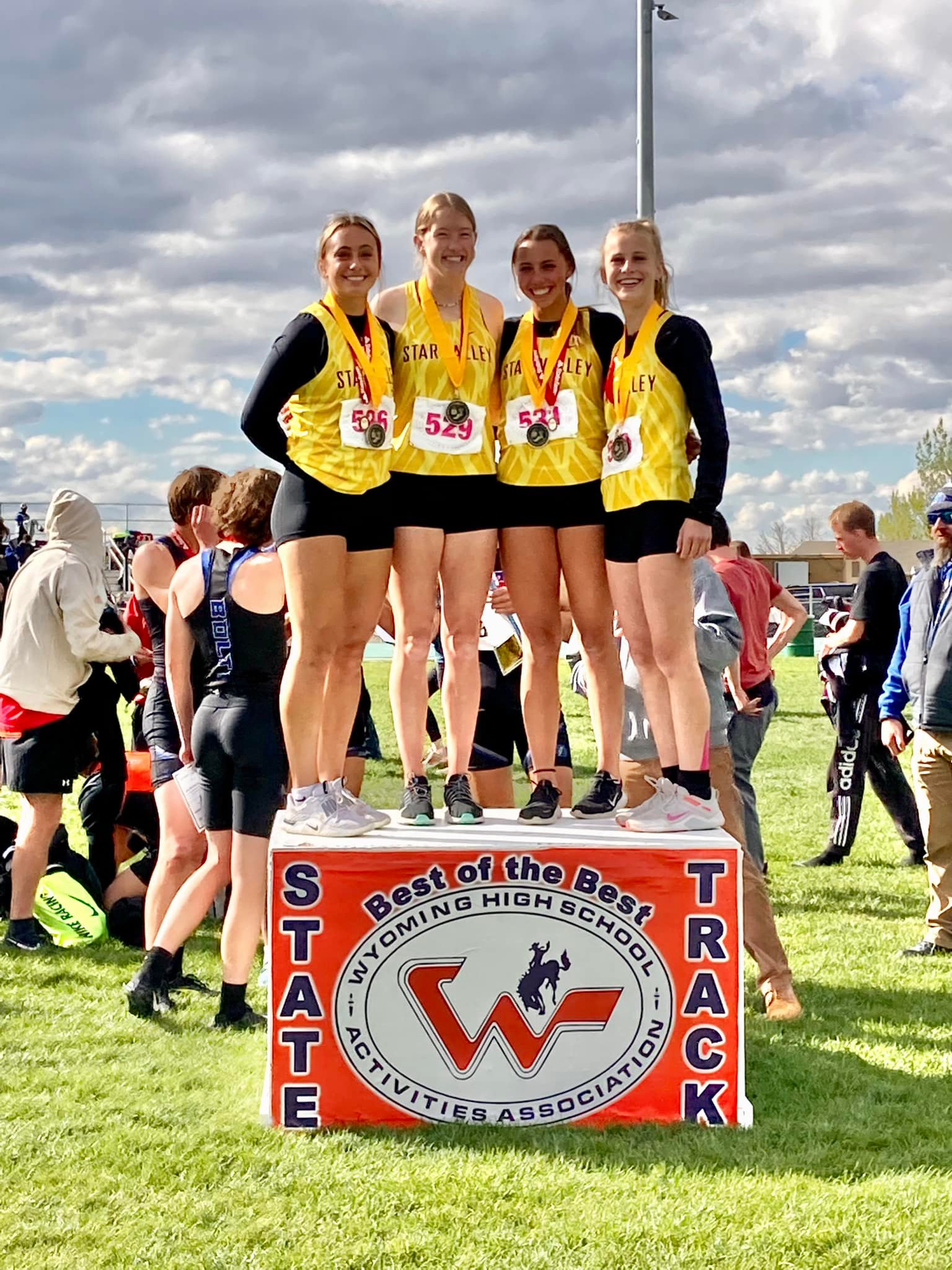 ◆ McKen and Hunting earn individual All- State honors.
The SVHS Track and Field team wrapped up their season as they competed in the Wyoming 4A State Championships in Casper over the weekend.
One of the highlights of the weekend came on the final event of the meet as the quartet of Sara McKen, Avery Hanberg, Kammi Merritt and Ava Morgan combined to win the 4 x 400 Meter Relay state championship; breaking a 12-year old school record in the process. Their time was clocked at 4:05.68.
The previous record of 4:09.79 was set in 2010 by Charli Fisher, Christy Clinger, Randi Robinson and Kirsten McKen and propelled that year's team to the program's first ever state team title which happened to be in the 4A Class.
"We were pleased," said Head Coach Ty Draney of the team's efforts. "Sara had an All-State and John had one. We finished off with a bang with that girls 4 x 400 setting a new school record and being Best of the Best. We had a lot of kids qualify for state and a good stepping stone. Plans are being made to do some things in the off-season so we can be competitive in the 4A Ranks. I like where we're at and look forward to next season."
The Cheyenne Central girls won the team title while the Sheridan boys took the other.
CLICK HERE FOR FULL RESULTS FROM THE 2022 STATE TRACK MEET –
"About two-thirds of our kids are underclassmen so another year of experience and maturity and keeping them out on the team will be the next step in the puzzle," Draney continued. "We're going to need to score more points and get more people through and score more at the State meet. Now we're figuring that out."
There will be little time as distance runners will be back at it soon.
"We'll get a couple weeks off and we'll turn to Cross-Country," Draney said. "We'll start back with the first week of June and have our team camp on the 14th of June and then we're back at it."
Let us know what you think!
Tagged:
Ava Morgan
Avery Hanberg
John Hunting
Kammie Merritt
Sara McKen
Star Valley track & field