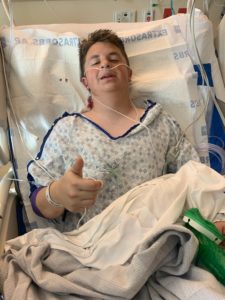 UPDATE 5/10: Ethan was discharged from the hospital on May 9 and is now recovering home. Family members say he has throbbing head pain and dizziness, as expected.
UPDATE: A family member of Ethan's told SVI that Ethan is now awake and off the ventilator. He is talking and doing good. The family member said Ethan is able to eat ice chips and drink water.
ORIGINAL: A GoFundMe account has been set up for Ethan Nelson, a senior soccer player for Star Valley High School.
During a soccer game in Jackson on Thursday, May 6, Nelson was injured seriously injured after being kicked in the head.
"Ethan was injured in a freak accident in a soccer game doing what he loved," says the information on the GoFundMe page. "Ethan has an amazing personality and seems to get along perfectly with everyone he meets. He is a talented player, great friend, and kind person. Any donations are a huge help and much appreciated."
A family member updated SVI on Ethan's status as of Friday morning, saying Ethan's vitals are good. He is on a respirator and is sedated so he is asleep. Doctors might see about removing the respirator tomorrow. They are going to keep an eye on the swelling and see if he will heal without surgery, which would include putting a plate in his head. The family update said Ethan has been moved into the ICU.
Any donations to the family are greatly appreciated. You can find the GoFundMe page to make donations by clicking here.
Let us know what you think!
Tagged:
Ethan Nelson