Green sworn in as Alpine mayor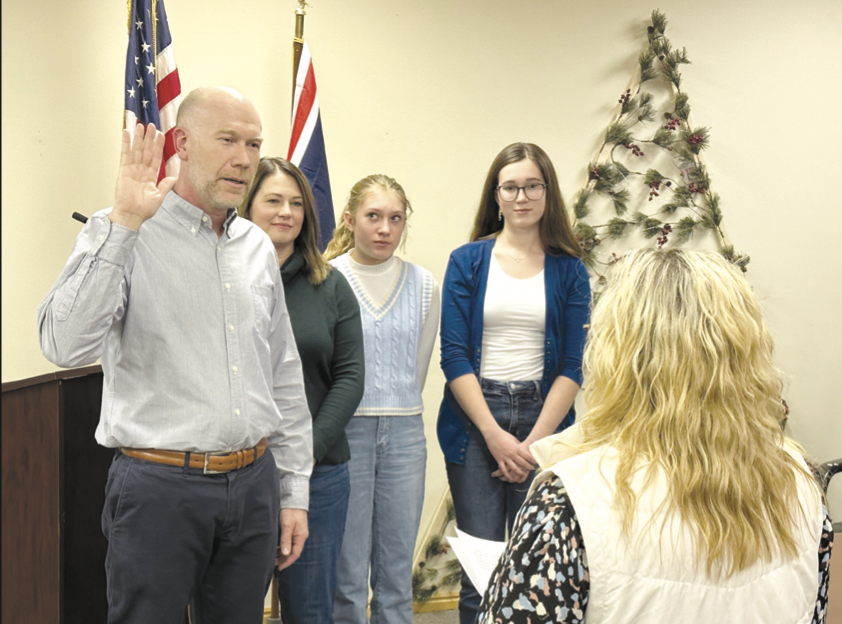 ◆ Emphasis, 'doing what is best for Alpine'.
Eric Green took the oath of office Wednesday night, Jan. 4 in a special town council meeting to launch a new year with a new mayor for Alpine.
Green ran for office this past summer and fall focusing on the topics of strong leadership, open communications, community involvement, public safety, proactive planning and housing solutions.
"I decided this summer I needed to get more involved with the town and make it a great place for my kids to grow up here," he said in an interview with SVI Media, just after taking the oath of office. "I jumped in with both feet and was elected in November and sworn in tonight (Jan. 4, 2023) at the Alpine Town Hall."
Green has called Alpine home since 2006. He grew up as a fourth generation native in Jackson.
Looking back on the past 16 years, he said, "I have seen Alpine change quite a bit over that period of time."
During that time he served on the Alpine Fire Board, volunteered as coach for his children's softball, volleyball and basketball teams in addition to serving on the board of his HOA.
Green is an Alpine business owner. The family business, Jackson Hole Cabinets is based in Alpine. He also started Dust Cutter Beverage, DC Racks and Blaze Controller.
The mayor's initial priorities include communications for the town and work on waster water infrastructure.
"In general, one of my big mission statements was to improve communications with all of the citizens in the town of Alpine," he said. "That is primarily what we want to do. We want to improve the website and make sure everybody has all of the information they need going forward. They won't be able to say I didn't know that was happening. That is priority number one."
He continued, "Priority number two, we have a new pre-treatment plant for the sewer that is already in process. We just broke ground on it recently so that is a major endeavor and we're trying to push that along so we have it up and going as soon as possible."
Mayor Green concluded, "At this point I'm getting into it and I'm really trying to keep in mind — whatever we do we are trying to do what is best for Alpine."
Let us know what you think!
Tagged:
Alpine Wyoming
Eric Green