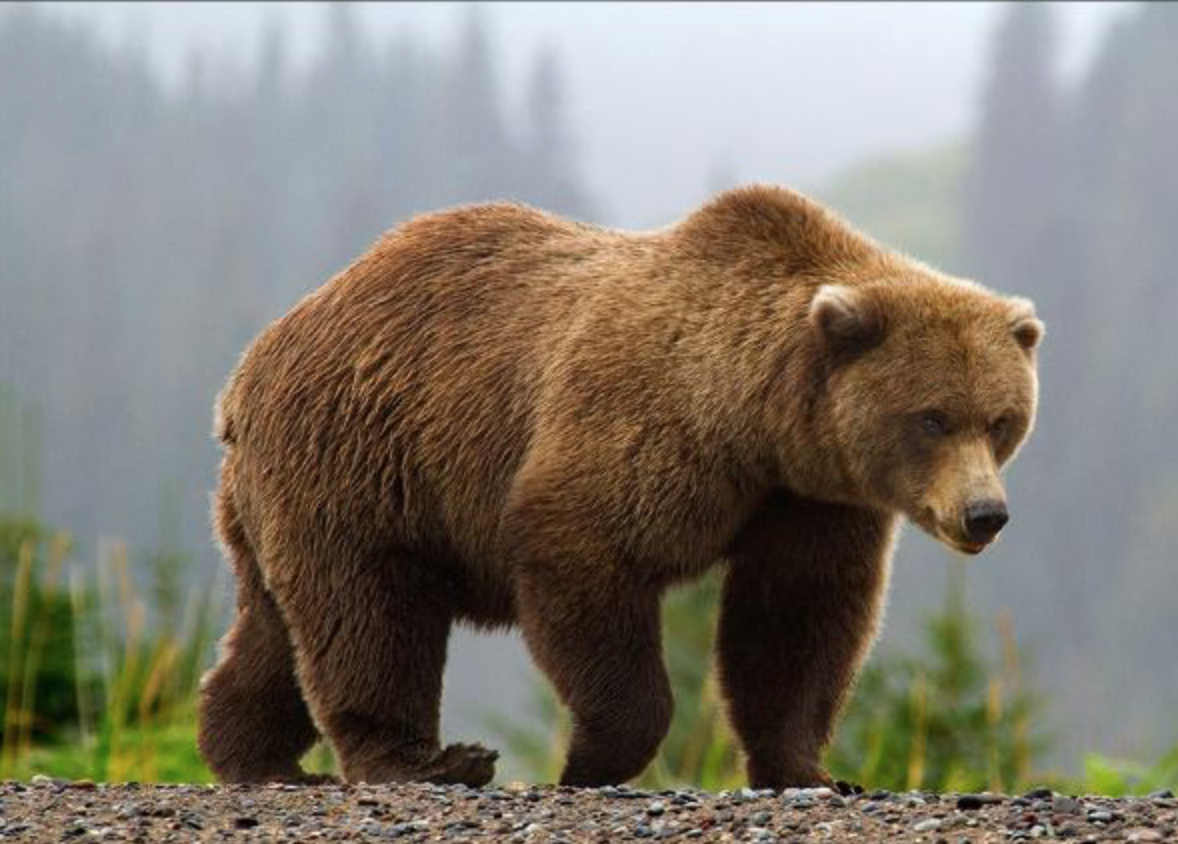 By Mark Davis
Powell Tribune
Via- Wyoming News Exchange
POWELL — Responding to the scene of a dead grizzly bear Monday, officials found a mature boar shot and killed just off the North Fork Highway at MP 14 near the East Entrance to Yellowstone National Park. 
Two employees working at Sleeping Giant stumbled upon the scene early Monday morning. The bear was discovered already deceased across the road from the Newton Spring Picnic Site. Wanting to remain anonymous but willing to talk to the Tribune, they said the scene was "a mess." 
"Honestly, there's been a lot of different speculative theories about it. I assumed it was just hit. And then that's as far as it got before it died," the employee said. 
They found the bear shortly after 8 a.m. Amy Fain-Gerber, a former Cody High School teacher and professional wildlife photographer who arrived on the scene a short time later, said state officials confirmed the bear was shot, dispelling rumors circulating online that it had been struck by a car — an unfortunate yet common occurrence in areas outside its boundaries of Yellowstone National Park. 
Last year at least two grizzly bears were killed by motorists traveling on roads near Yellowstone. In September of 2021, three bears were killed in a single week after being hit by vehicles. Additional signage has often been added to the roadside to warn motorists of wildlife on the road. 
"He was shot," Fain-Gerber said game wardens told her. "I will never understand the mindset of someone who, practically from the road, would pull out a gun and shoot a grizzly bear." 
The former science teacher is often in the area and spoke to the officials, who asked if she saw anything suspicious. She hopes the investigation turns up some leads, saying the grizzly bear deserves justice. 
"Grizzlies are the symbol of wilderness. They represent everything wild and free about this landscape. Their presence is what makes the Greater Yellowstone Region special and like no place else in the lower 48," she said. 
Hilary Cooley, species recovery coordinator for the U.S. Fish and Wildlife Service, said "we're not able to comment on open law enforcement cases." 
"The Wyoming Game and Fish Department and the U.S. Fish and Wildlife Service are currently investigating this incident and no further detail is available at this time," said Tara Hodges, spokesperson for the department. 
Fain-Gerber is on the board of directors of Wyoming Wildlife Advocates and is worried the incident will send the wrong signal to those wanting to visit Wyoming and the world's first national park — many of whom come for the charismatic creatures associated with the Greater Yellowstone Ecosystem. 
Debate raged after reports made their way online. Most replies protested the loss of the large grizzly. Others were less than upset. 
While responding to the report on the Wapiti Whisperer's Facebook page, an account owned by Sabrina KalimanHanson, a rural Postal Service carrier who lives in Cody, said "One less bear doesn't hurt my feelings." 
Other posts made public about the incident complained that the killing might delay a hunting season for the species when they are removed from protections under the Endangered Species Act. 
"This is not who we are," Fain-Gerber said. "Unfortunately, there's this reputation of Park County as wildlife hating people. And yes, those vocal minorities definitely make it appear that way. But they don't represent us." 
Fain-Gerber said state officials canvassed the area looking for evidence. 
Wyoming Game and Fish Department large carnivore biologists and game wardens work closely with the Fish and Wildlife Service in the management of the species. Last year there were 37 grizzly bear mortalities reported by the U.S. Geological Survey in the Greater Yellowstone Ecosystem, which includes portions of Montana, Idaho and Wyoming. 
Twenty-five of those mortalities were bears lethally removed from the ecosystem for conflicts with livestock and humans. There are an additional 11 mortalities still under investigation, bringing the total to 48. 
Black bear hunting season in the area opened May 1. 
There have been isolated cases of hunters mistaking grizzlies for black bears in years past, though it is illegal to shoot or attempt to kill any wildlife from any public road or highway. 
Anyone who has information about this incident is asked to contact Wyoming Game and Fish Cody Region office at (307) 527-7125.
Let us know what you think!
Tagged:
Amy Fain-Gerber
Greater Yellowstone Region
Sleeping Giant
Yellowstone grizzly
Yellowstone National Park