By Aedan Hannon
Casper Star-Tribune
Via Wyoming News Exchange
CASPER — Some of them had been waiting more than a decade, but a slate of TransWest Express company leaders and federal and state officials smiled Tuesday afternoon as their shovels hit the Earth to usher in a new phase of the TransWest Express Transmission Project, a high-voltage power line that will carry renewable energy from southern Wyoming to California, Arizona and Nevada. 
Secretary of the Interior Deb Haaland and Secretary of Energy Jennifer Granholm, as well Gov. Mark Gordon and other Wyoming, Utah and Nevada state officials, attended the project's groundbreaking south of Sinclair where the northern terminal for TransWest's 3,000-megawatt, 732-mile transmission line will sit once the Denver-based developer finishes construction. 
The groundbreaking caps a decade-and-a-half long permitting process that required the cooperation of a handful of states and numerous federal and local agencies. 
The more than 100 people in attendance were jovial, sharing handshakes, hugs and relief amid a clear day and blustery Wyoming wind.
 "It literally took the support and contributions of hundreds of people at all levels of federal, state and local government," said Roxane Perruso, the COO and executive vice president of TransWest Express. "… And it feels fantastic to be moving from planning and permitting to putting steel in the ground." 
The Bureau of Land Management issued the final approval for the project in April, ending a permitting process that began in 2008 and has spanned the Obama, Trump and Biden administrations. 
The lengthy approval was due in part to the magnitude of the project, which Transwest Express President and CEO Bill Miller described as the first major transmission infrastructure project in decades. 
"You just don't see projects of this scope and scale done anywhere," Miller said in an interview with the Star-Tribune. 
The transmission line will run from Sinclair east of Rawlins through Colorado and Utah to Nevada, where it can link up with other electricity infrastructure to serve customers in California and Arizona. Roughly two-thirds of the transmission line will sit on federal lands, though it will also run across private, state and county lands. 
The project required the sign off from the BLM, Bureau of Reclamation, Western Area Power Administration and Forest Service, as well as approvals from a range of other state and county agencies. 
Granholm and Haaland praised the project and its mission to deliver wind energy from Carbon County's nearby Chokecherry and Sierra Madre Wind Energy Project – which will be the largest wind farm in the country once it's completed – to more populous areas in the Southwest. 
They described it as an all-around win for the environment, Wyoming and the country, while highlighting the Biden administration's clean energy goals.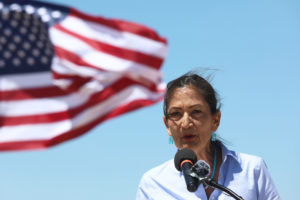 "We know that clean energy transmission lines and renewable energy projects on public lands will help communities across the country to be part of the climate solution while creating good paying jobs," Haaland said. "Under President Biden's leadership, this administration is taking an all hands on deck approach toward ambitious clean energy goals that will support families, boost local economies and help address economic injustice." 
But it was Gov. Mark Gordon who shared the strongest remarks about the project's importance for addressing climate change. 
"We know that we don't have time to waste. We have to move with diligence forward to make sure that we address the issue of carbon dioxide in the atmosphere with alacrity, with diligence and with dedication," Gordon said. "And today, when we're gathered here, we see the first steps that we're taking to make sure that we take the action that's absolutely necessary to keep us from climate peril." 
In an interview with the Star-Tribune, Gordon said that Wyoming is an energy state, regardless of its source, with the state also investing in nuclear power and carbon capture technology to meet the carbon negative goal that Gordon's administration has outlined. 
"Our plan is really centered around: How can we power the nation?" he said. 
When it's completed and goes online in 2027, TransWest's new transmission line will mark a significant addition to the Western electric grid, connecting Wyoming wind energy directly to southern California for the first time and opening up a new market for Wyoming wind, Kara Choquette, a spokesperson for TransWest Express, said. 
California aims to achieve carbon neutrality by 2045, a goal the new transmission line will help the state to meet. 
Since gaining the final nod from the BLM in April, TransWest has looked to move quickly.
In June, the company announced that it had chosen a joint venture between Barnard Construction Company Inc. and Wilson Construction Co. to build the transmission line. TransWest Express already has agreements with Siemens Energy, the International Brotherhood of Electrical Workers and the International Union of Operating Engineers for supplies, labor and workforce development for the project. 
Construction on the estimated $3 billion transmission line is set to begin this fall. 
The timeline for the project will largely parallel that of the Chokecherry and Sierra Madre Wind Energy Project outside of Sinclair and Rawlins. The Power Company of Wyoming, which like TransWest Express is a subsidiary of the Anschutz Corporation, is finishing clearing land and building roads to install hundreds of wind turbines at the site between 2025 and 2028. 
Though the permitting process was lengthy, a fact that Granholm acknowledged and said the Biden administration was working to correct, Miller said the groundbreaking "vindicated" TransWest's efforts. 
"You just stay the course," he said. 
While those who spoke at the event alluded to Wyoming's potential as a hub for renewable energy production, they also referenced the contributions the state's energy industry has long made. 
"I want to thank Wyoming for having powered this nation for the past 100 years," Granholm said. "And thank Wyoming for powering this nation for the next 100 years." 
She added: "There's an old proverb that says, 'When the winds of change blow, some put up walls, some put up windmills.'"
Let us know what you think!
Tagged:
Bill Miller
Bureau of Land Management
Gov. Mark Gordon
Roxane Perruso
Secretary of Energy Jennifer Granholm
Secretary of the Interior Deb Haaland
TransWest Express
TransWest Express Transmission Project