Harold P. Stewart Trailhead dedicated at Star Valley Ranch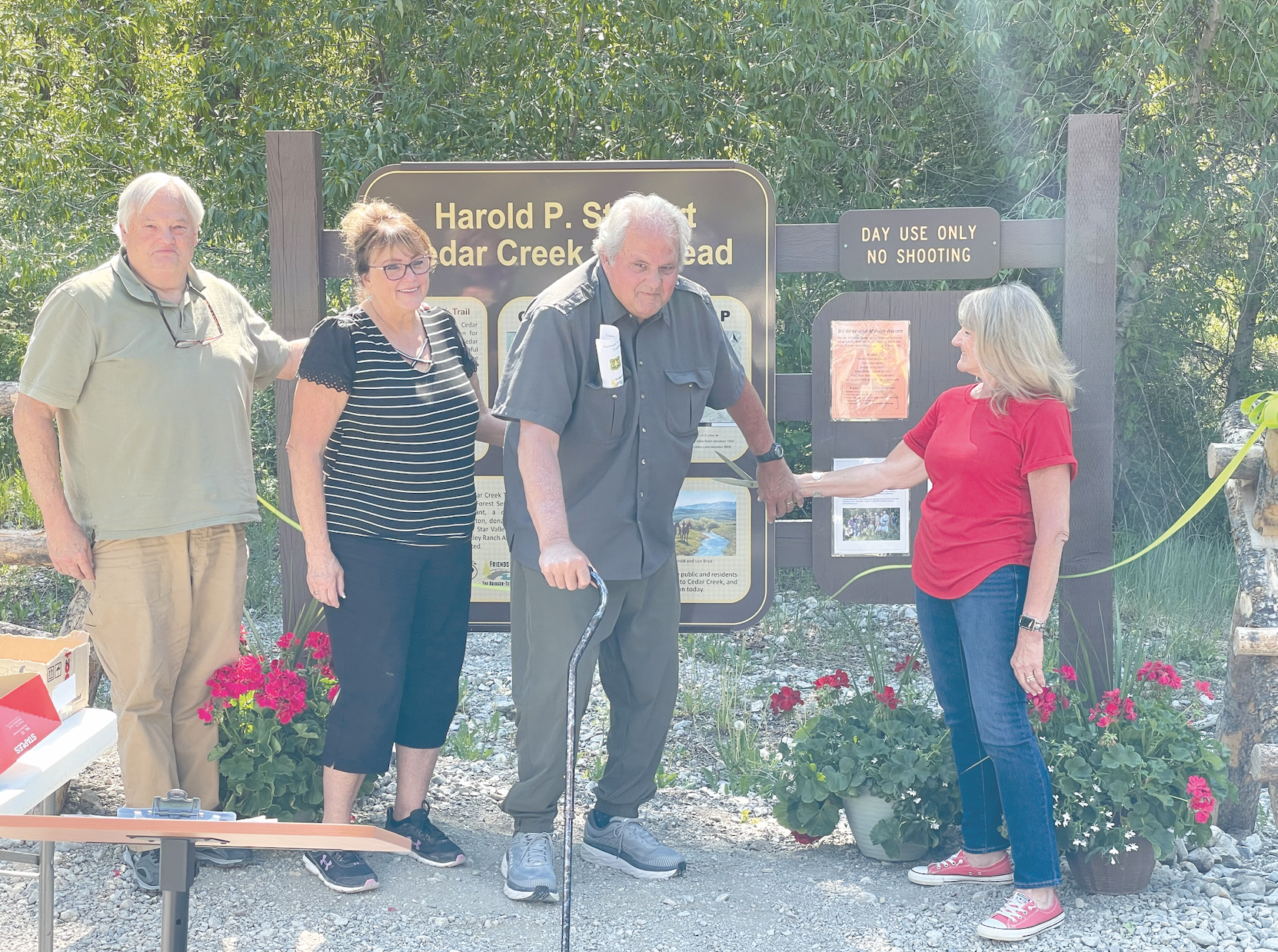 The Town of Star Valley Ranch dedicated the new Harold P. Stewart Cedar Creek Trailhead June 15, 2021.
Stewart is credited for creating Star Valley Ranch, which has grown from a summer home area in the early stages to a full, year-round incorporated Wyoming municipality.
Volunteers have installed an informational kiosk, buck and rail fencing, gaveled the parking lot and put in a public seasonal bathroom at the new trailhead.
Additional work included clearing, graveling the trail entrance and removing heavy brush.
Star Valley Ranch Natural Resources Director Greg Greenhoe coordinated the project with volunteers from throughout the community.
"It's important everyone is here and supporting the efforts of our volunteers," said Star Valley Ranch Mayor Kathleen Buyers. "We didn't spend tax dollars on this. It was all done with volunteers, donations and grants. It's really important to recognize our all of our volunteers.""
She added, "We are growing extremely fast and those volunteers are what make Star Valley Ranch a wonderful place to live."

Val Stewart, representing the Stewart family acknowledged everyone in the community who helped create the trailhead leading into the picturesque Cedar Creek Canyon in the Bridger-Teton Canyon.
"I want to thank all these good people that made this happen. It's always been pretty up here and now it's really pretty up here now. We really love and appreciate you for doing all this work up here, making this place more accessible for the people of the valley," Stewart said at the ribbon cutting.
"We used to have a lot of questions about 'where can we go up here?' " he recalled. "The fences tell them where's private and forest service. "
Stewart continued, "Its wonderful to have all this here and to have all these people put all of this work into it. We want to say thanks to all the people who make this happen and to make it more beautiful than it already has been."
District Ranger Justin Laycock said the new trailhead helps with access to the forest.
"Access along this Star Valley front is something we are very interested in," said Laycock.
As time change and ownership changes we are finding that access to the forest is becoming more difficult."
He continued, "Securing access at Cedar Creek is something that's not only important to Star Valley Ranch, but to Star Valley as a whole and to us, the Forest Service. "
The district ranger also noted the assistance with the resources to create trailheads.
"We struggle with resources to maintain what we have on the forest and the expectation of doing that, so the community here and the volunteers that are involved, have taken the initiative of doing something more in this area. They are an example [to] other communities of how to pull together your resources, partner together and do something more than what you would be able to do individually," Laycock explained.
"When we join together we can do more. This is a really great example. I applaud all the work that has gone into this trail head. The $16,000 that went into creating this trail head, that is significant and impressive. Be proud of it and recognize, if we could do more like that we would have some really nice trail heads along the front here. I would encourage us to continue to work together and use the work that has been done here as an example."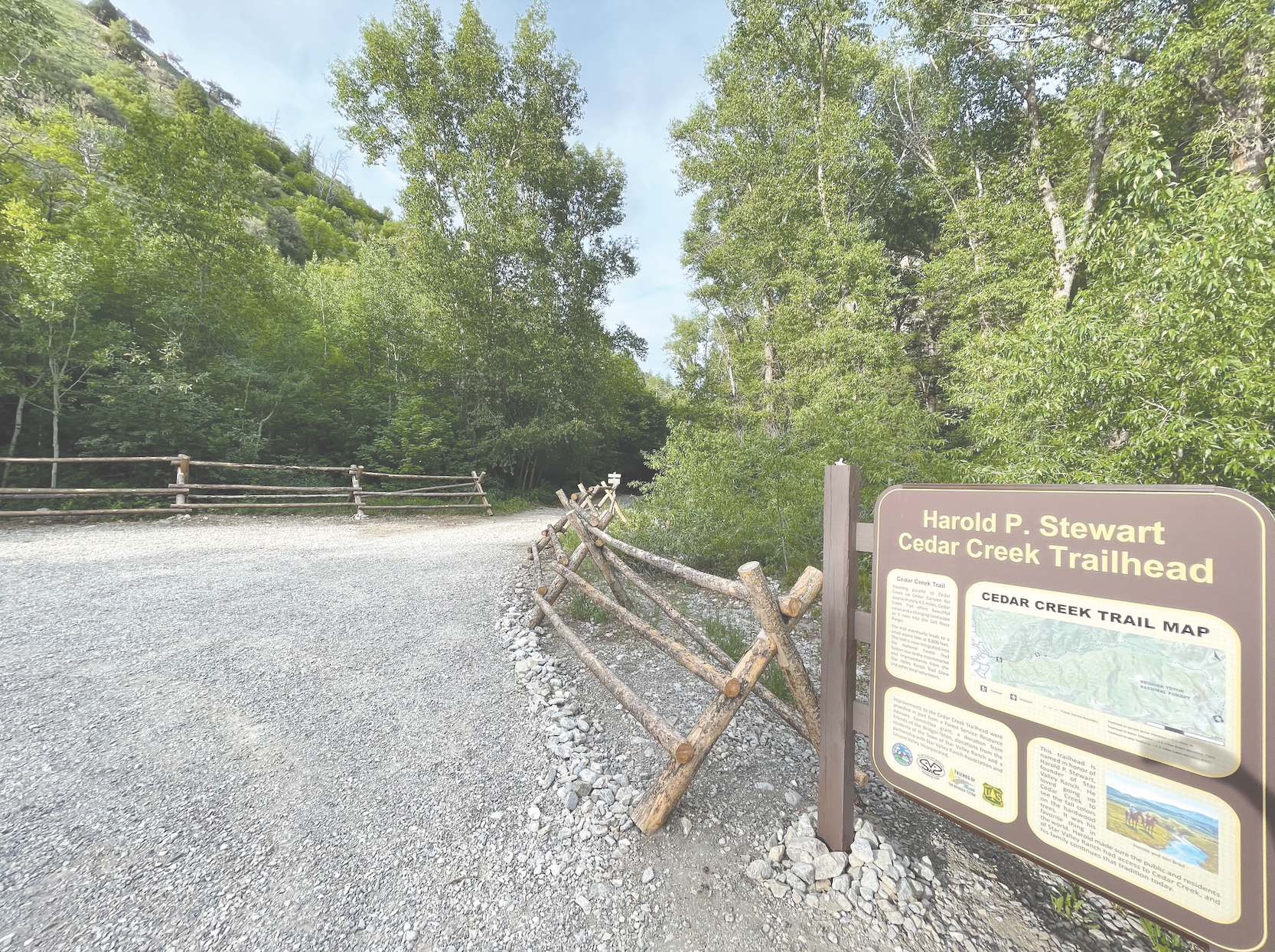 Let us know what you think!
Tagged:
Harold P. Stewart Cedar Creek Trailhead
Mayor Kathleen Buyers
Star Valley Ranch Natural Resources Director Greg Greenhoe
Town of Star Valley Ranch