Head-On crash reported early Wednesday morning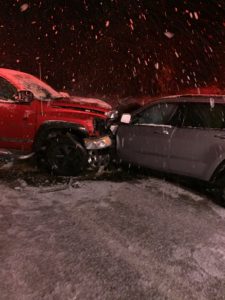 One person was transported to the hospital following a head-on collision on Highway 89 in the Snake River Canyon early Wednesday morning.
The Wyoming Highway Patrol told SVI News that the crash occurred around 5:00 am at mile post 123 when the driver of a Dodge pickup attempted to pass a snow plow. The driver of the Dodge lost control and collided head on with a Jeep Cherokee in the oncoming lane of traffic. The female driver of the Jeep was transported to St. John's Medical Center in Jackson with unknown internal injuries. No other injuries were reported.
The responding officer said that everyone involved was wearing their seatbelt, stating that the results likely would have been much worse had they not been.
The driver of the Dodge pickup was cited for driving too fast for conditions.  Wednesday morning road conditions in the canyon, as reported by WYDOT, were slick with blowing snow and reduced visibility.
The Wyoming Department of Transportation sent out an alert that a crash had occurred at 5:08 a.m., saying that a travel lane was blocked and for drivers to be prepared to stop and expect delays. WYDOT's alert was canceled at 6:55 a.m.

Tagged:
Lincoln County Dispatch
Wyoming Highway Patrol