High Valley Dermatology coming to SV Health in Alpine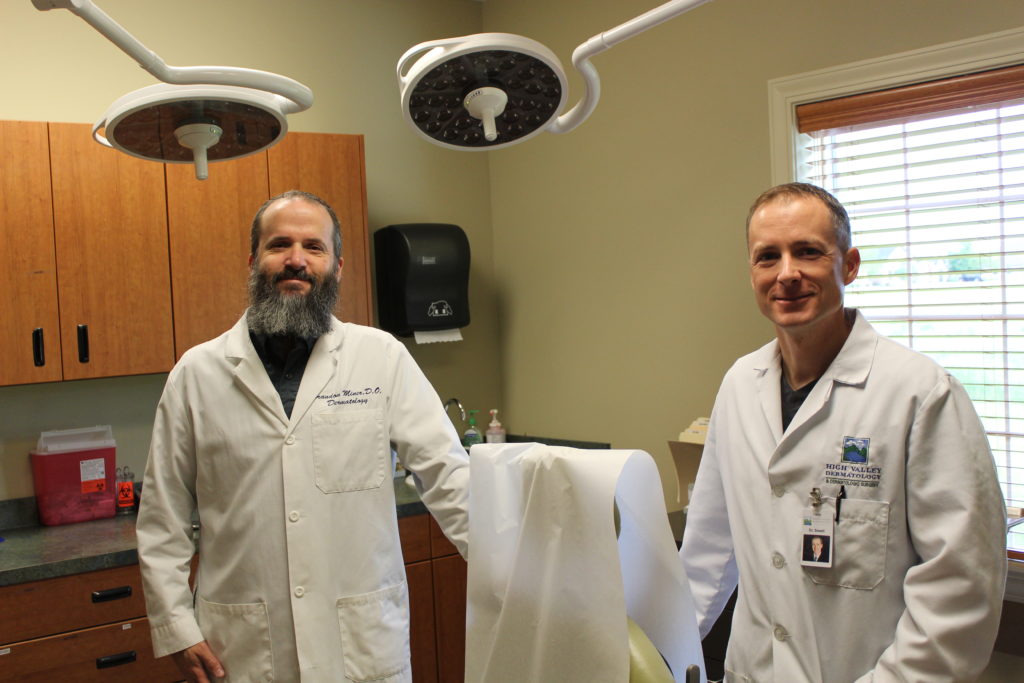 ◆ Dr. Miner and Dr. Sewell will provide services for Star Valley area patients.
High Valley Dermatology will is opening this week at the Star Valley Health Clinic in Alpine.
The practice is based in Idaho Falls and is expanding with weekly services for Star Valley patients.
Dr. Brandon L. Miner and Dr. Lindsay D. Sewell will be serving the Star Valley location.
While the first day for Star Valley is June 24, the remaining appointments will be served on Fridays at the Alpine location.
"We'll be seeing patients for full days with limited surgical appointments initially, Dr. Minor explained.
"Then eventually, down the road, we anticipate offering full service dermatology there, [in Alpine].
Both Dr. Minor and Dr. Sewell emphasized the change will help their patients in western Wyoming.
"A lot of our patients come to Idaho Falls to see us," Dr. Minor explained. "It will be a little more convenient for us to travel to see 25 to 30 patients, rather than 25 to 30 patients coming to Idaho Falls. And, we'll also be expanding with previous patients that haven't made the trip over."
He noted, "Initially it will be full skin exams, skin cancer checks, rashes and acne."
Acknowledging family connections to western Wyoming, Dr. Miner concluded, "I love Star Valley, Wyoming. I spent a lot of my summers and every Thanksgiving there. It's an exciting prospect to be back there and I'm excited to reconnect with the patients I haven't seen in some time. And we're excited to offer convenience to our patients."
Dr. Sewell said he will share responsibilities with High Valley Dermatology clinics in Idaho Falls, Rexburg, Driggs and Star Valley.
"There will be times I may go to Star Valley as well, but for now Dr. Miner is starting with that clinic and getting that running."
He continued, "I'm also heading up the branch we'll start up in Rexburg where we are working with the Idaho Skin Institute for micrographic surgeries. We'll be going to Rexburg, Driggs and Alpine and we are splitting it up."
For scheduling in Star Valley call, 208-522-SKIN, (7546).

• Dr. Brandon L. Miner
Mohs Micrographic Surgery Fellowship, Northwestern Skin Cancer Institute; Dermatology Residency, Michigan State University; D.O., University of New England; B.S., Idaho State University
Dr. Miner is a native of Ammon, Idaho, and is happy to return home to offer care to the great people of Southeast Idaho. After serving a mission in Northern England, he obtained his bachelor of science in zoology from Idaho State University in 2002. He then attended medical school at the University of New England in Maine. Upon completion of medical school in 2006, he completed his residency in Dermatology in affiliation with Michigan State University in 2010. After several years in practice, Dr. Miner moved to Chicago to complete a full fellowship in Mohs micrographic surgery and reconstruction.
This desire to further hone his surgical skills and offer his skin cancer patients the highest level of care prompted Dr. Miner to leave Wyoming for his 1-year fellowship in Mohs micrographic and reconstructive surgery in downtown Chicago with the Northwestern Skin Cancer Institute. He finished this additional training in July 2013 and joined High Valley Dermatology at that time. He is board certified in dermatology since 2011 and practices adult, pediatric, and cosmetic dermatology.
Dr. Miner lectures at local and national meetings, is active in community health education, and has publications in multiple peer-reviewed journals. In addition, he continues to share his extensive training in medical dermatology, Mohs micrographic surgery, and cosmetic therapies with his patients as well as rotating students. His care, compassion, and skill are a great addition to High Valley Dermatology.
• Dr. Lindsay Sewell
Mohs Micrographic Surgery Fellowship, Geisinger Medical Center; Procedural Dermatology Fellowship, Geisinger Medical Center; Dermatology Residency, Geisinger Medical Center; M.D., The George Washington University; B.S., University of Utah
Dr. Sewell is a familiar face to many in Idaho Falls having spent his junior and senior high school years here. After serving a mission in South Africa, Botswana, and Lesotho, he attended the University of Utah receiving a Bachelor of Science in Biology in 1999. Leaving Utah and Idaho behind, he attended medical school in our nation's capital at The George Washington University School of Medicine in Washington, D.C. Following graduation in 2003, he stayed at GWU for a one-year internship in internal medicine and then moved on to dermatology residency at Geisinger Medical Center in central Pennsylvania. Upon the conclusion of residency training and obtaining a board certification in 2007, he stayed at Geisinger for another year. He combined a fellowship in Mohs Micrographic Surgery and Procedural Dermatology.
While there, he was also on the general dermatology staff at Geisinger, both seeing patients independently and supervising an evening resident clinic.
In 2008, Dr. Sewell moved to Idaho Falls to begin private practice by joining long-time friend and colleague, Dr. James Willis at High Valley Dermatology. Dr. Sewell has always been concerned about going the extra mile to ensure patients are well cared for and pleased with their experience as his patient.