Holy Family Catholic Church finishing up two fundraiser raffles
Time has almost run out for those wishing to purchase raffle tickets for two fundraisers hosted by the Holy Family Catholic Church in Thayne. 100% of the proceeds from the raffles will benefit local community members in need. The raffles also carry significant grand prizes, including $1,000.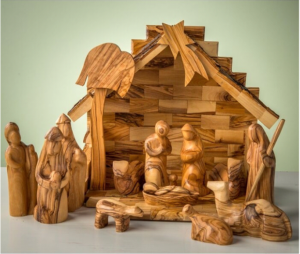 "These raffles are specifically for people in 2022 who may need assistance," stated Rosa Montano with the Holy Family Catholic Church during a live interview on SVI Radio. "I'm already concerned about locals who have suffered through fires and we are looking forward to bringing contributions towards their needs."
The first raffle is through the church's "Pennies From Heaven" fundraiser. The grand prize is $1,000, with second place winning $500, third place winning $250, fourth place winning a $100 gift card to Driftwood Pizzeria and fifth place winning gift cards to Cedar Creek Grill & Horseshoe Café. Raffle tickets are $10 each or six for $10 or 15 for $100. 
The second raffle is part of Holy Family Catholic Church's "Spiritual Journey" fundraiser. The grand prize winner of this raffle will receive an olive wood hand-carved Holy Land nativity. Second place will receive a Holy Land Hand-Carved Olive Wood Holy Family Display, with third place winning a St. Joseph Edition New Catholic Bible, fourth place winning an olive wood hand carved Virgin Mary and fifth place receiving a family pack to Skyview Lanes & Cineplex in Afton. Tickets for this raffle cost $5 each, or six for $25.
Tickets for both raffles can be purchased by calling Montano at 307-690-4423 or by sending funds via Venmo to @aroseinbloom and providing your name and phone number. The deadline to purchase tickets is Wednesday, December 22. The drawings will take place on Thursday, December 23. Winners will then be notified.

Let us know what you think!