Hoopes credits 'gritty' SV mentality as he inks with Arizona State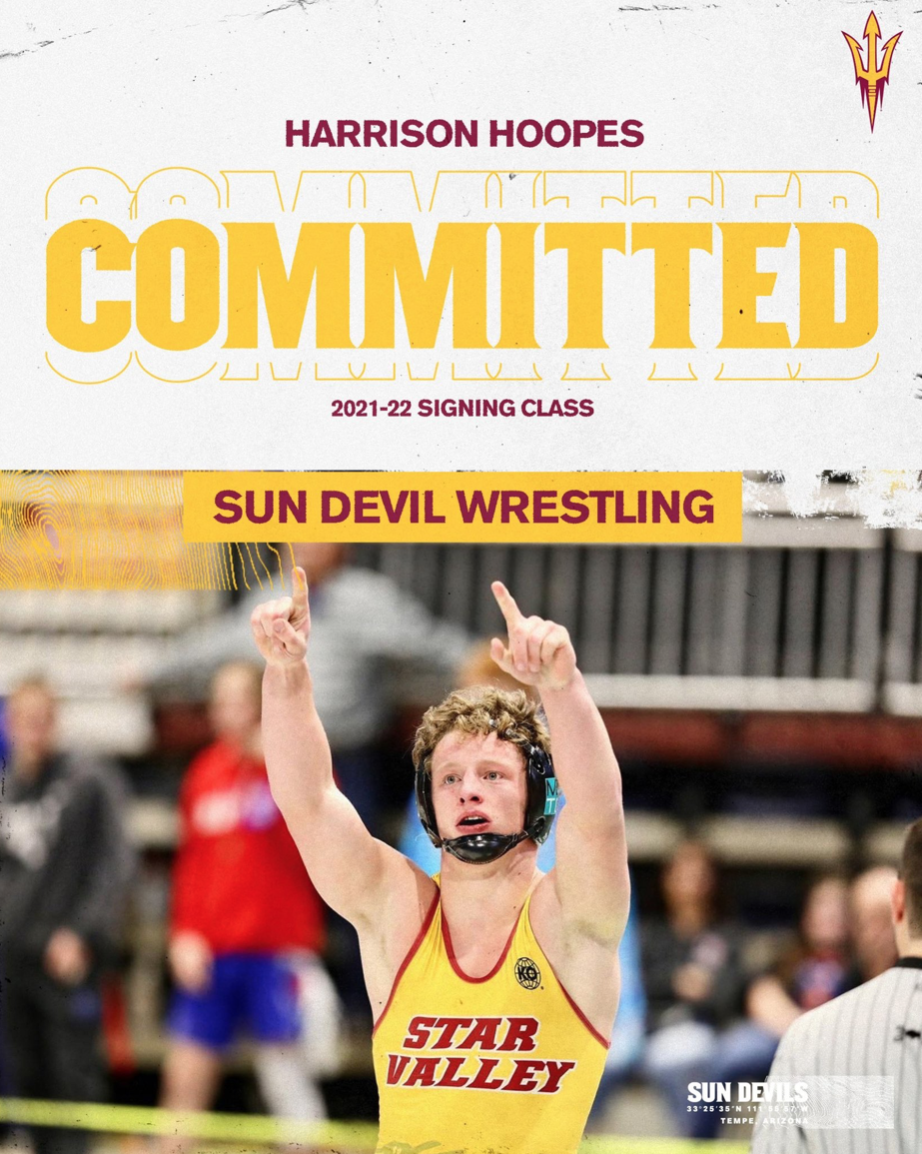 Star Valley's Harrison Hoopes has signed to wrestle for Arizona State according to the Sun Devil Twitter feed. Hoopes went undefeated this past season, claiming the 3A 195-pound Wyoming championship. His 2021-22 record was 46-0 with multiple tournament championships including the Ron Thon Memorial in Riverton. Hoopes is expected to wrestle at 174 for ASU who claimed the Pac- 12 championship last season.
Since the end of State wrestling, Hoopes has been busy as he competed with Team Wyoming at the National Duals.
"After wrestling season, I switched to online school and I've been training in Pennsylvania with Penn State, with David Taylor, he's a gold medalist from this last Olympics and he has a club that I've been working with."
Hoopes went in to the Nationals with an open-minded philosophy.
"That tournament; I walked into it and I decided not to think about it too much so I wouldn't wig out," he said. "I wouldn't look at any of the brackets or the kids I was wrestling. Afterwards the coaches would be like do you know who that was? And I'd say nope."
His journey from Wyoming to Arizona had a connection as area insurance agent and wrestling supporter, Randy Thompson, helped out.
"There's a guy on the board who also helps coach at ASU that's a State Farm agent in the Tempe area," Hoopes mentioned. "So he and Randy Thompson have been texting back and forth. Arizona State has been up here the last couple years for clinics as well and I guess they liked the way I wrestled."
Hoopes chose the Sun Devils for the level of competition and coaching.
"I did talk to some other schools like Chadron but the level of competition and practice partners won me over," he said. "Their head coach, Zeke Jones was a World and Olympic Coach prior to coming to ASU so the level of coaching and practice partners was top level."
Harrison also had a connection to top-flight wrestling with his brother Austin, who also went undefeated at Star Valley and has been part of the Penn State team, earning Academic All-American honors recently with the Nittany Lions.
"He's been out there and made a lot of good friends with guys like Cael Sanderson, " Harrison said. "I wasn't necessarily allowed to talk to the coaches but being able to watch practice and working with some of the guys there; it was cool to watch how they act and get after it. Their mind set helps them get better way faster. I feel like that's helped me."
Hoopes credits his time with the Braves for the opportunities he has now.
"I think the technique that we are coached and Star Valley wrestling has a tradition of being gritty. If we're down we come back. If we're tired we keep wrestling hard. I think that's what Coach Clark and his staff has instilled in us to just keep going."
While what is coming up will be most challenging, Hoopes tells those still in school to seize the opportunity. "Just keep trying your hardest," he concluded. "If you have the opportunity to wrestle at the next level I highly suggest taking it. It will open up a lot of doors for you."
Let us know what you think!
Tagged:
Arizona State Wrestling
Harrison Hoopes
Penn State Wrestling
Star Valley Wrestling