Housing is a challenge in latest bank report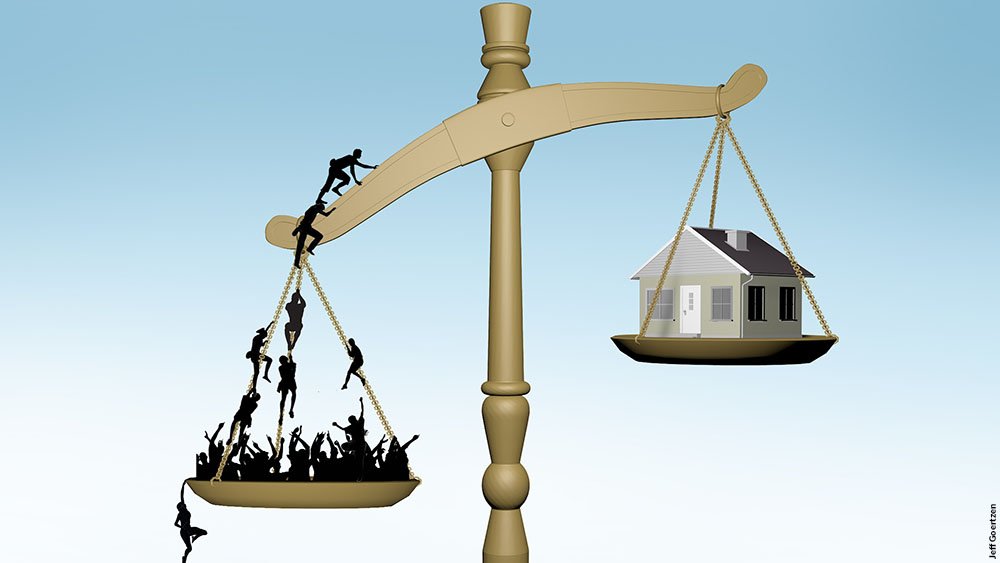 ◆ 'We'll solve this, Star Valley has a bright future…we solve problems.' Bank of SV CEO Rod Jensen.
The Bank of Star Valley has released it's annual report and one area the valley will need to focus on is the challenges associated with affordable housing.
As of August the study indicates the median price of a home is $773,000, proving to be a substantial change from Pre-Covid prices.
Jensen said this is important in an economy driven by real estate.
Jensen reflected on the years since the 2008 recession.
"We went through post 2008 and decided we didn't want to build as many houses as we did before and we created a negative inventory nationwide," Jensen explained. "It's even worse here, because of escalating prices. Before Covid you could buy a house in the $200,000 to $300,000 range with a medium income."
The latest bank study shows a much different scenario for home owners. "As of our August study, the median price of a home in Star Valley is $773,000," Jensen pointed out. "The average person working at the school or somewhere else are priced out of the market so you are seeing more apartments built and we are becoming more of a renter community."
He added, "We're still dominant household owned, but renters are a growing segment of that."
Jensen advised, "You have got to do what you have to do to live here but home owners seem to be more static. They stay in the community longer. Homeowners are more stable. For renters, if things get bad, they can exit. We saw that in Teton County."
Reflecting on his years as a director with Lower Valley Energy, he said renters were able to leave as the Jackson housing prices increased. "They leave when they can't afford to live there." Jensen noted an earlier Teton County study that reviewed housing needs for employment in Jackson. The study included associated housing in the Teton Valley, Idaho and Star Valley. The study indicated 1,200 homes would be needed in Star Valley to help accommodate Jackson based jobs.
"We are a regional economy tied close to Teton County. along with Victor and Driggs," Jensen observed.
• Employees/Post Covid
Following Covid, the bank's study showed many people are not returning to work after Covid. "It had a huge impact on us," he said of Covid.
Unemployment reports indicate people are not filling the jobs. "Our employment is low. August unemployment, at 2.7 percent — that is huge but that shows there are not enough people to fill the jobs. There are more jobs open than there are people willing to serve them."
Jensen offered a summary of the employment changes. "During Covid we saw a lot of people leave the workforce. The older generation chose to just leave, an early exit and there are not enough young people to fill the jobs."
He continued, "Most stores have help wanted listings. Look at the help wanted jobs [in the papers]. They are phenomenal.
"There's not enough people to fill these jobs. That's affecting us, all of us — the ability to get a hamburger, ability to have support staff at school or hospital, there is a shortage of people."
Jensen referenced recent Wyoming labor force studies. "About 60 percent of those eligible are working," he said. "People left during covid, they retired. They just said we are done. The 58-plus range left the labor force. They had a lot of expertise and talent and they just left."
He continued, "The other side — there were a lot of stimulus payments through Covid and people are not working. I don't necessarily buy that side of the story. I hear it often."
He suggested inflation counters this argument. "It's not true because the inflation has escalated the cost of living so much compared to any stimulus that was consumed. So if you need to, you are back to work."
Jensen concluded, "Those not working are retired or chose not be in the labor force."
• Inflation/Cost of Living
On the topic of inflation, he said, "The national inflation is horrible; its been up to 9.1 down to 8. 3." He added, "Star Valley runs about one to two-percent higher than the national average."
Jensen referenced a statewide study.
"The Wyoming Economic Analysis does a good study, twice a year. They look at the price differences in some [Wyoming] communities and one is Afton. If you look at inflation numbers, Wyoming is higher nationally and we are higher in Afton. It makes it hard for people to be in Star Valley with a moderate income in an area with a high cost of living. "
• Optimistic/ Entrepreneurial spirit
Despite the challenges, Jensen is optimistic about Star Valley's future as he credited the entrepreneurial spirit that leads to successful companies and individuals in Star Valley that bring high speed Internet services, low energy prices, above average schools and remarkable health care services in a rural setting.
"I see a bright future for Star Valley," he concluded. Yes, we have housing problems, but there is one thing in Star Valley, it's the entrepreneurial spirit. We solve prob- lems."
He continued, "We have people that see needs, they are creative. They are thoughtful. We will solve our housing issue."
"I anticipate more affordable lots coming on the market and we will have the ability to build more economically."
Jensen said the growth will continue because of all that this valley has to offer. "Star Valley is a place people want to be. Our population is growing swiftly. People are moving here because of the great things we have. It is our quality of living, our national forest, our hospital, our extremely low power rates, it's our fantastic internet infrastructure and successful schools."
"We have the best of all worlds here. Star Valley is phenomenal for what it has done. I believe the genes are still there, we'll solve this. We have a bright future."
• Summary
Editor's note: The following is a summary statement of the Bank of Star Valley Economic and Demographic Review, released in August of 2022.
The full report can be seen at https://www.bosv.com/
2022 has not been a year for the weak of heart. The year began with inflation at a high 7.0% but believed by many, including the Federal Reserve, to be temporary. Interest rates where low and accommodative with the discount rate at 0.0- 0.25% and the 30-year mortgage at 3.27%. The Dow Jones Industrial average was at 36,799. COVID was believed to be moving past the pandemic crises into an endemic phase. The Federal Reserve announced it would begin raising the discount rate gradually beginning in March to address inflation concerns.
Then, the world began to unravel. Russia invaded Ukraine on February 24, and the western world was quick to impose sanctions. Oil prices, which were on the rise with the reopening of the world economy, spiked, going from $76 per barrel at the beginning of the year and peaking at $122 per barrel in June. The supply chain shortages, the increase in fuel costs, and the pre- ceding unprecedented $6.2 trillion dollar increase in money supply fueled by the Federal Governments stimulus and COVID relief bills all combined to push inflation to 40- year highs.
The big question is where the U.S. economy is now headed with all the headwinds. In today's highly politicized world it is difficult to even tell where the U.S. economy is at. The 1st quarter of 2022 experienced a Gross Domestic Product (GDP) decline of 1.6%, followed by another decline of 0.6% during the 2nd quarter. A commonly understood definition of recession is two consecutive quarters of negative GDP growth, and many have declared that the U.S. economy is currently in a recession, while others, including the White House, are refusing to do so.
The national unemployment rate is at 3.5%, likely below the national rate of employment threshold. Demand for labor remains high relative to the available workforce with 0.5 unemployed persons per job opening. July 2022 has been the tightest labor supply reported by the Job Openings and Labor Turnover Survey (JOLTS) during the period from 2007 to July 2022. It is very unusual to be in a reces- sion with such low unemployment rates.
A determining factor as to where the economy will likely go over the coming year rests in the hands of the Federal Reserve Bank (FED). While the inflation rate exhibited its first decline in 2022 since peaking at 9.1% in July, decreasing to 8.5% in August, it remains high and well above the FED target of 2.0%. The FED has raised the discount interest rate 2.25% so far in 2022, and the expectation is that interest rates will be raised even higher to achieve price stability. The FED is signaling that they are dedicated to reducing inflation, even at the cost of a recession.
FED Chairman Jerome Powell just stated in Jackson Hole that "Restoring price stability will take some time and requires using our tools forcefully to bring demand and supply into better balance. Reducing inflation is likely to require a sustained period of below-trend growth. Moreover, there will very likely be some softening of labor market conditions. While higher interest rates, slower growth, and softer labor market conditions will bring down inflation, they will also bring some pain to households and businesses."
The market appears to believe Chairman Powell, and the FED's dedication to reduce inflation. The yield curve is now inverted with interest rate yields peaking at the 3-year bond then falling downward to the 30-yr bond. The 2-year to 10- year bond rate spread is negative, a historical and correlated indicator of an economic recession. Further, the University of Michigan Consumer Sentiment index is at a 22- year low of 50 as of June 2022. This is a substantial drop from the 85.5 consumer sentiment rating seen a year ago in June 2021.
At the local level, unemployment is very low with labor shortages – help wanted ads and signs have become a new seemingly permanent fixture. Labor shortages are being compounded by the higher cost-of- living in the area, and particularly housing. Star Valley is proving to be an expensive place to live – with a general cost of living well above the Wyoming average and a lower per-capita income level.
The valley population is growing, contrary to most rural parts of the U.S., as in-migration continues. This population growth is a powerful economic driver as the larger population provides demand for increased goods and services and overall human capital is expanded. The positive demand is being seen as the area town's commercial centers see makeovers of store fronts and new business operations. At the same time, the population demographics are becoming more normal, relative to the U.S., with persons per household nearing national averages.
Local businesses added jobs despite the labor shortage at a strong rate through the end of 2021 and into 2022.
Short of the national issues, the future of Star Valley remains bright. Star Valley's future social and economic well-being does require the need to address housing afford ability issues. Housing and housing costs will likely act to limit future population and economic growth in the valley as people find that the area is unaffordable, and therefore, the work force becomes more con- strained. However, Star Valley has historically had several very entrepreneurial individuals who have acted to solve and profit from current issues. It is felt that this entrepreneurial spirit is still strong in the valley, and that efforts will be made to use the free market to address current housing issues and in doing so, continue to provide for the economic growth of this great area which we call home.
Let us know what you think!
Tagged:
Bank of Star Valley
Employees Post-COVID 19
Star Valley economic outlook