In a first for Wyoming, national endorsements shape down-ballot races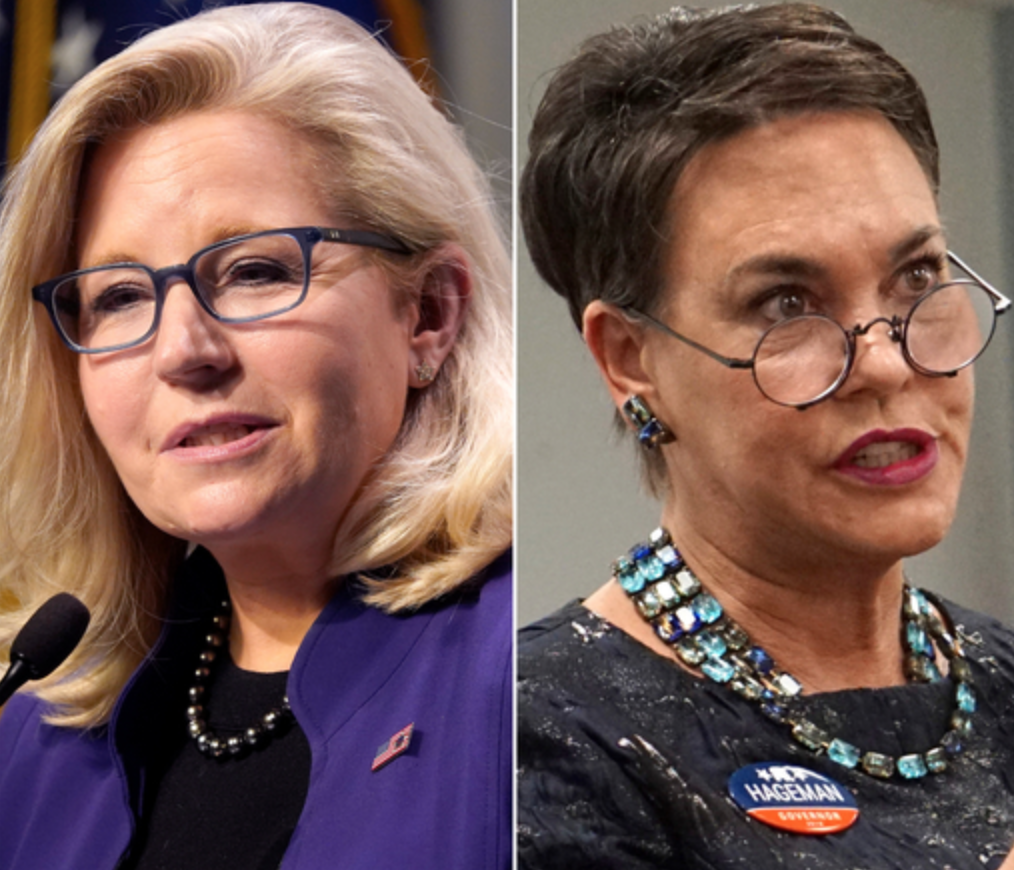 By Billy Arnold
Jackson Hole News&Guide
Via- Wyoming News Exchange
JACKSON —  Dan Dockstader has been around Wyoming's political block between his 36 years at the Star Valley Independent, which he publishes, and his 16 years in the Wyoming Legislature, where he currently serves as Senate president.
But this primary isn't like other elections he's seen.
"This is new territory for everybody," Dockstader said. "I haven't seen that, where a former president has put out an endorsement for a state superintendent or secretary of state race."
Down-ballot patronage from a former president, including Donald Trump, is a first, Dockstader said.
"A first here, anyway," the Senate president said.
Trump has gotten involved in Wyoming politics before, endorsing the late Foster Friess over Mark Gordon in the 2018 Republican gubernatorial primary, where conservatives sought to keep Gordon, a moderate, from being elected.
Friess lost, and Trump later distanced himself from his erstwhile pick.
This week, however, marked the first time Trump has gotten involved in down-ballot races in Wyoming.
The former president long ago endorsed Fort Laramie attorney Harriet Hageman in her bid to oust Republican Liz Cheney from her seat in the U.S. House of Representatives, reacting to Cheney's vote in favor of his impeachment after the Jan. 6 insurrection and her continued rebuke of his claims about the 2020 election being stolen.
Then, on Friday, Trump threw his weight behind candidates for Wyoming secretary of state and superintendent of public instruction, backing Casper Republican Chuck Gray for the state's top election job and incumbent Brian Schroeder as Wyoming's head education official.
Trump also endorsed incumbent Curt Meier for treasurer.
But two days later, U.S. Sen. Cynthia Lummis endorsed three candidates of her own, backing Trump on Hageman, but splitting with him on her picks for secretary of state and superintendent of public instruction.
She did not announce her pick for treasurer.
Lummis endorsed Cheyenne Republican Tara Nethercott for secretary of state and Megan Degenfelder for superintendent, chalking up her decision in part to their qualifications and lifelong ties to Wyoming.
"They were raised in Wyoming, educated in Wyoming schools, built businesses in Wyoming, volunteered in Wyoming and contributed greatly to Wyoming communities," Lummis said in a Sunday Cowboy State Daily column. "They have chosen to make Wyoming and its people their priority throughout their entire lives."
Her office declined a request for further comment.
Gray hasn't outright said the 2020 election was stolen from Trump but has said it was a "disaster" and "fraudulent." He champions "2000 Mules," a film alleging that Biden's victory was due to "mules" paid by unnamed nonprofits to stuff ballot boxes with potentially fake ballots in Arizona, Georgia, Michigan, Pennsylvania and Wisconsin — states Trump lost to Biden.
Reuters and other news outlets have fact-checked the claims in the movie and determined that it doesn't show "concrete, verifiable" evidence of "widespread voter fraud."
Schroeder, the current superintendent of public instruction, was at the heart of a legislative debate about transgender women participating in girls' sports and recently railed against critical race theory in a letter to legislators.
Nethercott has firmly denounced claims of an illegitimate 2020 presidential election and supported the use of ballot boxes in Wyoming. Gray, meanwhile, has advocated for banning them.
Degenfelder, like Schroeder, opposes teaching critical race theory in the classroom and allowing transgender athletes in women's sports.
Jim King, professor of political science in the School of Politics, Public Affairs and International Studies at the University of Wyoming, said that what's happening in Wyoming is not unusual nationwide.
Trump has stepped into federal and down-ballot races in multiple other states, issuing over 230 primary endorsements for governors, senators and state officials who back his hardline conservative rhetoric and, in high profile races for secretaries of state that oversee elections, support his false claims that the 2020 election was stolen.
"It seems Trump is looking up and down the ballot everywhere," King said. "We've got a former president making an endorsement in the secretary of state's race here just like he did in Georgia, just like he did in Arizona."
In Georgia, Trump's pick lost. But in Arizona, Mark Finchem, who introduced a resolution to decertify the 2020 election results, won.
King said it's not clear how much weight Trump's voice will have in Wyoming for lower-profile races. Endorsements, King said, only matter if voters "have some sort of connection to the endorser."
"Saying that Trump has endorsed this candidate or Lummis endorsed that candidate doesn't mean anything unless the voter getting that, hearing that, is strongly committed to the ideas or believes that the endorser really is providing good information along the way," he said.
King also said many people likely know that Trump has endorsed Hageman but likely don't know who the candidates for secretary of state are.
"Let alone endorse them," King said.
But at least one Wyoming Republican is putting stock in Trump's endorsements. Over 70% of the state voted for him in the 2020 election. "When Trump puts his stamp of approval on a candidate, there's a pretty high probability that that candidate is going to win," said John Fox, a member of Hageman's grassroots campaign.
Nationwide, Trump has a 93% success rate in the 2022 primaries, according to Ballotpedia.
"The Trump voters like myself and people like me — if Trump says this is a good guy or good gal, guess what? That's enough for me," Fox told the News&Guide. "I'm going to pull that lever."
He said he'd followed Trump's picks in the primary, casting a ballot before he left for vacation.
National politicos aren't the only ones weighing in. Gun Owners of America, a pro-gun group, not only endorsed Hageman over Cheney, but also cast their weight behind Schroeder, the incumbent superintendent. The lobby has previously come under fire from legislative Republicans for backing conservative candidates in tight legislative races.
Even Dockstader, who said he's generally steered clear of endorsements in his 16-year political career, threw his weight behind Nethercott, a state senator who's running for secretary of state against Chuck Gray, a Casper Republican in the Wyoming House of Representatives.
Dockstader attributed his decision to endorse Nethercott to her record — she serves on the Senate Corporations, Elections and Political Subdivisions committee — her education and experience. But the Senate president also said he had "concerns" about Gray being elected.
"We have a successful system in place with our existing clerks," Dockstader said. "If he goes in and changes that to any great degree, then do we have to reinvent the wheel as to how we do elections in the state? And a state that, for the most part, people are comfortable with the security that's there?"
Gray did not respond to a request for comment.
Cheney, in an interview Monday night, dodged a question about the Wyoming races.
"I don't want to get into individual races, both because I can help people and I can also hurt people if I announce my support for them," she said, adding that she doesn't think voters should support Republicans who are "election deniers."
"I also think that the Democrats should not be playing games," Cheney said, pointing to the primary for Michigan Republican Peter Meijer's seat in the U.S. House of Representatives. There, Democrats invested to support his opponent John Gibbs, who has called the results of the 2020 election "mathematically impossible." Meijer, like Cheney, voted to impeach Trump.
"They did that specifically because they wanted his opponent to be their opponent in the fall," Cheney said. "That's playing with fire. It's really dangerous."
Other Wyomingites were critical with national politicians getting involved locally.
"They don't seem to know what the job is," said Kate Mead, a Teton County rancher and member of the Teton County School District No. 1 Board of Trustees. "It's a pass through agency. They pass through federal money. They're really not a policymaking agency, because local control is obviously the basis for Wyoming education."
The state superintendent does, however, sit on the state board of education, which sets state education policy.
Gov. Mark Gordon appoints the board and also is running for re-election. He hasn't received presidential or senatorial endorsements.
Fox said he also doesn't necessarily agree with the precedent the national endorsements set.
"Normally I would say it's probably not something to do on a regular basis," Fox said. "But because Wyoming has such a huge race, and there's been so much attention on the Cheney-Hageman race, you know what, why not?"
Lummis had previously endorsed the late Alta Republican Leland Christensen when he ran against Cheney for a seat in the U.S. House in 2016, as Lummis was vacating her seat after a nine-year run as Wyoming's only representative.
Lummis' staff deflected a request for further comment, saying her op-ed "speaks for itself."

Let us know what you think!
Tagged:
Brian Schroeder
Chuck Gray
Curt Meier
Dan Dockstader
donald trump
Harriet Hageman
Liz Cheney
Tara Nethercott
U.S. House of Representatives
Wyoming Legislature