Independence Day Celebrations planned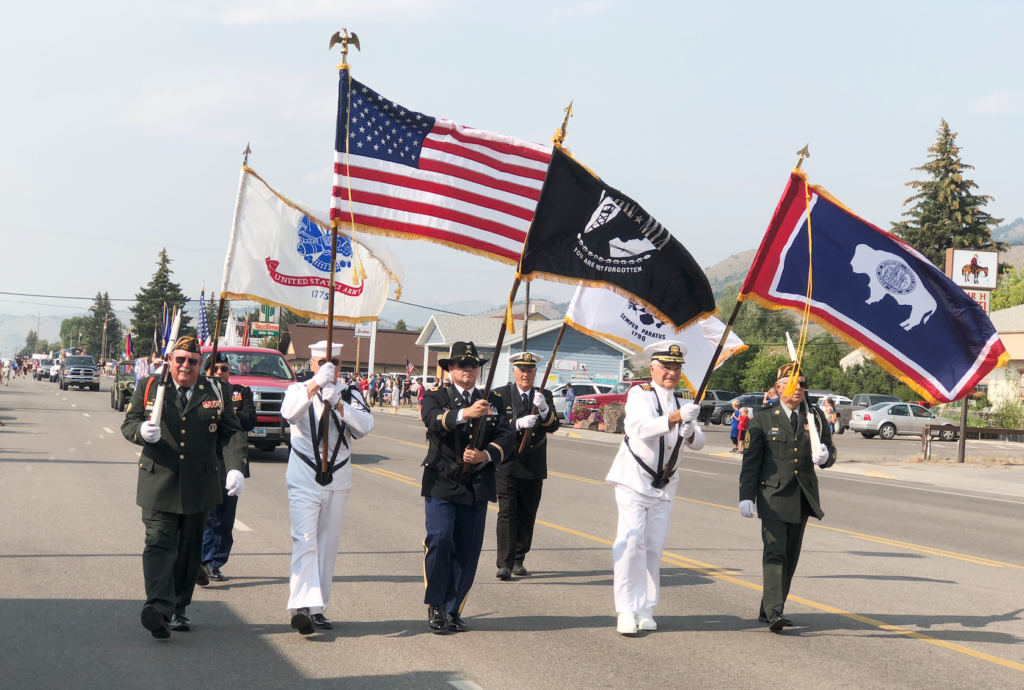 ◆ Fireworks and festivities scheduled for Saturday.
It's been a wild ride this summer as far as what community events will be taking place. But July is getting underway with a bang, literally.
This week towns and communities in Lincoln County will be celebrating Independence Day with family fun runs, pancakes, parades and fireworks. See below for details.
• Town of Kemmerer: Kemmerer will celebrate Independence Day with a golf tournament. The two-person scramble, nine hole shotgun event will begin at 10 a.m. at the Fossil Island Golf Course.
The Search and Rescue sponsored Independence Day Parade will begin at 1 p.m. at Kemmerer High School.
• Town of Cokeville: Cokeville will begin its Independence Day festivities with a duck race along Spring Creek at 7 a.m.
The American Legion 4th of July Breakfast will get underway at 8 a.m. in the city park with food service continuing through 9:30 a.m.
A kickball tournament, games and activities, food and vendor fair will take place at the park throughout the day.
The firework show will get underway between 8:30-9 p.m.

• Town of Afton: The Afton Independence Day Celebration will begin with the Heritage Hall of Fame Induction at 10 a.m. in the south exhibit building of the Lincoln County Fair Grounds.
The parade will begin at 5 p.m. with parade line-up at 4:30 p.m. at the Lincoln County Fair Grounds.
The parade route has been extended this year to accomodate social distancing.
Parade entries will travel south on main street from the Lincoln County Fairgrounds to Fifth Avenue before turning east to Adams Street. They will travel north along Adams Street to Second Avenue before returning to the fair grounds.
A firework showcase is planned for 10 p.m.
• Town of Thayne: Thayne will begin its Independence Day Celebration at 6:30 a.m. with a Family Fun Run. Meet at Unity Park (by Thayne Elementary) if you would like to participate.
The Independence Day Parade entry judging and line-up will begin in the staging area at 8:30 a.m.
The parade will begin at 10 a.m. Delane Skinner will serve as Grand Marshall. The Water Free Zone will be set up from Dana Street to Osmond Street on both sides of the highway.
SVI Media will be broadcasting the parade.
The firework showcase will begin at 10 p.m. and can be viewed from the town by looking southwest.
• Star Valley Ranch: The Star Valley Ranch Association will host the annual Flag Raising Ceremony at 7:30 a.m. at Cedar Creek Park.
• Town of Alpine: A vendor fair will be set in the Marge Grover Memorial (adjacent to the Alpine Civic Center) throughout the day.
The Alpine Independence Day Parade will begin at 7 p.m. with parade line-up along the Greys River Road, beginning at 6:30 p.m.
A firework showcase will take place at dusk.
• Chalk the Walk: Saturday, July 4 from 8 a.m. to 3 p.m. the Star Valley Arts Council will host a Chalk the Walk event in Afton.
"Come "chalk the walk" with us in downtown Afton between 4th and 5th avenue," said Arts Council President Tim Hale. "Share your artistic skills or simply bring the kids downtown to make a fun drawing or scribble a message thanking service members and heroes."
"We'll have chalk available or families and artists can bring their own chalk," Hale continued. "Serious artists can start as early as 8 a.m., or show up anytime before 3 p.m. if you'd like to just doodle a bit. We'll wrap up the activity at 3 p.m. We'll have taped-off chalk spots to reserve, as well as spots where anyone can come and chalk the walk."
If you'd like to reserve a specific sidewalk spot, contact the Star Valley Arts Council at starvalleyarts@gmail.com or through the Star Valley Arts Council Facebook page.
Tagged:
Star Valley Independence Day Celebrations
Town of Afton
Town of Alpine
Town of Star Valley Ranch
Town of Thayne