Independent Obituaries: April 17, 2019
The following obituaries appeared in the April 17, 2019 edition of the Star Valley Independent.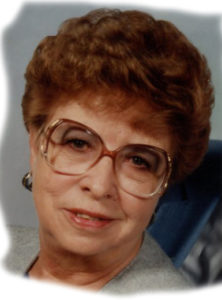 Bette Jane Robison Rentfro, 89, passed away in her home in Hyrum, Utah on Thursday, April 4, 2019. Bette was born August 24, 1929 to parents Gonzella (Zell) Nate Robison and Budd S. Robison. On May 15, 1948, she married her high school sweetheart, Delbert in Cokeville, Wyoming where the two would live and raise their three children, Peggy, Debra, and Kelly. On December 27, 1962, the two were sealed for time and all eternity in the Logan Temple. Bette loved working as a secretary at the Cokeville school for many years until she and Delbert retired, staying in Cokeville, but making time to travel the country and camping closer to home where they continued to make memories with family and friends. Those memories were always close to her heart, often revisiting them in her journals, and sharing them with family. After the passing of her beloved husband, she moved to Cache Valley, Utah to be closer to family.
Grandchildren and great grandchildren will remember the squeaky candy drawer in grandma's Cokeville home, and knew they could always count on a plate of her homemade Christmas goodies, including her cherished candy and sugar cookies.  Bette enjoyed a Sunday ride in the mountains, serving others, reading, cross stitch, and spending time outdoors. She had a light-hearted personality and good sense of humor. Most of all she enjoyed time with family attending various sporting and extracurricular activities.
She was preceded in death by her husband Delbert Dewayne Rentfro, her daughter, Peggy Rentfro Roskelley and Gene Richard Roskelley, her son-in-law, her daughter Debra Ann Clark, her granddaughter, Angie Roskelley and parents, Gonzella (Zell) Nate Robison and Budd S. Robison, sisters Joy Olsen and Ann Thompson and many other beloved family and friends.  The late Peggy and Gene Richard Roskelley children and spouses: Richard and Pam Roskelley, Colette and Juan Navarro, Nate and Rebecca Roskelley, Aaron and Nicole Eversull, Shane and Julia Roskelley, Terilynn Roskelley, and 22 great grandchildren and three great, great grandchildren. Randy and the late Debra Ann Rentfro Clark children and spouses: Amanda and Steve Shockey, Jessica and Larry Dockery, Ryan and Megan Clark, Shelley and Dustin Cazier, Troy and Sabra Clark and 11 great grandchildren.  Kelly Rentfro children and spouses: Melissa and Eric Sellars, Zane Rentfro, and four great grandchildren.  Additional Survivors include her brother Gerald Robinson, sister-In-law Doris McLish and brother-in-law Ron Thompson.  The viewing was held on Sunday, April 14th from 6-7 p.m at Nelson Funeral Home located at 162 East 400 North Logan, Utah.
Services were held Monday, April 15th at 1 p.m, at the Cokeville chapel. A viewing was from 11:30-12:30 p.m. Interment was in the Cokeville City cemetery.
Our devoted mother, and grandmother, Neva Shumway Lancaster, died on Saturday, March 31, 2019 at the Star Valley Care Center in Afton, Wyoming. She was 90 years old. Funeral services were held on Saturday, April 6, 2019 at the Cottonwood LDS Chapel. Burial was in the Smoot Cemetery.
She was born on April 1, 1928 at Afton, Wyoming in the Allred Hotel. Her parents were Guy Leon Shumway and Gladys Orissa Allred Shumway.  Her family moved often for work. Therefore, Neva attended schools in Fairview, Etna, Afton, Thayne and Afton.  Because her parents ran several cafés in the valley, Neva became an excellent cook. She was an accomplished seamstress cutting her own sewing patterns from newspaper, and then using the material from printed flower sacks for the clothes.  Neva's great love was music. At age 13, she started singing in a trio with two younger sisters, Valoy and Roma. They sang for many social events.  She wasn't afraid of hard work and kept a clean house. She was also a big help to her husband, Dean, on the farm. She milked cows and ran the buckrake during haying season.
She met Hyrum Dean Lancaster at Star Valley High School. They were later married on March 13, 1945, in the Logan Temple. They enjoyed 70 years together.  She was a member of the Church of Jesus Christ of Latter-day Saints. Neva had many callings and served gladly. She was an avid geneaologist.
She is survived by six children: Beverly (Brent) Simpson, Bedford, Wyoming; Bernell (Susan) Lancaster, Orem, Utah; Evlyn Davis, Caldwell, Idaho; Terry (Shelly) Lancaster, Smoot, Wyoming; LaDawn Ericksen, Salt Lake City, Utah; Ray (Lori) Lancaster, Wellsville, Utah; 27 grandchildren, 68 great grandchildren, four great great grandchildren; and one sister, Roma (Clyde) Olson, Ogden, Utah.  Neva was preceded in death by her husband, Hyrum Dean Lancaster; son, Rollin Dean Lancaster, parents, Guy Leon and Gladys Shumway; son-in-law, Dennis Davis; brother, Ross "A" Shumway, two sisters, Valoy Porter and Ledene Stumpp.
Tagged:
Bette Jane Robison Rentfro
Neva Shumway Lancaster