Independent Obituaries: April 7, 2021
The following obituaries appeared in the April 7, 2021 edition of the Star Valley Independent.
For more area obituaries, please visit Schwab Mortuary.
For more resources including headstones, please visit the Star Valley Historical Society.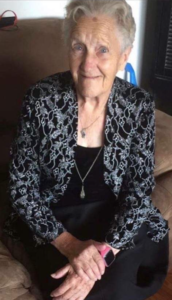 Our beloved mother Bonnie Joyce Wheeler Nebeker, of Fairview, Wyoming returned home to our Heavenly Father on Easter Sunday April 4, 2021 at the Briarwood Care Facility in Rexburg, Idaho.
Bonnie was born to Joseph and Lorraine Wheeler on August 13, 1933 in Moab Utah. Her family later moved to Star Valley where she met the love of her life Darrell Nebeker, they were married and later sealed for time and eternity in the Idaho Falls temple.
Bonnie and Darrell had five children, Tenna Merritt , Sherry Nebeker, Pam Tolman, Clint Nebeker, and Lee Leavitt.
Bonnie spent the majority of her life teaching, which was one of her greatest joys. Her teaching career began in Thayne, Wyoming, later teaching at Osmond Elementary from 1980-1993. After retiring she was presented with a plague for her Excellence in Teaching.
The teacher in Bonnie never left her even after she left the school district. Bonnie would seek out the schools and volunteer to teach art where she supplied materials when she and Darrell would leave for the winters. Bonnie was a great teacher to her children as well, she taught them to love, forgive, be honest and always do your best. She was nominated to the American Mothers Inc, and in April 15, 2000 was honored to accept the award for being voted Mother of the Year.
Bonnie spent several years researching and preparing genealogy and studying the church history. She had traced both her line and Darrells family history as far back as there are records.
She had a strong testimony of the gospel and a love for our Savior Jesus Christ.
Bonnie is survived by her five children Tenna Merritt (Robert) of Nampa, Idaho, Sherry Nebeker of Fairview, Pam Tolman of Fairview, Clint Nebeker (Tracy) of Elko, Nevada, Lee Leavitt of Fairview, 22 grandchildren, 53 great grandchildren and three great great grandchildren.
She is proceeded in death by her loving husband Darrell Nebeker, her parents Joseph and Lorraine Wheeler, two brothers Kenneth and Dean Wheeler and a sister Judy Wheeler Carr.
She will be greatly missed by her family and friends.
A viewing will be held on Thursday, April 8, 2021 at Schwab Mortuary from 6-8 p.m. and a graveside service will be held on Friday, April 9, 2021 in the Fairview Cemetery at 1 p.m.
Tagged:
Bonnie Joyce Wheeler Nebeker