Independent Obituaries: May 25, 2022
The following obituaries appeared in the May 25, 2022 edition of the Star Valley Independent.
For more area obituaries, please visit Schwab Mortuary.
For more resources including headstones, please visit the Star Valley Historical Society.
HALLELUJAH! The Lord Has Risen! And so has Kathleen Ursula Pospisil Heim. HALLELUJAH! Before sunrise on April 19th, our dear sweet mother Kathleen Ursula Pospisil Heim joined our Heavenly Father. She was welcomed with open and loving arms by her husband, the Love of her life, Walter, her mother Anna, her father John, her sister Patricia, and her brother John, along with all of her friends and other family members that passed away before her. As hard as it was to say our goodbyes, we find Peace knowing that Our Mother and Friend is Happy, Healthy, and no longer in pain. "Mom, We will all be together again. Hug Daddy from us. See you then."
Kathy leaves behind her three children, Christine Heim Pohlman (Greg) of Steamboat Springs CO, Wayne Heim (Christine) of Chesterland OH, Jennifer Heim Redman (Cary) of Kennesaw GA, her nine grandchildren, and her two great-grandchildren. A Celebration of Life for the family will be held at a future date. In lieu of flowers or gifts, please make a donation to your local animal shelter, as we all know Kathy loved her many pets and animals just like family.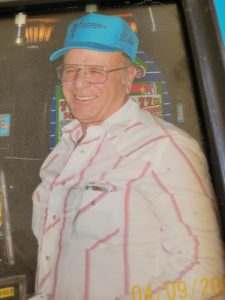 Richard Nimmo was born on June 17, 1942 to Orville and Francis Nimmo in Crawford Colorado. He received his wings on May 22, 2022 at 12:20 am at his home with his family circled around him. He went to school in Oregon, Oklahoma and Arizona. He went into the Army in 1959 and left with honors in 1965. When he left the army, he worked in the uranium mines in Wyoming and helped his parents with their ranch in Lander Wyoming. He moved to Arizona and was a supervisor at CRS for 10 years before starting his own business of reworking trencher buckets and wheels. In 1995 he left Arizona to build his successful business in fireworks retail sales. This year will be 27 years in Alpine.
Richard met is wife, of 62 years, Geneva in Arizona when they where only 16 and 17 years old. They married a year later at 17 and 18 years old on December 1959. They were blessed with their first daughter Shari on December 1960 in Virginia and 11 months later second daughter Corina was born on November 1961. They took a break from having children for three years and the last child Richard was born in May 1964. Richard had 2 sisters Wanda and Sharon and a brother Ray. Richard and Geneva have six grandchildren, and 16 great grandchildren.
He was proceeded in death by his parents, both sisters Wanda and Sharon a nephew Travis and Grandson Richard.
A Celebration of Life will be at later date.
Let us know what you think!
Tagged:
Kathleen Ursula Pospisil Heim
Richard Nimmo
Star Valley Wyoming obituaries
Wyoming obituaries