Independent Obituaries: September 27, 2023
The following obituaries appeared in the September 27, 2023 edition of the Star Valley Independent.
For more area obituaries, please visit Schwab Mortuary.
For more resources including headstones, please visit the Star Valley Historical Society.

Allene Robinson
Allene Burton Winters Astle Heiner Robinson passed away on September 18, 2023.  She was born August 17, 1934 to Margaret Burton and Erastus Francis Winters in Afton, Wyoming.  She was the second child to be born into a wonderful family of ten children.  Her siblings are Francis Burton, Kathleen (Call), Evan Burton, John Burton, Bruce Burton, Mary Esther (Cluff), Margaret Ann (Moulton), Wayne Burton, and Joan who died at birth.
Allene had a wonderful childhood growing up in Afton.  Her mother and father were such kind wonderful parents.  They didn't always have a lot of money but they had a lot of love in their home.  The family loved music and singing together.   It was a big part of their lives, especially Allene's.
She was set up on a date by one of her friends with Elmo Astle.  They fell in love and were married June 19, 1952 in the Idaho Falls Temple.  They started their family right away having five children Michael Francis, Gary Winters, Ronald Winters, Deborah, and Susan.  They lived in Provo, Utah for twelve years and enjoyed it but wanted to move back to Star Valley.  They purchased the old Astle house in Grover and remodeled it.  They finished raising their children there.
Elmo's sister Francis Moser died and so Allene and Elmo brought her two children Brad and Leslie home to live with them.  Leslie later moved in with Elmo's sister Thelma Beyler.
Elmo and Allene also opened their home to many others that needed a place to stay, always making them feel welcome and at home.  They also became foster parents for the state and gave several children a safe and loving home.  Allene touched many young lives.
In April of 1980, Elmo died unexpectedly leaving Allene a young widow.  Allene decided to fulfill one of her dreams and go to school at Ricks College.  She went for two years then met Lloyd Heiner a widower from Bedford.  They were married in 1982 and moved to Lloyd's house in Bedford.  Allene made many friends in Bedford and enjoyed living there.  Her and Lloyd served a mission in Albuquerque New Mexico.  Allene loved serving in The Church of Jesus Christ of Latter-day Saints and held many callings.
Lloyd had four sons David (Charlotte), Mark (Marilyn), Gaylon (Kristie), and Verdean (Helen).  Allene became grandma to their children and Lloyd became grandpa to Allene's.  Most of the grandchildren on both sides did not know any other grandparent.
In 1993 Allene started writing musicals and comedies which were presented to the Star Valley Historical Society and used in the Old Rock Church plays for many years.  This became her passion.
Lloyd and Allene were married a little over twenty-six years when Lloyd passed away from cancer in 2009.  After Lloyd died Allene had an apartment built onto her daughter Susan's house in Grover.  She loved having her own place to call home.
In May of 2013, Allene renewed an old high school friendship with John Robinson. John's wife had passed away the year before. They were married later that same year in the Grover Church.  They lived in Soda Springs, Idaho where Allene made new friends and enjoyed living there.  She also loved John's family which included two sons David (Lanae), Scott (Shirley), and a daughter Janet.  John was very kind to her and took really good care of her. John passed away in 2015 from a massive heart attack.
Allene had back issues and nerve damage for many years and it continued to get worse.  It wasn't long until she was bound to a wheelchair and couldn't walk.  Her children took care of her the best they could but soon it became too much and they had to put her in a care facility in Idaho Falls.  She made many new friends but always asked if she could go back home to Grover.  She passed away in Idaho Falls on September 18, 2023 surrounded by loved ones.
She was preceded in death by her parents Margaret and Erastus Francis Winters, brothers Francis Burton and Evan Burton, sister Joan, husbands Elmo Carling Astle, Lloyd Heiner, and John Robinson, daughter Deborah Astle Schwab, daughter-in-law Peggy Dawn Astle, and niece Leslie Moser Dahle.
Allene was survived by her children Michael Francis (Robyn) of Smoot, Wyoming, Gary Winters of Grover Wyoming, Ronald Winters (Kristin) of Vincennes, Indiana, and Susan Loveland of Grover, Wyoming, son-in-law Byron Schwab of Grover, Wyoming and nephew Brad Moser (Sherry) of Logan, Utah.
She had 19 grandchildren and 35 great grandchildren.
Funeral Services will be held on Saturday, September 30 at 11 a.m. in the Grover Ward Chapel. A viewing will be held from 9:30-10:45 a.m., prior to the service at the church.
Dakota Bateman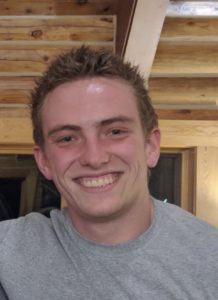 Dakota Bateman, age 25, passed away September 21, 2023. He was born April 19, 1998 in Mt. Pleasant, Utah.
His parents are Daniel Bateman from Las Vegas, Noel Bateman and Deon Heiner from Turnerville.
Dakota grew up in Bedford, Wyoming and attended Star Valley High School. He continued his education at Idaho State University where he graduated with a Bachelors degree in Medical Laboratory Sciences. He was a lab technician at Star Valley Medical Center as well as a carpenter for Continental Construction.
Dakota loved working with his hands and was helping to build a home for his mother and sister alongside his late father.
He was loved by all who met him. Dakota had an ever present smile that could make anyone around him feel accepted. His compassion and genuine care for others made a huge impact wherever he went. There was never a dull conversation to be had with Dakota and he always came equipped with plenty of dad jokes. Dakota carried a deep passion for his family and enjoyed making connections with others. He will be greatly missed by the community, his immediate and extended family, who have been forever touched, by this young man.
Dakota is survived by his grandparents Kent and Carolyne Nicholes; his two older sisters Angel Bateman and Paige Bateman. He is also survived by two of his three parents, Daniel Bateman and Noel Bateman.
He is preceded in death by two Grandparents, Connell and Trudie Bateman and his father, Deon Heiner.
A gathering will be held at Schwab Mortuary in Thayne at 10 am followed by a memorial service at 11 am.

Let us know what you think!
Tagged:
Allene Robinson
Dakota Bateman
Star Valley Wyoming obituaries
Wyoming obituaries