Jacetin Clark wins 1st Annual YHEC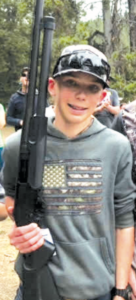 The 1st Annual Star Valley Youth Hunter Education Challenge (YHEC) was held this past weekend in Grover Park. Over 40 kids between the ages of 8 and 18 participated in the shooting competition in eight various events. Jacetin Clark coming out on top as the overall winner. As the overall winner, Clark won a 20 gauge shotgun donated by Wild Wyoming Outfitters.
"These kids got to show off their safe shooting skills and ethical hunting knowledge as well as learning new skills and information they can carry with them," stated Hanna Buxman, organizer of Star Valley YHEC. "For many, it was their first time with muzzle loaders or using a map and com- pass. Everyone had a great time and hopefully we inspired a few kids as well!"
The competition included archery, shotgun, .22 rifle, muzzle loader, orienteering, wildlife identification, hunter responsibility and a hunter safety trail.
"Safe shooting and ethical hunting and responsibility are so important for our kids to continue learning about. This was a great group of youth participants as well as the parents and volunteers," continued Buxman. "We had kids volunteering to clean up trash as they went, they were kind and courteous and the safety and responsibility was top notch! We couldn't be more proud of how this first year went. We also have great feedback and ideas to move forward towards next year's event."
Buxman thanked all the sponsors, including businesses and families, that supported the event, as well as the many volunteers who helped run YHEC this year. "We couldn't have done this without the generosity and sup- port of this great community of Star Valley!"
Additional information on the Star Valley, Wyoming Youth Hunter Education Challenge can be found by following Star Valley YHEC on Facebook.
Let us know what you think!
Tagged:
Hanna Buxman
Jacetin Clark
Star Valley Youth Hunter Education Challenge
Wild Wyoming Outfitters
YHEC