Jed Johnson appointed to LCSD No. 2 Board position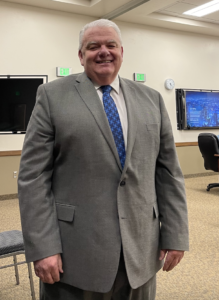 In a special session held on November 2, the LCSD No. 2 Board of Trustees and Superintendent Matt Erickson emerged from an executive session which was held for the intent to interview a candidate for an open position on the board representing Area 3. The spot is open due to the resignation of Lane Allred who is expected to be elected as a representative for Wyoming House District 21 during the General Election on November 8. 
Connie Day moved to vote on the appointment of Jed Johnson to fill the position, a motion which was seconded by Darnell Simpson. The appointment was voted in the affirmative by a unanimous vote by those in attendance. 
Johnson will be sworn in prior to next regularly scheduled board meeting scheduled for Wednesday, November 9, and will be part of that meeting as a member. 
Johnson has previously spent 30 years teaching in Etna, Thayne and Osmond schools for LCSD No. 2.
Johnson is a  graduate of Star Valley High School who holds a degree in Communications from the University of Wyoming and a degree in Elementary Education from Utah State University. 
"I thought for three years in Big Horn No. 1 in Byron," he said. "Then I taught for 30 years here in third, fourth, fifth and sixth grade and had a great career here."
Johnson stated he wanted to give something back after a fulfilling career.
"I knew there was an opening because Mr. Allred was going to the Legislature," he said. "This district has been really good to me through the years. I was a student here, a teacher here and I raised my family here and I just want to give something back. I'd like to keep the values here that I experienced through the years and that's why I put my name in here. I'm not coming in with any specific items, just to support the board and anything that comes before the board I will voice my opinion on it and be supportive." 
Let us know what you think!
Tagged:
Jed Johnson
LCSD No. 2