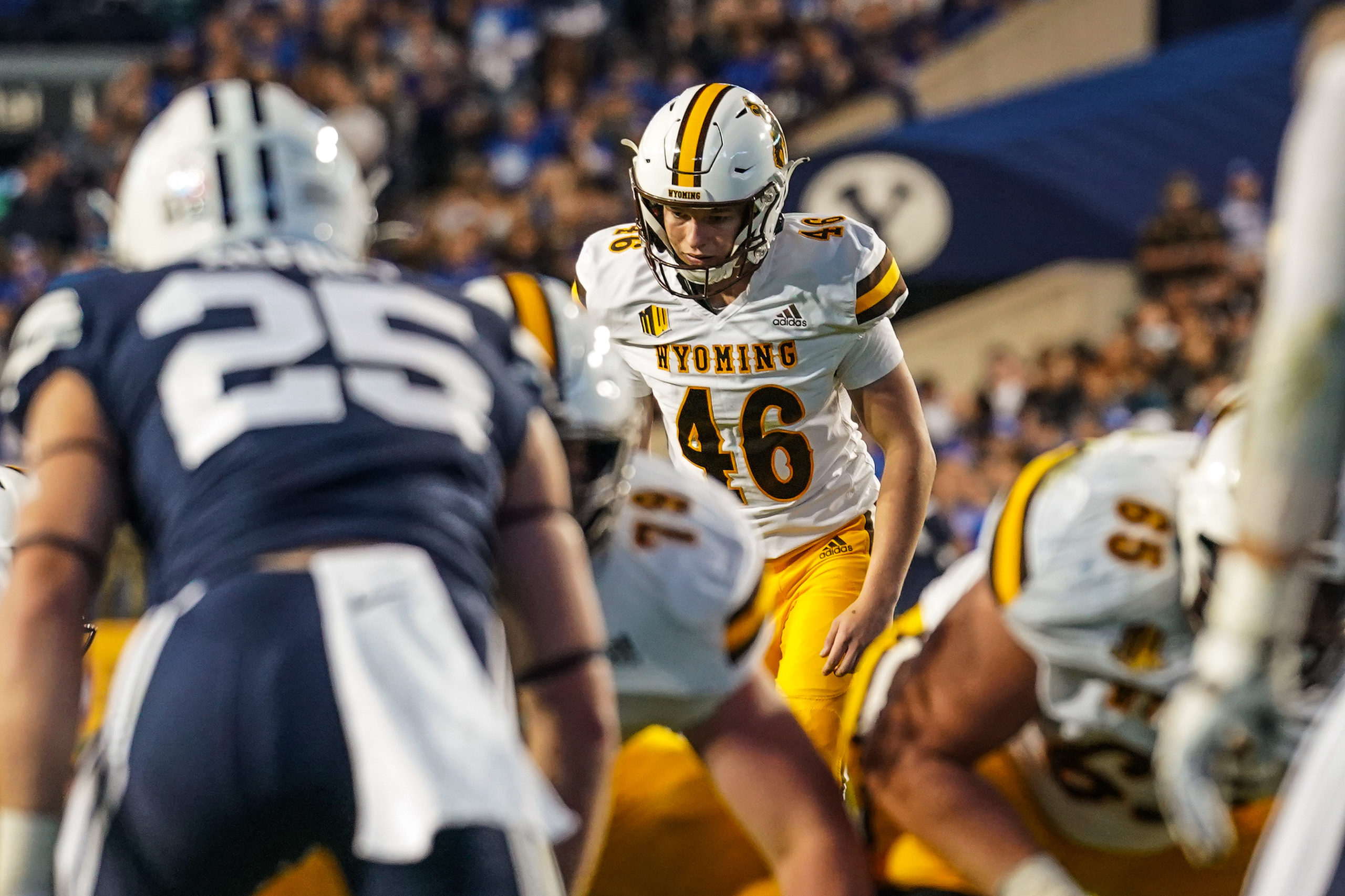 • Award Honors the Most Outstanding Player Who Began His College Career as a Walk-on
Tim Harkins
Associate Athletics Director for Media Relations,
Public Relations and Broadcasting
University of Wyoming Athletics
 The 2022 list of nominees for the Burlsworth Trophy have been announced and Wyoming sophomore place-kicker John Hoyland is among this year's nominees.
The award is in its 13th season and is presented each year to the most outstanding football player in America who began his career as a walk-on and has shown outstanding performance on the field.  Each nominee must have begun his first season of participation with an FBS football program without financial aid of any kind from his university's athletic department.
The Trophy is named in honor of Brandon Burlsworth, former University of Arkansas Walk-on and All-American offensive lineman.  Burlsworth's life is also the subject of a major motion picture, "GREATER", which was released in 2016.
In 2018, Wyoming safety Marcus Epps was selected as one of three finalists for the Burlsworth Trophy.
"All of these young men had the dream to play college football at the highest level", said Marty Burlsworth, President and CEO of the Burlsworth Trophy and older brother of Brandon Burlsworth.  "And they had the work ethic and devotion to make that dream come true.  They overcame the odds and achieved beyond others' expectations.  That's what the Burlsworth Trophy is all about."
Without one D1 scholarship offer, Brandon Burlsworth walked on at the University of Arkansas in 1994.  He became a three-year starter and was eventually named an All-American in 1998.  Burlsworth was selected as the 63rd overall pick by the Indianapolis Colts in the 1999 NFL draft but was tragically killed in a car accident 11 days later.  The Burlsworth Foundation was created in his memory and supports the physical and spiritual needs of children, in particular those children who have limited opportunities.
The Burlsworth Trophy award ceremony to honor the three finalists and to announce the 2022 winner will be on Dec. 5 at 7:00 p.m., Central Time at Crystal Bridges Museum in Bentonville, Ark.
Hoyland joined the Wyoming Football program in the summer of 2020 from Legacy High School in Broomfield, Colo.  Hoyland has started for the Cowboys from the very first game of his true freshman season of 2020 — 27 consecutive starts.
He earned Mountain West Special Teams Player of the Week honors in that first career start at Nevada in 2020.  He went on to earn Second Team All-Mountain West honors as a true freshman, while leading the nation in field goals made (2.17 per game).  He was also the only place-kicker named to the 2020 Football Writers Association of America (FWAA) Freshman All-America team.
For the 2022 season, Hoyland is currently ranked No. 2 in the nation in field goals made, averaging 2.11 field goals per game.  He is also ranked No. 9 in the nation in scoring, with 78 total points.  PFF (Pro Football Focus) named him a 2022 Second Team Mid-season All-American on Oct. 26.
Hoyland has made 19 of 21 field goals he has attempted this season, including a career long 55-yard field goal.  He is a perfect 21 of 21 in PATs on the season.
With his 19 made field goals in the 2022 season, Hoyland is only one shy of the single-season school record set by Cory Wedel in 1996 and tied by J.D. Wallum in 2001.
In addition to earning an MW Special Teams Player of the Week honor in 2020, Hoyland has earned that honor three times in 2022 — versus  Tulsa, Northern Colorado and Hawai'i — and has now won that award four times during his career.
Let us know what you think!