Kemmerer City Council Approves Fiscal Budget
The Kemmerer City Council approved a 4.2 million dollar balanced budget for the 2021-2022 fiscal year at its regular meeting Monday, June 14. This is an increase of about $750,000 from
last years budget. By far, the biggest increase in the budget was for construction and repairs at the Kemmerer airport. Most of the money to pay for these expenses came through grants and
funds from state and federal sources.  Kemmerer City Administrator Brian Muir said all employees will receive a three percent increase in pay, and all benefits stay intact. This budget goes into effect on July 1st.
In other new business, the council unanimously approved, on first reading, an ordinance to allow off-road recreation vehicles on some city streets. Mayor Thek said this is part of a program to encourage more off-road vehicle use in Southwest Wyoming. Muir said that the fees charged to operate off-road vehicles on some city streets could increase city revenues.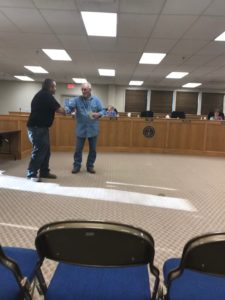 The council gave the go ahead to a contract with Harris Construction to rebuild the air conditioning and domestic water system at the Kemmerer Recreation Center. Muir said the $285,000 for this project would be taken out of the Art Piz fund.
The council also agreed to a two-year contract with Lincoln County concerning landfill fees. Muir said the terms of the contract are the same as they were last year. During comments, Muir said he and Mayor Thek will be putting out press releases from the city on the possibility that PacifiCrops will be building a nuclear power plant and carbon capture facilities in the Kemmerer/Diamondville area in the future.
Muir told the council that the JC Penney statue donated to the city is slated to be erected at Triangle Park the first or second week of August. He said there would also be a JC Penney annual event taking place near Labor Day to promote local businesses. Muir said funding for the statue was still rolling in.
Kemmerer Lions Club president Mark Quinn presented mayor Thek with two checks from money raised at the club's ice fishing derby this year. A $10,000 check to go towards the Archie Neal park outdoor pool project, and a $1500 check to buy exercise equipment for the Kemmerer Recreation Center.
Muir lastly reminded the council that FossilFest was coming up in Kemmerer this coming Friday and Saturday.