Kemmerer City Council Notes: July 26, 2021
KEMMERER CITY COUNCIL HAS SHORT MEETING
The Kemmerer City Council quickly approved four items at a Monday evening meeting that lasted just 45 minutes.
Under new business, the council approved the only item there. That was the third and final reading on an ordinance that established the Kemmerer JC Penney Contribution Fund, and how the funds would be used.
Under new business, the council approved three items. They were a contract with the U.S. Forest service for use of the South Lincoln Training and Events Center, a Kemmerer Airport grant application that would reimburse the city for covid-related issues, and a change to the contract with Viviano's Concrete to slightly increase the base for the JC Penney statue that is being erected at Triangle Park. The city began preparing the southeast corner of the park for the statue on Monday.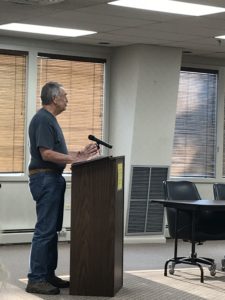 The President of the Lincoln County chapter of the Wyoming Historical Society, Dennis Oden, informed the Kemmerer City Council that the Wyoming Historical Society's state meeting is scheduled to be held in Kemmerer in November 2022. He said holding the state meeting in Kemmerer would not be possible without the city's help.
Kemmerer City Administrator Brian Muir told the council that he would be holding a meeting Tuesday evening at the Training and Events Center to update the public, and answer questions on the possible construction of a nuclear power plant in Kemmerer by Rocky Mountain Power. He said this project could potentially bring up to 250 new jobs to the south Lincoln community.
Mayor Bill Thek and councilman Eric Rudy thanked everyone involved in making this past weekend's Oyster Ridge Music Festival a success. Councilman Bill Price said he
shuttled people to and from camping sites on the Senior Citizens Center bus at the festival, and got a lot of positive comments from people about the festival.
Mayor Thek also announced the the annual community picnic would be combined with the JC Penney Day celebration and statue dedication on August 28.

Let us know what you think!