Kemmerer native Jon Cogdill to be inducted into Wyoming Hall of Fame
◆ Cogdill was a two sport athlete at UW.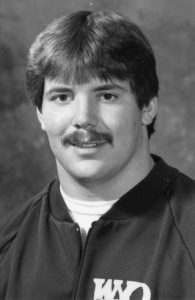 The University of Wyoming announced Kemmerer native Jon Cogdill will join the Athletics 2020 Hall of Fame class later this year.
The official induction will happen in September. Cogdill was a three-time heavyweight wrestling champion for Wyoming. He qualified for three NCAA wrestling tournaments.
He was also a long snapper and offensive lineman for the Cowboy Football team and played a role for two undefeated WAC championship teams. He says at Kemmerer High School he found success in both sports and couldn't choose just one.
"I was recruited by some other schools that wanted me to just wrestle or just play football," Cogdill said. "Wyoming gave me the opportunity to do both."
He said it also being the hometown school that it would be a good fit. He says, with football, the biggest standout will always be the teammates.
"Great kids, great fellow athletes," Cogdill said.
He says one of the most exciting aspects of playing on the gridiron is traveling and playing schools you always grew up watching on TV.

He played under Paul Roach who coached the Cowboys from 1987-1990. Cogdill says he thought one of the benefits of playing under Roach was he was actually near the end of his coaching career and so he wasn't trying to prove himself.
"He was just Coach Roach and what he said came straight from his heart," Cogdill said. "He was just a pretty true person. The athletes really respected him for the most part with the way he handled you and handled others."
He says with his time on the mat, again the greatest thing about competing is the camaraderie with his teammates and coaches.
Cogdill moved to Kemmerer when he was in 7th grade and his father was a principal and athletic director. He says he really tried to play as many sports as he could whether or not he found success in it and that his time at Kemmerer High School really helped to shape his future.
"Just a lot of great memories from the teams I played with," Cogdill said. "The teachers that taught me while I was there."
He is now a teacher in Nebraska and he said one teacher from his high school experience really helped to eventually find a pathway to teaching. Also he may live in a different state, but he says part of him will always miss Wyoming.
"We do live in a part of Nebraska that has some pine trees and hills," Cogdill quipped. "But I sure do miss the people and the outdoors."
He also says to all those student athletes who are wanting to take their games to compete at the collegiate level, you have to really want it.
"If you don't really have that drive to succeed, you're probably not going to be as successful as you'd like to be," Cogdill said.
He also says you shouldn't take the academics side lightly. That is where you will really be able to build a future career. He also says do not overlook the little things.
"Coaches are always getting on kids about getting in the weight room, getting into summer camps," Cogdill said. "If you want to get to that highest level, you need to take advantage of all those opportunities."
Tagged:
Jon Cogdill
Paul Roach
University of Wyoming Athletics Hall of Fame
Wyoming Cowboys