Kids clothing drive set for Saturday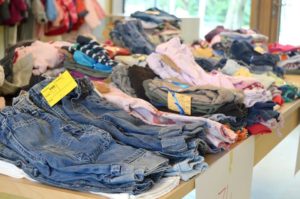 Saturday, November 2 families and individuals will gather at the Lincoln County Fair Grounds for the annual Kid Clothing Drive. The event is hosted by the Afton Food Pantry and will take place from 11 a.m. to 1 p.m. on Saturday in the south exhibit building.
"The entry fee is $10 per person to take all the clothing you want," said Sierra Mitchell of the Afton Food Pantry. "We organize the drive by gender and then by size to make it easy to grab the items you want most."
According to Mitchell, community volunteers sort through all of the items prior to the event to ensure that only the clothes in good repair are available to attendees.
The goal of the drive is two-fold, Mitchell said. The event provides area families with nice clothing. And, proceeds from the event benefit the Afton Food Pantry.
"This will the last kid clothing drive the pantry hosts as it takes the largest amount of volunteer hours to it pull off," said Mitchell. "We have clothing ranging from newborn to adult sizes. We have a ton of great shoes, winter coats and boots, and more. The event is first come first served. We supply the garbage bags and people take as much as they want."
According to Mitchell, all the proceeds from the event will be used to purchase diapers and wipes for local families in need.
"Come join us on Saturday," she said.

Let us know what you think!
Tagged:
Kid Clothing Drive
Lincoln County Fairgrounds