Kleeman assumes responsibilities as LCSD No. 2 District Secretary
◆ Responsibilities include managing HR, coordinating staff travel, taking minutes at meetings, managing personnel records and providing administrative support.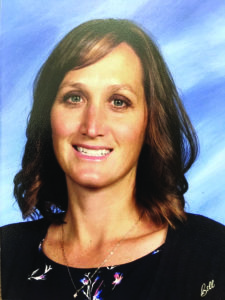 Meghann (Barney) Kleeman has assumed responsibilities as District Secretary at the Lincoln County School District No. 2 offices. Amanda Welch, who has served the district administration for 25 years, elected to retire this summer, and began training Kleeman for the position at the end of July.
Kleeman served previously as the secretary at Osmond Elementary School and took the opportunity to apply for transfer to District Secretary when the position was posted internally. She began training with Welch shortly after accepting the position.
Kleeman spent August at Welch's side, training in all the programs, expectations and responsibilities that Welch has mastered over her many years of service. "Having as much time with [Amanda] as I could get before she retired was really important to me so I could learn as much from her wealth of knowledge as possible! This is a huge learning curve and there is so much to learn with this job."
Kleeman's responsibilities now include managing Human Resources, coordinating all staff travel throughout the district, attending Administration and Board meetings to take minutes, maintaining and accounting for all personnel files and records, and providing administrative support to Superintendent Matt Erickson.
Though making the change meant leaving her beloved OES, she felt that it was an incredible opportunity, and after extensive discussion with her husband, Kleeman decided to make the move. "I chose to make the change because…It's not a position that becomes available very often. Ultimately, it was just something I felt like I couldn't pass on."

Though it is a daunting challenge, Kleeman is looking forward to learning and growing into the responsibilities of her new position. Getting to know the Administration and the District Office staff has been a true pleasure and she appreciates their welcoming and helpful spirit.
"For sure, the hardest part for me about this change is missing my Osmond family and kids," Kleeman exclaimed. "I really miss seeing the kids every day and having the interaction that I had with them… That is still going to take time to fully get used to. The staff at Osmond are truly some of the best that I have ever had the pleasure to work with and learn from. They became family to me. I'm just glad I still get to see them when they come to The District Office!"

Let us know what you think!
Tagged:
Amanda Welch
Barney Kleeman
District Secretary
LCSD No. 2
Osmond Elementary School