Ladies shake off the rust in win over Jackson
◆ Tough match ups with Evanston and Green River in Afton this week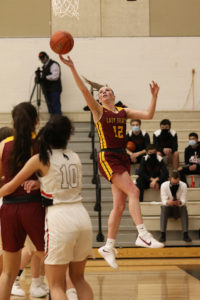 McKenna Brog scored a season-high 20 points as the Braves pulled away from the Broncs in the fourth quarter for a 50-35 win on Friday night in Jackson.
Star Valley led the entire game and while Jackson cut into the lead at times they were never able to overcome a first quarter deficit which ballooned in the game's final stanza.
The win put an end to a four-game losing streak and also represents the highest scoring game for the girls' program to this point in the season. The win also pushed the consecutive wins over their rivals to the north to an incredible 20 games. Jackson has not defeated Star Valley in the girls varsity game since the 2009-10 season.
Head Coach Kade Erickson commented on the game.
"The [girls'] confidence was great and seeing McKenna play the way she should be playing," he said. "We told her she needed to be taking more shots than anybody else and that it was just her role."
Supposedly there was even the threat of pretend violence.
"Coach Hathaway told her she was going to kick her in the shins if she didn't," laughed Erickson.

A more aggressive Brog was coupled with a slight tweak in the starting lineup which saw sophomore Cameron Erickson in the paint.
"We felt we needed to give Addie [Butler] more help inside and it also made it so McKenna could play as who she is and I hope that continues to serve us well," Erickson added.
Now off on the right foot, the Braves will be back at home on Thursday evening against Evanston (6 p.m.) and on Saturday afternoon against Green River (2 p.m.)
"After we watched film our main focus is on Evanston this week," Erickson stated. "They seemed pretty weak on the guard line so I think we're going to try and do the same thing we did in Jackson and provide some pressure and cause some turnovers."
As for the Wolves, they will be a challenge to contain with an offense that is among the best in the 4A Class.
"One thing that's nice is that we have film of Green River playing Evanston. We know Kadi Strauss and Megan Counts are going to be big factors in the Green River game. Evanston is scrappy so we need to match their physicality."
4A Northwest
School Overall Conference
Natrona 7-1 2-0
Cody 8-2 2-1
Rock Springs 2-6 1-1
Riverton 1-9 0-3
4A Southwest
School Overall Conference
Green River 6-3 2-0
Star Valley 2-6 1-0
Evanston 0-9 0-1
Jackson 1-9 0-2
4A Northeast
School Overall Conference
Thunder Basin 9-1 2-0
Gillette 4-5 2-0
Sheridan 3-6 0-2
Kelly Walsh 1-8 0-2
4A Southeast
School Overall Conference
Chey. East 7-1 1-0
Chey. Central 6-2 1-0
Laramie 5-3 0-0
Chey. South 4-4 0-2
Tagged:
Kade Erickson
McKenna Brog
Star Valley Basketball