Dahl Erickson, SVI Media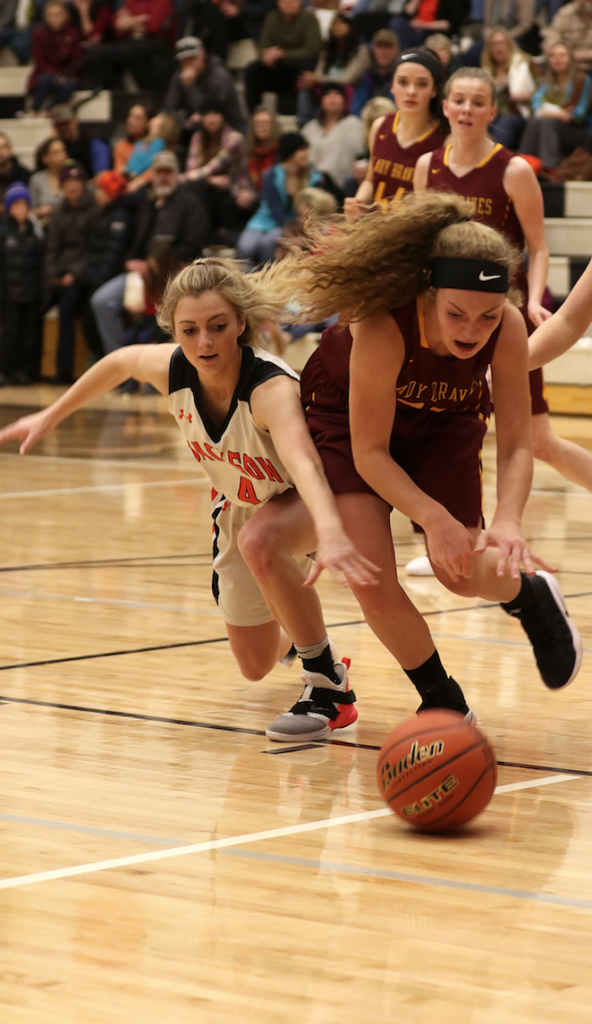 he Lady Braves put on a clinic in earning deflections and steals and then finding their teammates as they sprinted away from both Jackson and Evanston over the weekend.
The Lady Braves won at Jackson 61-32 and then won on the home court against the Devils, 64-25.
"It was another good effort for us," stated head coach Dave Moore. "We really emphasized offensive patience and ball-movement during the week and we did a super job of finding the open girl and finishing at the basket. I was really pleased with that and our defensive effort as well."
• @ Jackson (Won 61-32)
Star Valley compiled 20 assists against the Lady Broncs on the way to the program's 16th consecutive win over their rivals to the north.
Abby Coles and Caitland Erickson each scored 11 points and McKenna Brog, Millie Merritt and Otessa Olsen each finished with eight points.
Merritt also had seven rebounds and four assists to lead the team.
"Abby and Caitland both had good games," Moore added. "Abby picked up some steals and converted them into buckets and Caitland finished around the basket."
• Vs Evanston (Won 64-25)
Having already met once during the Star Valley Shootout which netted a 54-37 Lady Braves victory, this past Saturday's clash was even more one-sided.
"I think the girls had a little extra motivation in that game to play well and did they ever," Moore said. "I think Shay had a great game, hitting four [three-pointers]. But it was balanced across the board. We continued what we did in Jackson. We had 17 assists and only seven turnovers. That was probably the best game we've played so far this season in terms of our balance and taking care of the basketball."
Shay Erickson led the effort offensively with 14 points and Olsen notched 12 points. Coles and Caitland Erickson each scored eight.
• Up Next
The Lady Braves will be back on the road this Friday as they make the trip to Pinedale to face the Wranglers (6-8). The Aspen Physical Therapy Countdown to Tip-off will begin at approximately 5:15 p.m.
Star Valley (9-3)(2-0) will be back at home on Saturday as they host Green River (7-6)(1-1). Moore said the team's primary focus will still revolve around ball security.
"Pinedale is going to try and get us in an up-tempo situation but if we take care of the ball we'll be alright," he said. "Against Green River, they tend not to pressure but they are tough on man-to-man. They have a good inside-outside game and run a pick-and-roll. They are solid so this week we are really working on maintaining defense pressure and not giving up easy baskets."
Tagged:
Abby Coles
Caitland Erickson
David Moore
Evanston Red Devils
Green River Wolves
Jackson Lady Broncs
Lady Braves basketball
Mille Merritt
Otessa Olsen
Pinedale Wranglers
Shay Erickson