Lady Braves face 'Critical' match-ups with Natrona & Rock Springs this weekend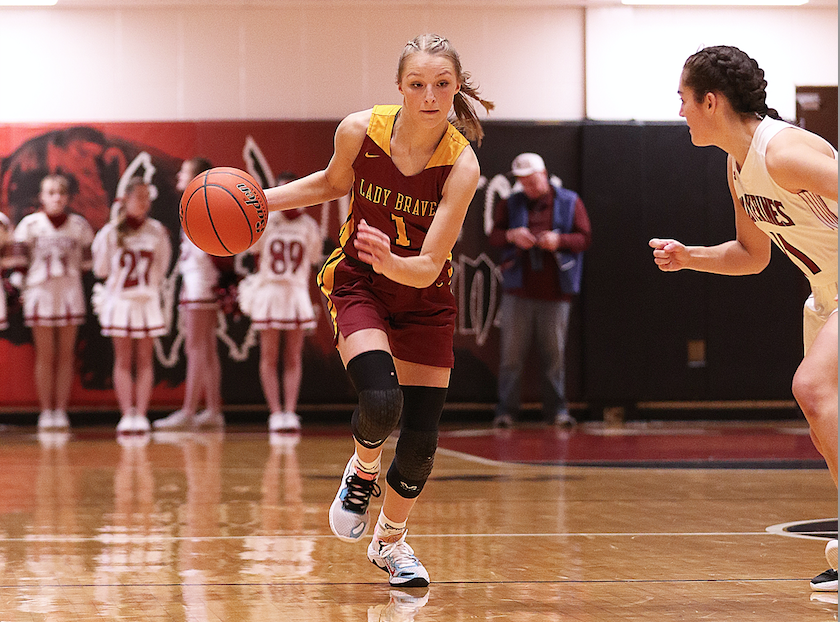 Historically the Lady Braves have been the bane of the Cody Fillies with wins and upsets even when the Park County squad has been the favorite.
This weekend with the Fillies riding a 12-game winning streak they had all the answers as Star Valley came to town in a 51-29 outcome.
The Lady Braves got nine points from Kenlee Englehardt but points were hard to come by on the Cody court.
"Our defense; we know this; is the strongest thing for us," stated Head Coach Kade Erickson. "But it's hard to be down 15-2 at the end of the first quarter like we were in Cody. We were pretty even with them for the next couple quarters but then we held them to just three points in the fourth. They shot well and hit a bunch of shots in the paint. We know that Cody is a great team. I just wish we could have competed a little better as far as the score goes."
Bouncing back on Saturday, the Lady Braves' defense was the difference as they stymied the Wolverines in a 33-21 outcome in Fremont County.

"We had a great defensive effort and only let them score nine points in the half," Erickson added. "I think we went 12 of 52 from the field or something like that so we need to find a way to capitalize on our shots."
Englehardt had a stellar defensive effort which culminated in six steals. She also collected five rebounds and scored 11 points. Whitnee Hale and McKenna Frazier combined for ten points and seven rebounds. Kamryn Jenkins scored four off the bench.
This week the Lady Braves will look to continue their battle in the conference standings as they host both the Natrona Fillies on Friday night at 6 pm and then the Rock Springs Tigers on Saturday afternoon for a 12:30 start.
The Tigers picked up a one-sided upset of Green River on Thursday, 57-40.
The Fillies thumped #5 Green River 64-45 on Saturday.
Overall the Tigers are (9-8) with the Fillies standing at (9-5).
"Both teams are playing well right now," Erickson stated. "Natrona has five really good starters. We'd love to go into this weekend aiming to do our best. I think it's a critical weekend because of who we might be playing at Regionals so it could be big and I think it will be big for the girls' confidence as well."
Erickson also pointed out the squad is still battling to improve.
"The girls have been setting goals as a team and we fell short on a few of those but we're going to keep pushing and trying to get better as we get closer to Regionals," he added.
Let us know what you think!
Tagged:
Cody Fillies
Natrona Fillies
Riverton Wolverines
Rock Springs Tigers
Star Valley Lady Braves Basketball