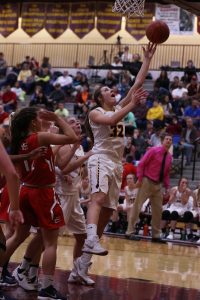 The Lady Braves have made the move from Wyoming's 3A class to the 4A class before.
From the 2007-08 through 2011-12 school years, SVHS was in Wyoming's largest classification across the board. Those first couple of years was a baptism by fire for many of the programs. The 4A is full of schools with student enrollments of over 1,000 students and in many cases over 1,400; roughly twice the size of SVHS.
Now as the school returns back to the 4A for basketball the adjustment back to those types of opponents will still exist, but don't expect the growing pains like before.
The Lady Braves return a sizable contingent of seniors who have benefited from the lessons of those earlier teams in the form of summer schedules and non-conference match ups. As a result, this year's squad should have a much easier time than the group from 11 years ago.
Head coach Dave Moore points to the physical nature of the schedule as one element that will still be critical.
"The style of play is much more physical [in 4A] than in 3A where it's more finesse," he said. "I think our biggest challenge is going to be adapting to the more physical play."
Moore is pleased to have so many returning players in the effort.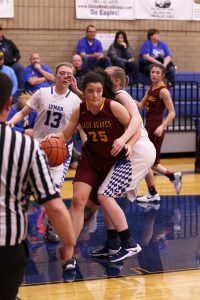 "We are really returning a solid group of seniors from last year's team," he said. "We've got some underclassmen, specifically Otessa Olsen who is really going to help us out. They have experience playing at the varsity level and playing the 4A teams so it's not going to be a completely new experience for them."
One element of this year's team that Moore would like to improve upon is the pace of play. Last season the Lady Braves scored 44.8 points per game, ranking them eighth out of 16 teams in the 3A Class. By comparison the Douglas Lady Bearcats averaged over 64 points per game on their way to an undefeated season and the state championship.
"I think one of the things we'd like to do is pick up the pace," he said. "We really didn't do that last year. Playing a half-court game would not be our best strength. At the same time, we'd like to limit teams to one shot so we can get the ball and push it up the floor."
This year's group will have the benefit of excellent chemistry.
"This group works really well together, they've been playing together a long time," Moore added. "They are really counting on continuing to rely on each other and have that trust."
There are several seniors who should make some visible strides over last season as well. Olivia Muir, Abby Coles and Shay Erickson will headline that list. Erickson is back after a serious injury, Coles had a breakout season as a junior, leading the team in scoring at 10.1 per game. Muir was a key component of the 2016-17 state championship run and is fresh off an All-State season in volleyball.
"Liv has really improved her ability to attack the basket," Moore stated. "Her ability to handle the ball has improved. We're getting Shay back and she's looking good and not showing any effects from her injury so it will be great to have her and Abby in the back court."
Moore is also pleased with the overall construction of the program.
"We're going to be pretty deep," he concluded. "We've got a really good group of sophomores and a good group of juniors. We are a full program from top to bottom so that's been a nice development for us and bodes well for our future."
• Tournament Play
The Lady Braves begin their season with a three-day tournament in Casper on December 6-8. The team will face off against Kelly Walsh, Riverton and Cheyenne South on Thursday, Friday and Saturday respectively.
SVI Media will be in Casper for the Friday evening broadcast with audio coverage at svinews.com and also on traditional radio on Swift 98.7 FM.
Tagged:
Dave Moore
Lady Braves basketball
Star Valley Basketball
Wyoming 4A Classification