LCSD2 welcomes 17 news teachers to its ranks for the 2020 Academic Year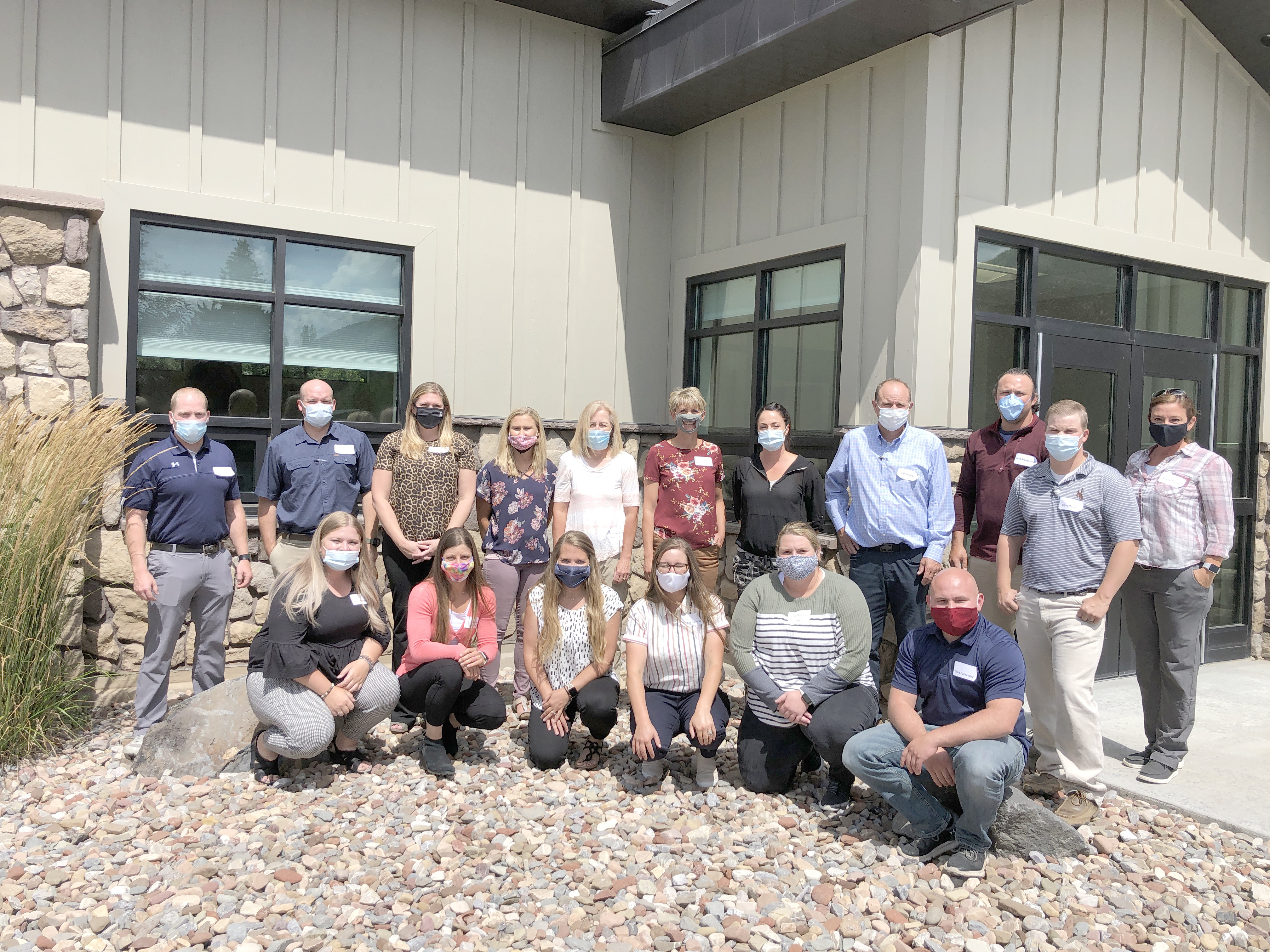 ————–
◆ New teachers have been attending trainings and district orientation this month.
Lincoln County School District 2 has welcomed 17 new teachers to the ranks this fall. Each new teacher brings fresh creativity and skill to the district, with insight and enthusiasm for working with the students of this community.
Breanne Hathaway Albee will be an Elementary English Language Learner Teacher within the district. She received her training at Frostburg State University in Frostburg, MD, graduating in 2008.
Albee has taught 2nd, 4th and 5th grade math, and has served as an ELL teacher and coordinator.  She has taught in Maryland as well Driggs and Shelley, Idaho.
"I love to hike, kayak, hunt, and fish in the outdoors," said Albee. "I spend my winter months cross country skiing, snow shoeing and crafting."
Albee enjoys her husband Robert and their pets, Nellie and Zoe.
Adam Baker will serve at SVHS as Student Transition Teacher. Baker received his degrees from Brigham Young University, Idaho and The American College of Education. Baker has taught 10 years of Physics, Chemistry, Physical Science, 8th Grade Science, Health and Weightlifting in Arizona and in Green River, WY.
He enjoys spending time with his family, wrestling, and football as well as anything in the outdoors – especially dirt biking and mountain biking.
Baker has been married to his wife Natalie for nearly 14 years and they have 3 daughters, McKayla, Savannah, and Joslynn.

Brenda Bateman comes to Thayne Elementary with training from Western Governors University completed in January 2020. She has been hired to teach 1st Grade Special Education.
Bateman is a familiar face at TES where she has spent 5 years as a Special Education Aide and a Full-Time Kindergarten Substitute.
Bateman enjoys drawing, painting, music, quilting, sewing, reading, math, sports, family, and serving her husband Richard and their children as well as their sons and daughters-in-law and their granddaughter.

Cori Engelhardt is slated to teach Kindergarten Special Education.She has degrees from Black Hills State University and South Dakota State University. She enjoys spending time with family, basketball, volleyball, hunting, fishing, horseback riding, kayaking.
Engelhardt's family consists of husband, Dave and 2 daughters, Olivia and Kenlee. Five pets bring the family total to 9.
Kristy Frye will serve as an Elementary Reading Teacher. She received her degrees from Montana State University-Billings and has taught reading in all elementary grades while in Akalaka, MT.
Frye enjoys spending time with her husband Jason and daughters McKinley and Piper as well as reading, hiking, running, skiing, and the outdoors.
Karli Galloway is a new 1st Grade teacher at Afton Elementary. She graduated from Western Governors University this year.
"While I was finishing school, I was a substitute teacher for LCSD2," said Galloway. "I then completed my student teaching at Afton Elementary in 1st grade last fall. I love the outdoors. Hunting, hiking, fishing, snowmobiling, dirt biking…I love it all."
Galloway lives in Afton with her husband Billy.
The new Science Specialist at Etna Elementary is McKay Haderlie. She received her training from Brigham Young University, Idaho. Haderlie loves being a mom to her two sons, Seth and Ryker, riding horses, roping, working border collie dogs, being a 4-H leader and working leather.
Thayne Elementary will also welcome Samantha Harden who received her training from Western Governors University in 2015. She has taught Reading, Writing, Math, Science and Social Studies while serving as a paraprofessional, a substitute teacher and a Kindergarten teacher in Colorado and Texas.
"I love spending time with my family, reading, shopping, and going to the movies," said Harden. "I also enjoy hiking and camping. I am happily married to my best friend, Josh. We have 2 amazing daughters, Makayla, and Destiny. We also have Minnie, our black lab."

Drew Hathaway will join the faculty at Swift Creek High School, teaching Science. He completed his education at the University of Wyoming in May of 2016 and taught Science and Spanish in Dubois, Wyoming before returning to Star Valley where he was raised.
"I love the outdoors, hunting, fishing, hiking and skiing," said Hathaway. "I also enjoy playing and watching sports. My wife, Shay, is the Freshman girls' basketball coach. We have a 3-year-old son, Dane, and a baby girl, Brynn, born in May."
Danielle McKenzie returns to Thayne Elementary after a brief absence. She completed her studies at Black Hills State University in 2011.
"I love horseback riding, photography, exercising, and pretty much any outdoor activity with my family," said McKenzie who has two daughters, Rylie and Macyn with her husband, Casey.
Tanya Moyes will teach Physical Education at Cokeville Elementary. She graduated from Lewis-Clark State College 1992, and has taught Health, Physical Education, and Business Education.
Coaching is her special love. She and her husband Scott have a daughter, Kaylie, and son-in-law Nathan as well as younger sons Michael, Tyler, and Justin.
Ezekial Cruz Mendenhall will fill the position of District Physical Therapist and received his degree from Rocky Mountain University of Health Professions. Mendenhall's hobbies include stock dogs, quarter horses, mules, ponies, hiking, backpacking, cross-country skiing, snowboarding, doing laundry and food tasting. He and his wife have 4 active children.
Bryan Nichols received his degree from Western Governors University and will work with high needs students at SVHS. Nichols enjoys coaching football, riding horses, hunting, fishing, and spending time with his wife, Saydi and daughter, Kinsley.
Ben Olivas is moving from his position as an LCSD2 IT Technician to teaching Computer Science, Web Development, Online Business and Programming at SVHS.  Olivas completed his training at Brigham Young University, Idaho in 2015 and enjoys fishing, trail running, camping, archery, and mountain biking. He and his wife Amy have a daughter, Kamry, and are expecting a baby boy.
Kristen Vierig will return to Cokeville Junior and Senior High Schools, where she has served as a volleyball and basketball coach but will now also serve on the Special Education faculty. She received her training from Dallas Baptist University, Western Governors University, and the University of Wyoming. She has served special education students in Idaho and has taught PE in Texas.
"I love playing sports, especially volleyball in my older years," said Vierig. "I enjoy being in the mountains hiking, camping, fishing, or hunting. I feel the most peace on a beach near the ocean, so Bear Lake is as close as I can get locally!"
Vierig has a daughter, Dakota, and a son, Bodee with her husband, Mark.
Josh Winder will join the Special Education force in LCSD2. He received his training at Arizona State University and has served as a substitute and a paraprofessional. He enjoys sports, rock climbing and backpacking. He and his wife have three children.
Emily Wolfley will serve as a new 1st grade teacher at Thayne Elementary. She received her degree from the University of Wyoming in May of 2020 and will begin her teaching career in Thayne, only a few miles from where she was raised.
"I love to do anything outdoors as well as playing sports," said Emily. "Doing crafts and being creative is a close second to spending time outdoors. I have always wanted to be a teacher, so I am excited to get to work with 1st graders."
Emily is the daughter of Mark and Tamira Wolfley of Bedford, who also have three sons.