LDS Church, NAACP presidents meet, call for racial harmony
Carter Williams, KSL.com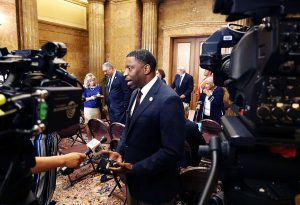 SALT LAKE CITY — Presidents for The Church of Jesus Christ of Latter-day Saints and the National Association for the Advancement of Colored People met Thursday, calling for greater racial and ethnic harmony and ending prejudice.
"Together we invite all people, organizations and governmental units to work with greater civility, eliminating prejudice of all kinds and focusing more on the many areas and interests that we all have in common," LDS Church President Russell M. Nelson said. "As we lead our people to work cooperatively, we will all achieve the respect, regard and blessings that God seeks for all of his children."
President Nelson met with NAACP President Derrick Johnson Thursday morning at the Church Administration Building, 47 E. South Temple. This meeting kicked off the NAACP's quarterly board meeting, which, according to the Deseret News, is being held in Salt Lake City for the first time.
The two organizations discussed ways their members could collaborate in education and humanitarian work.
CLICK HERE FOR MORE ON THIS STORY COURTESY KSL.COM.
Tagged:
LDS Church
NAACP
President Derrick Johnson
President Russel M. Nelson