Lincoln County at 68 active cases as state Covid-19 numbers relatively stable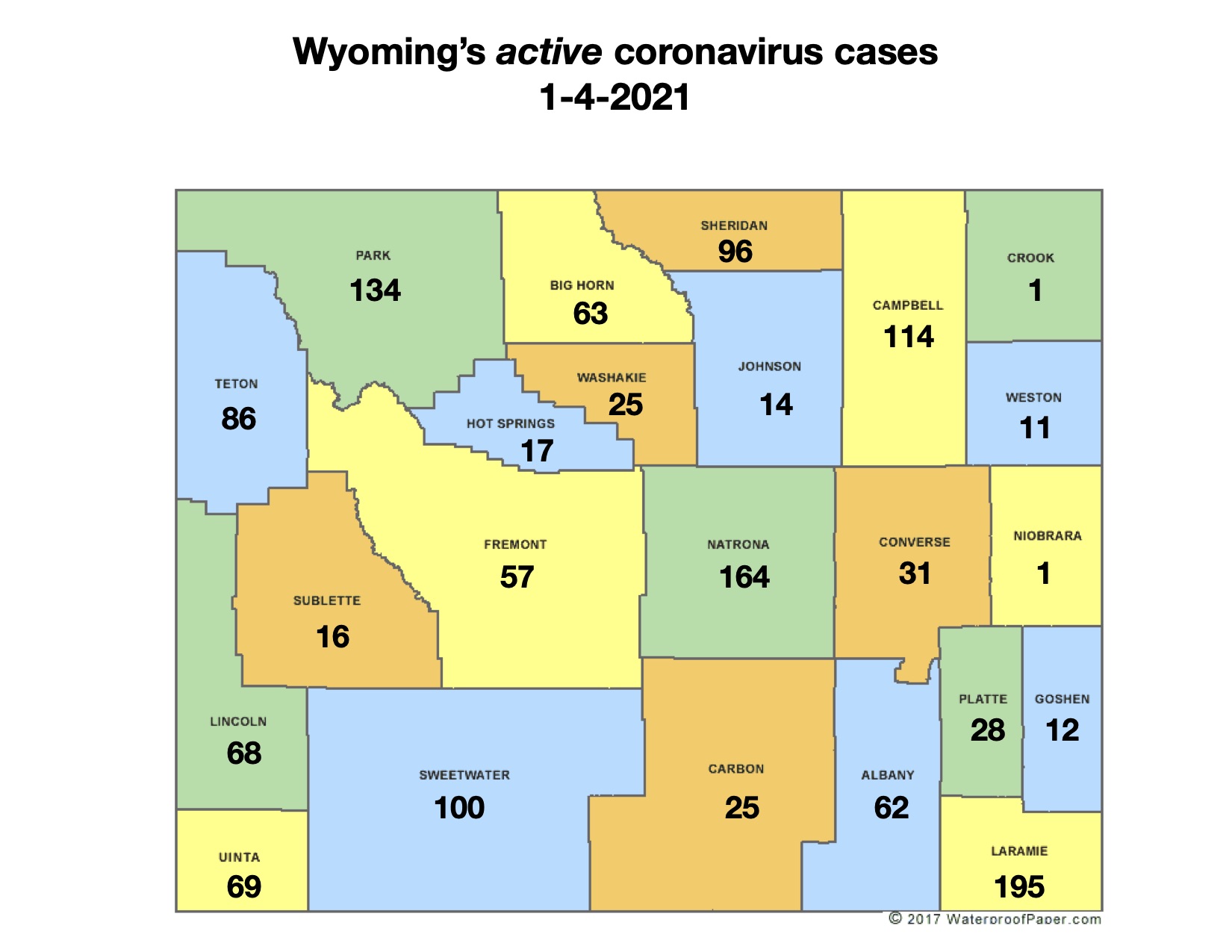 By The Wyoming News Exchange
The number of active coronavirus cases in Wyoming remained relatively stable Monday as the number of new cases exceeded the number of reported recoveries by only 20.
The Wyoming Department of Health, in its daily coronavirus update, said it had received reports of 302 new laboratory-confirmed COVID cases on Monday and 70 reports of new probable cases.
At the same time, reported recoveries among those with either confirmed or probable cases went up by 352, leaving the state with 1,389 active cases, an increase of 20 from Sunday.

Laramie County had 195 active cases; Natrona County had 164; Park County had 134; Campbell had 114; Sweetwater had 100; Sheridan had 96; Teton had 86; Uinta had 69; Lincoln had 68; Big Horn had 63; Albany had 62; Fremont had 57; Converse had 31; Platte had 28; Carbon and Washakie had 25; Hot Springs had 17; Sublette had 16; Johnson had 14; Goshen had 12; Weston had 11, and Crook and Niobrara had one.
Active cases are determined by adding the total confirmed and probable coronavirus cases diagnosed since the illness first surfaced in Wyoming on March 12, subtracting the number of recoveries during the same period among patients with both confirmed and probable cases and taking into account the number of deaths attributed to the illness.
New confirmed cases were reported in 20 counties, with Laramie County reporting the highest number at 53. Teton County had 40 new cases.

The growth in confirmed cases brought the number seen since Wyoming's first coronavirus patient was diagnosed in mid-March to 38,742.
The number of probable cases seen since the beginning of the pandemic stood at 6,505 on Monday with the increase of 70. A probable case is one where a patient has coronavirus symptoms and has been in contact with someone with a confirmed case but has not been tested for the illness.
The number of patients to recover from either confirmed or probable cases since mid-March was set at 43,420 on Monday.
Let us know what you think!
Tagged:
Wyoming Covid-19 count
Wyoming Department of Health