Local elementary student donates funds for LCSD2 autism library
◆ Check for $268 presented to Superintendent Matt Erickson.
By Nathan Wescott
LCSD2 Special Services Director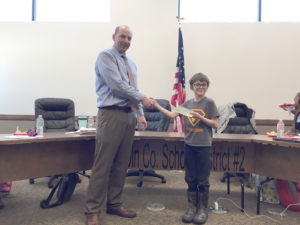 Gus Hepworth, a fourth grader from Osmond Elementary School, presented a donation of $268 to Superintendent Matt Erickson for the purpose of adding books to the school district's Autism Library. The donation was presented on Wednesday December 17.
Gus earned the money from raising and selling his 132 pound 4-H lamb this last summer. His parents, Kam and Kory Hepworth attended the check donation along with Staci Horsley, Lincoln County School District 2's Board Certified Behavior Analysis teacher and manages the autism library.
"These books can be checked out by parents/guardians and staff as a resource of information around the topic of Autism," said Nathan Westcott, director of special services for LCSD2. "If interested in accessing books from the library please contact the district office at 885-3811 or email Amber Crook amber.crook@lcsd2.org or Staci Horsley staci.horsley@lcsd2.org."

Let us know what you think!
Tagged:
Austism Library
Gus Hepworth
LCSD#2
Matt Erickson
Staci Horsley