Three members of the SVHS track & field team competed at the Arcadia Nationals over the weekend against more than 500 other programs from around the country. Peter Visser, Wyatt Moore and Asefa Wetzel all performed very well and broke new ground in the process.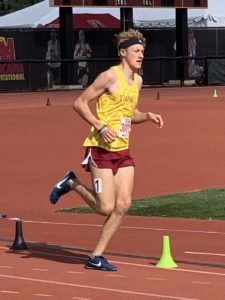 The first to race was sophomore Peter Visser who competed in the Rising Stars Mile and ran a time of 4:15 which broke teammate Wetzel's mark set in 2017. In the 200 meter dash, senior Wyatt Moore ran a 21.76 which broke Matt Hansen's mark set in 1987. Moore, who was at Arcadia for the first time, finished third overall in the Mens Rated 200 Meter division. Finally, Wetzel ran the 3200 meter in 9:12.49, breaking the school record set just last year by Wesley Kallgren.
The program had athletes in two other venues as well as contingents ran in Rexburg on Friday afternoon and in Shelley on Saturday. At the Madison Invite the Lady Braves scored 85.75 team points to place third. Some of the top finishes included a second-place from Hannah Christie in the 400 meter, Samantha Agerton placing second in the shot put and the 4 x 400 meter relay team also placing second.
The boys scored 59.75 points which was also good for third place. Top finishes included Jesse Loveland placing second in the 3200 meter run and Brandon McDonald placing second in the shot put.
The track & field team will be on the home turf next week for the annual Dave Draney Invite which will
take place on Wednesday, April 17.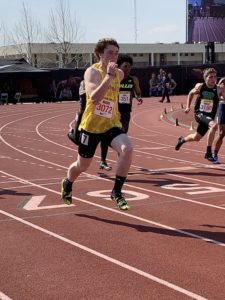 For full results from all three of these events click here.
Shelley Invite
F. Shaw   P Vault 6' 0" 6th
P. Pluhar   L Jump 14' 0.5" 8th
P. Thompson   3200 M 11:21 7th
J. Carillo-Zarate   P Vault 8' 6" 7th
Madison Invite (Girls)
S. McKen   100 M 14.06 4th
O. Olsen   100 M 14.73 6th
M. Wolfley   100 M 14.94 8th
S. McKen   200 M 29.35 3rd
O. Olsen   200 M 30.80 7th
M. Wolfley   200 M 31.23 8th
H. Christie   400 M 1:04 2nd
F. Hunting   400 M 1:06 4th
J. Angell   800 M 2:44 5th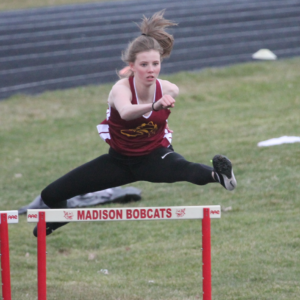 E. Heywood   1600 M 6:00 5th
E. Mavy   1600 M 6:19 8th
E. Heywood   3200 M 13:33 4th
E. Mavy   3200 M 13:50 5th
S. Angell   3200 M 13:53 6th
E. Hale   3200 M 14:07 8th
M. Brog   100 Hurd 17.70 4th
M. Brog   300 Hurd 50.63 4th
J. Lainhart   300 Hurd 53.39 8th
J. Zachmann   4 x 200 2:02 5th
Otessa Olsen
Emri Jenkins
Emma Dubisz
H. Christie   4 x 400 4:43 4th
Sarah McKen
Otessa Olsen
Frances Hunting
L. Coles   4 x 800 11:21 2nd
Jacie Angell
Shaelee Angell
Jill England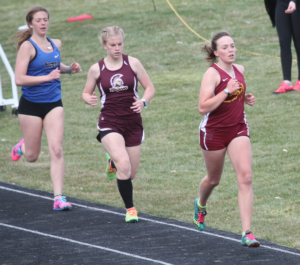 S. Agerton   Shot Put 30' 3" 2nd
L. Moffat   Shot Put 28' 3" 7th
M. Moffat   Shot Put 27' 5.5" 8th
E. Gertsch   Discus 92' 6" 3rd
M. Moffat   Discus 81' 10" 6th
L. Moffat   Discus 81' 7" 7th
S. Agerton   Discus 76' 5" 8th
L. Jenkins   H Jump 5' 0" 3rd
H. Christie   H Jump 5' 0″ 3rd
M. Wolfley   H Jump 4' 10" 5th
O. Muir   L Jump 14' 3.75" 7th
O. Muir   T Jump 33' 5.75: 4th
F. Hunting   T Jump 29. 6.25" 7th
Madison Invite (Boys)
D. Shaw   100 M 12.10 4th
D. Shaw   200 M 24.55 5th
J. Loveland   1600 M 4:47 4th
J. Loveland   3200 M 10:51 2nd
D. Foley   3200 M 11:27 8th
N. Matthews   4 x 100 47.17 3rd
Jaron Clevenger
Tanner Thompson
Dean Shaw
B. Matthews   4 x 200 1:43 4th
Phoenix Powell
Zeke Kemp
Hunter Seamons
Z. Kemp   4 x 400 3:59 4th
Lane Oesch
Phoenix Powell
Gabe Clinger
N. Draney   4 x 800 10:00 3rd
Josh Strgar
John Hunting
Spencer Howes
B. McDonald   Shot Put 42' 4" 2nd
D. Herd   Shot Put 42' 0" 4th
J. Clevenger   H Jump 5' 10" 3rd
G. Clinger   H Jump 5' 8" 4th
J. Clevenger   L Jump 19' 4.5" 7th
G. Clinger   T Jump 35' 6.5″ 6th
T. Southam   T Jump 35' 3.75" 7th
Tagged:
Arcadia Nationals
Madison Invite
Shelley Invite
Star Valley track & field