Lori Vallow Daybell murder trial began Monday with Jury selection
Lori Vallow Daybell's murder trial began with jury selection Monday morning in Ada County.
Daybell is charged with murder, conspiracy and grand theft in connection to the deaths of her children, 7-year-old Joshua "JJ" Vallow, and Tylee Ryan, who was last seen a few days before her 17th birthday.
Her husband, Chad Daybell, faces the same charges and both are also charged in the death of Daybell's former wife, Tammy Daybell.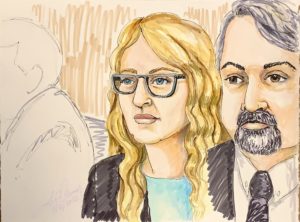 Three groups of 15 men and women were questioned by District Judge Steven Boyce, prosecutors and Daybell's defense attorneys Monday before being privately examined by the lawyers and the judge.
Around 40 members of the media and public watched the proceedings in an overflow room at the Ada County Courthouse. A live broadcast was also transmitted to the Madison County Courthouse where a handful of people viewed jury selection.
Because Boyce banned cameras in the courtroom, a sketch artist hired by EastIdahoNews.com and other media organizations provided images throughout the day.
Twelve jurors will ultimately be picked along with six alternates. Out of the 45 questioned Monday, 17 remained in the jury pool at the end of the day. The court needs 42 before the defense and prosecution will begin eliminating jurors until 18 remain.
Opening arguments will happen once a jury is picked and could begin as early as this week. Jury selection has continued into Tuesday. Visit EastIdahoNews.com for live updates.
EastIdahoNews.com reporter Nate Eaton will be posting updates from the courthouse every day of the trial. You can read a more comprehensive rundown of what happened Monday at EastIdahoNews.com and watch "Courtroom Insider: The Lori Daybell Trial."
Let us know what you think!
Tagged:
Chad Daybell
East Idaho News
Joshua "JJ" Vallow
Lori Vallow Daybell
Tammy Daybell
Tylee Ryan