Lost and Found: Wedding ring treasure hunt leads to a message of hope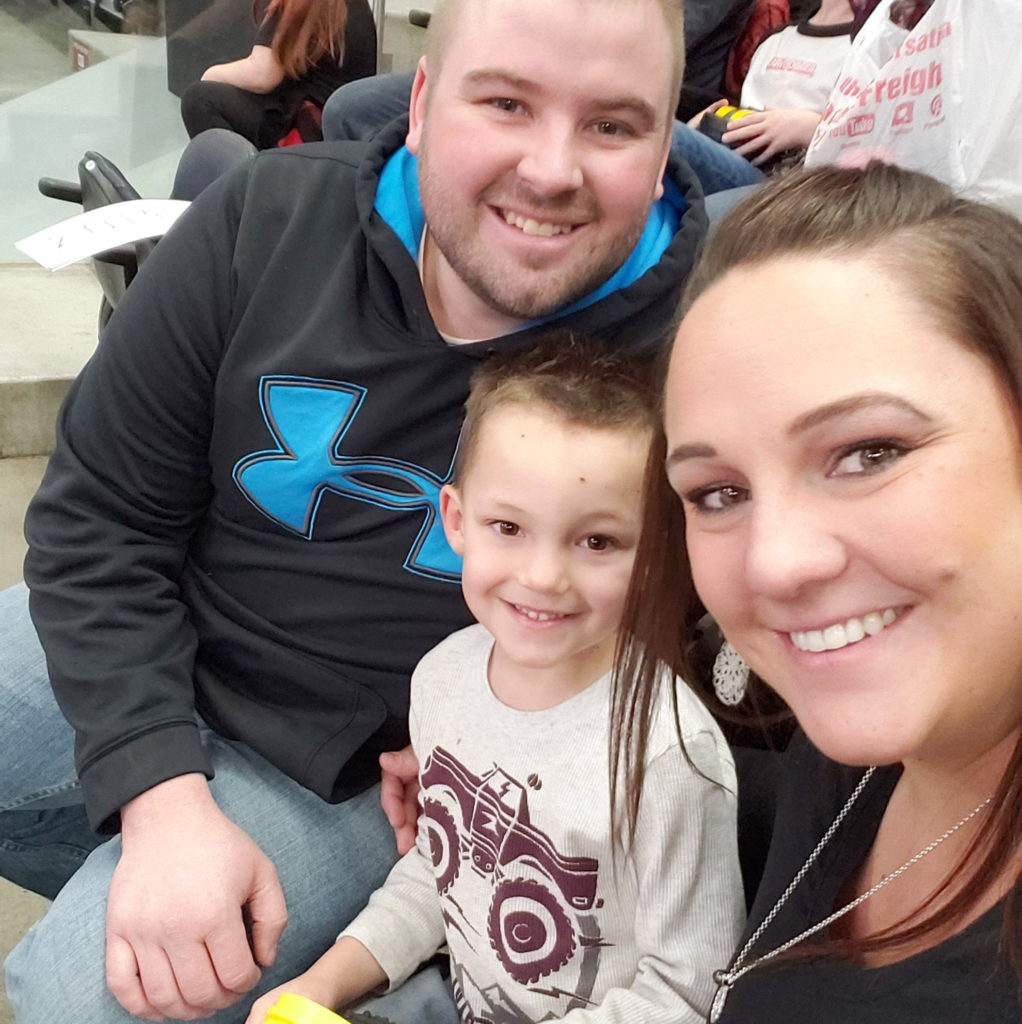 —————-
Brooke Rich of Afton thought her June 2020 women's retreat to Southern Utah would be a week of personal rejuvenation.
What she didn't expect was that her trip would indirectly breathe new life into a stranger searching for hope.
On June 12, Rich and her travel companions were visiting Zion's National Park and hiked into a lovely and quaint waterfall. Rich recognized that with the sand present, she would want to remove her wedding ring for the activity, protecting it from damage and soil.
Wearing a pair of yoga pants, Rich entered the knee-high waterfall pool with her ring tucked safely in a pocket. She had used this pocket to store her phone during workouts before and felt confident that the ring would stay put.
As she enjoyed the water, she checked the pocket periodically to make sure the ring was there, and it was, which led her to a false sense of security.
Her group left the waterfall and jumped in a van to travel to their next tour site. Rich remembered her ring and reached into the pocket to put it back on her finger, but it wasn't there. She immediately began searching her belongings.
"It was nowhere," said Rich. "We couldn't find it. It was a horrible feeling. I thought, 'How am I going to tell my husband? How am I going to find it?' The place that we went is just sandy and rocky and there were crevices. It was literally a needle in a haystack."
Rich and several of her friends returned that afternoon to the waterfall. Without success, they combed through every inch of where she had been.

"One of my friends that was there left a note," said Rich. "I thought, 'Somebody is going to rip up that note. They are going to be rude, because people nowadays are just going to steal it and pay their mortgage with it.' So, she left this note on a rock next to the waterfall, and we were just praying that someone would be honest."
Two days later, Rich left St. George filled with heartache. Her ring was gone. It was a tragic day for her, but the story of her lost ring was just beginning.
Wednesday, June 17, Rich received a text from a New York area code.
"It was a picture of the note with my ring sitting on it," said Rich. "It said, 'Hey, my name is Caleb. Can I have your address so I can return your ring?' I freaked out. I was so excited. I cried and jumped up and down. It was a miracle."
Rich gratefully shared her address with Caleb, but he was very reserved in answering her questions regarding the details of his find. He would only share that he had found it a few feet from the rock with the note on it.
"Every day, I was eager to get to the mail," said Rich. "It took almost 2 weeks."
Rich finally received her ring on June 29, but the package contained a second treasure.
In the package, Caleb included a letter which detailed his experiences of the day he found the ring. It explained that he and a friend were hiking a trail above the waterfall pool the day after Rich lost the ring. He saw the note and decided to investigate.
They went below and found that it was the opportunity for a treasure hunt. He and his friend combed and swam through everything but didn't find the ring. The friends went to explore another area for about 6 hours and then returned to the waterfall to relax.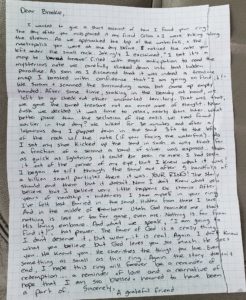 As Caleb sat down in the sand about 3 feet from the rock where the note was left, his feet kicked up the sand. For a fraction of a second, he saw a band of silver. Within 5 handfuls of digging in the sand, he had the ring in hand.
"The story should end there, but it doesn't," said Caleb's letter. "After years of hardship, I saw myself in your ring. I had felt lost, buried in the sand, hidden from those I love. And in the middle of Nowhere, Utah, God reminded me that nothing is lost or too far gone, even me. Nothing is far from His loving embrace."
"It was really cool how something so small that I thought was tragic could bless somebody else in their life," said Rich about her experience reading the letter, which listed only the name Caleb in the return address and was post marked from Illinois.
Caleb concluded his letter with an expression of gratitude and a wish for Rich's future.
"I hope this ring will forever be a reminder of redemption…a reminder of love and a narrative of hope that I am so blessed and honored to be a part of. Sincerely, A Grateful Friend."
Let us know what you think!
Tagged:
Brooke Rich
Zion's National Park