• Golf team will be in Lander this week at the home of the defending 3A champs.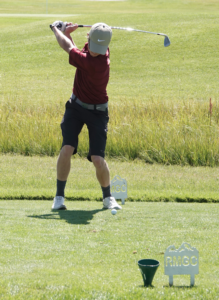 Blink and you'll miss half of it. That's never been more true of the Wyoming prep golf season which actually began two weeks ago. Star Valley opted to skip the only available tournaments that week in favor of a pair of closer venues this week.
The decision appears to have paid off as the boys varsity team picked up team victories in both Pinedale and Evanston.
"We had a good showing last week," replied head coach Kelly Fullmer. "Senior Jake Johnson won the Pinedale individual title by beating Pinedale's Mitch Pape in a playoff where Johnson made birdie on the first playoff hole to win."
The win in Evanston was a little more special since team victories have been sparse at the Purple Sage course.
"For the first time in ten years our boys won the Evanston invitational," Fullmer added. "We had four boys medal in the tournament. Karsen Spaulding took second, Jake Johnson fourth, Tyler Hodges fifth, and Preston Kilroy seventh."
Although the wins were nice, Fullmer acknowledged the schedule only gets tougher.
"We've yet to face the teeth of our 3A competition this season," he said. "But winning these two tournaments early in the season has our boys playing confidently and feeling like they can improve."

For the Lady Braves, the process is still in the early stages with a lot of new faces but the players are shaving down the scores.
"Our girls have continued to get better since their first round in Pinedale," Fullmer continued. "In Evanston our two returning girls senior Riley Heward and junior Taylor Erickson both shot competitive scores while freshman Taylor Andersen has shown that she belongs playing at varsity tournaments."
The junior varsity played in Kemmerer on Tuesday August 27 with the varsity squad set to travel to Lander for this weekend where they will encounter the Tigers who captured both the boys and girls 3A titles last season.
"We look forward to going up against the Tigers, the home team and the defending state champions," Fullmer stated. "The Lander boys team is trying to go for three titles in a row this year, so how we measure up against them will give us a clear picture of where we stand. We hope to see our boys compete well and mix it up with our toughest competition this year, and for our girls to continue to improve. We're still just taking three girls to varsity meets, but we have three girls playing JV this week in Kemmerer and we hope one of two of them shows the ability to move up and compete at a varsity level."
Evanston Invite (Varsity Boys)
Karsen Spaulding 86/81/167
Jake Johnson 88/83/171
Tyler Hodges 84/88/172
Preston Kilroy 88/89/177
Caleb Madsen 96/90/186
Evanston Invite (JV Boys)
Blake Smith 93/97/190
TannerThomas 100/101/201
Brandon Edwards 106/107/213
Evanston Invite (Varsity Girls)
Riley Heward 103/103/206
Taylor Erickson 107/101 208
Taylor Anderson 138/119/257
Evanston Invite (Boys Team)
Star Valley 687
Evanston 701
Jackson 744
Pinedale 750
Kemmerer 789
Rock Springs 812
Evanston Invite (Girls Team)
Jackson 544
Rock Springs 602
Evanston 644
Star Valley 671
Pinedale 750
Lyman 780
Let us know what you think!
Tagged:
Jake Johnson
Karsen Spaulding
Kelly Fullmer
Preston Kilroy
Riley Heward
Star Valley golf
Taylor Erickson
Tyler Hodges