Make Ur Own Happy: A shop that gives back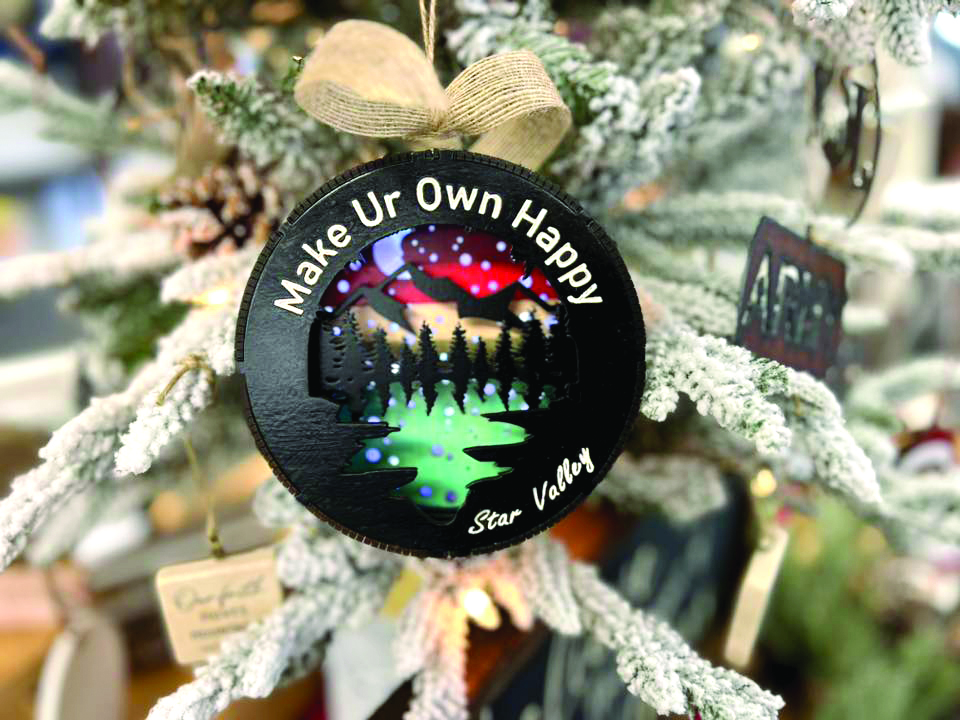 ◆ Teri Dzida sells products from a variety of nonprofit organizations..
By Breanna Call, SVI Media
When Teri Dzida saw headbands for sale in a local shop, it set her life on a new course. Dzida learned that these headbands were sold by a nonprofit called Headbands of Hope. The organization was started by a young woman who photographed children that visited Disneyland via wish-granting foundations. She noticed many children who had gone through chemotherapy wearing headbands. This inspired her to start Headbands of Hope. Now, for every headband purchased, she donates one to a child with cancer.
Dzida couldn't get these headbands and the what the organization does out of her mind. "I couldn't stop thinking about the company," Dzida says. "I just started calling all these companies that give back to charities and platforms that I believe in, that I think should be shared. I told my husband 'My head is making plans I didn't even know my heart had.'"
Soon, Dzida was elbow-deep in charities and good causes, and she wanted to bring their products to Star Valley so that our community could take part in donating to those in need. She just didn't know how. "I didn't know if I was going to be selling out of our home, our basement," says Dzida, "or if I was going to be in a trailer going out to craft fairs and farmers markets. I had no clue. I just knew that I should be doing this and sharing platforms."
To start, Dzida rented a small space in a local boutique. She sold products from various charitable organizations and local artisans and named her company Make Ur Own Happy. "People were being enlightened by the platforms that I was bringing," says Dzida, "and people absolutely loved the idea of it because I mean my idea is if we can give, we should. And I think I'm sharing that and making that kind of the forefront of people's minds." And she was right. Customers were excited to be able to buy products that not only they loved but also gave back.
Soon, Dzida was given the opportunity to take over the entire boutique. Wanting to expand her platforms and keep a much-needed boutique in Thayne, she accepted the offer. Make Ur Own Happy grew as Dzida brought in more products associated with more charities and artisans from the valley.
Some of the organizations Dzida works with include the following:
Love Your Melon: "They are a beanie company," says Dzida, "that gives 50%—that is correct, 50%—of their net income annually back into pediatric cancer. Either funding support for cancer patients and their families or putting it into research and pairing it with amazing companies that dress up as heroes and go visit child cancer patients. They're amazing!"
Til Valhalla: "They are a veteran-owned company . . . making plaques for families of fallen soldiers," says Dzida. "The founder started out making plaques . . . pro bono, just gave them out of his own heart, and then started the company to help pay for that. . . . They also give back 20% . . . to veteran mental health support and suicide prevention."
Pura Vida: "They're a jewelry company. They give back to a multitude of charities, but . . . my biggest passion of theirs is Operation Underground Railroad. And they also give back to the March of Dimes Society and anxiety and depression prevention."
Wanderheart: "They started because they lost their son to congenital heart defects, which is the number one killer in children, which I did not know. So all of their shirts and their clothing says 'unplug,' meaning detach yourself from the phone and your computer and get out in life, because we should be living it, because we are not promised tomorrow. They give proceeds from every shirt."
"I try and vet the companies that I'm bringing to my shop," says Dzida, "because there's a lot of companies out there that say, 'Oh yeah, we give to this,' and they give like a cent." While shopping at Make Ur Own Happy, you can rest assured that the money you spend really does get back to people in need.
Make Ur Own Happy is open Tuesday through Friday from 11:00 a.m. to 5:00 p.m. and Saturday from 11:00 a.m. to 2:00 p.m. It is located in Thayne at 119 Petersen Parkway, between the Senior Center and Salt River Salon. You can follow Dzida and her ambition for making change in the world on Facebook (@MakeUrOwnHappy) and Instagram (@MakeUrOwnHappy307). She is also working on getting her website (makeurownhappy.com) up and running so you can view and purchase products online.
"Service is huge," says Dzida. "Giving fills our souls, and I just think we should help if we can. . . . If we uplift each other, we'll flourish."
Let us know what you think!
Tagged:
Headbands of Hope
Love Your Melon
Pura Vida
Teri Dzida
Til Valhalla
Wanderheart