Makia Haderlie will be spending her summer teaching in the Dominican Republic.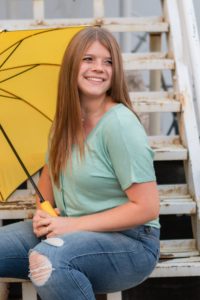 Makia Haderlie wants to be a teacher. She is gathering supplies and creating lesson plans like any future teacher would, but her future students are in the Dominican Republic.
Makia will be part of the International Language Program (ILP), an organization based in Orem, Utah that sends college-aged students around the world to teach English. ILP does not require participants to have a teaching degree; instead, they train them to teach before they go.
Makia will leave in the second week of May and stay there until August. During that time, her life will revolve around teaching. She will spend her mornings planning lessons and her afternoons teaching students. Teaching would normally happen in schools, but because of COVID-19 the lessons will instead happen in students' homes.
For their safety, volunteers have a curfew in the early evening, and then it is back to the house that they share with around 30 other volunteers to start the cycle again the following day.
She first wanted to do this after one of her cousins taught English in Poland as part of ILP a few years ago. It will also fit in well with some of her other interests, "I have always really loved traveling, and I've always really loved going and seeing new cultures."
Makia graduated from Star Valley High School in 2020, and since then has been studying early childhood education at BYU-Idaho.

She feels her studies have prepared her for this new endeavor, "I'm feeling a little more prepared than I feel like I would have if I hadn't been majoring in that, but it is also a little scary thinking that I'm a little girl from small-town Star Valley, Wyoming and I've never lived anywhere else and I'm about to go live in a third-world country. So it's a little nerve-wracking but I'm also really excited to go and be able to help these kids and teach them."
As part of her preparations for the program, Makia is gathering supplies. ILP requires each volunteer to bring a suitcase filled with teaching supplies. Anything ranging from balloons to crayons to stickers.
For this, she is trying to enlist the community, "I know in my house we have a junk drawer full of crayons and pencils and all sorts of things that we just don't use, so I'm going to be trying [to gather] different families' or different people's leftover, old school supplies to then take to this country to give to these kids."
If you have any supplies that you would like to donate, or if you would like to donate any money for her to buy supplies; you can email her at makiahaderlie@gmail.com, or venmo her at @makia-haderlie. "I'm just really excited to go on this new adventure, and if you want to help, any amount of money that you could send for me to purchase supplies or any old supplies will help so much."
Tagged:
International Language Program
Makia Haderlie