Man rescued from Snake River after vehicle incident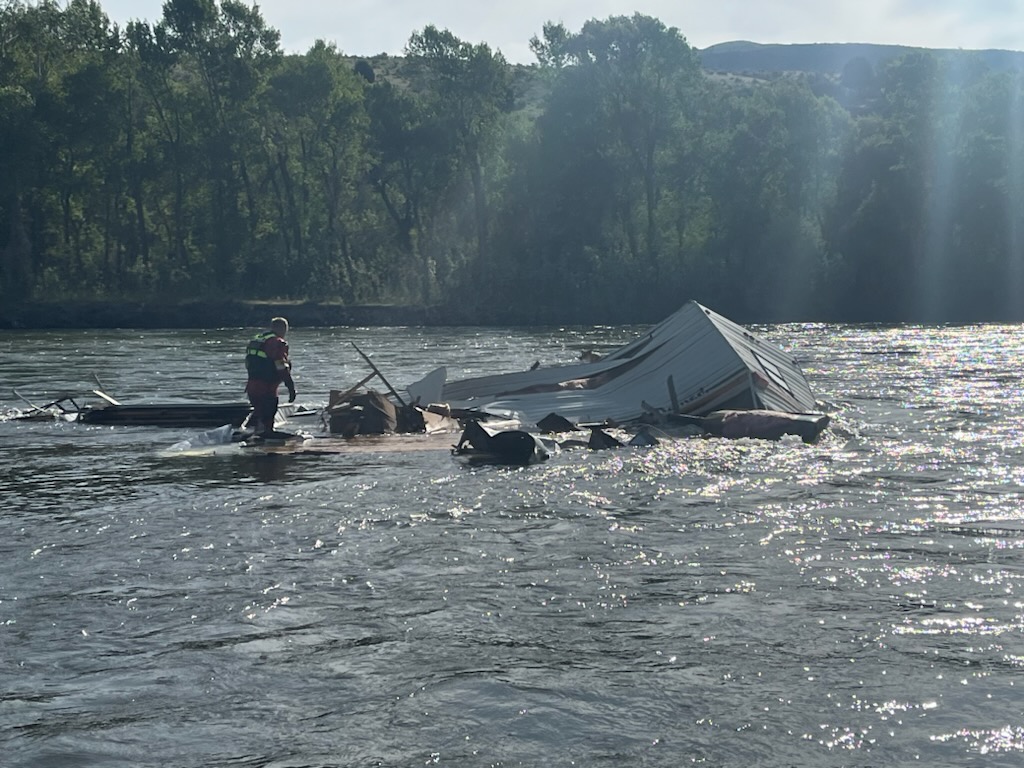 The following is a release from the Bonneville County Sheriff's Office – 
A man was rescued from the Snake River in the Heise area early this morning after his pickup, camper, and trailer went off the road and into the water.  Bonneville County Sheriff's Deputies responded to the area near Wolf Flats on the Heise River Rd around 7:30am after multiple calls to dispatch reporting the incident indicated a man was trapped in the water.
Idaho Falls Ambulance, Jefferson Central Fire, Air Idaho Rescue, and Jefferson County Sheriff's Office all responded alongside BCSO Search and Rescue, Dive Rescue and Drone teams.  Emergency personnel with these teams set up look out locations downstream from the area and deployed from the Byington Boat Ramp
searching for the man.  Multiple callers nearby reported hearing the man yelling for help, seeing the vehicle and debris float by, and guided first responders to the last known sighting of the victim.
Deputies located the man on the semi conscious on the river bank upstream from the Byington Boat Ramp around 8:10am and were able to reach him by boat to transport him to the awaiting Air Idaho Rescue helicopter.  The man was flown to Eastern Idaho Regional Medical Center to be treated for hypothermia and other minor injuries but is expected to survive.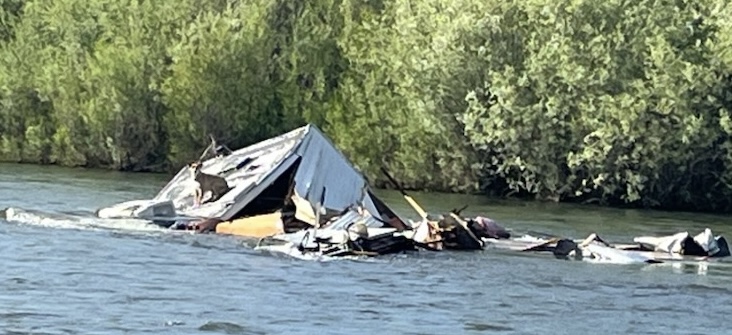 Deputies confirmed the man was the only occupant in the vehicle at the time, finding he was pulling a camper and a second small ATV trailer when he lost control of them and went off the road into the water. Strong currents in the river scattered the pickup and trailers over an approximate 2 mile area. The man's dog was located on the camper in the middle of the river after floating with it a considerable distance downstream and was rescued by Deputies.
Conditions in the Snake River continue to be dangerous with high water flow from mountain runoff, strong currents and floating debris.  The water temperature is extremely cold making it difficult to self rescue if you end up in the water.  Always plan for safety and consider the conditions of waters and back country areas you plan to recreate in.
Bystanders communicating with dispatchers and arriving personnel played a big part of helping guide them to areas where the man was last seen. The coordination and teamwork by all of the above mentioned responding agencies greatly helped in the success of this rescue, which was a very close call for this victim during dangerous conditions.
Let us know what you think!
Tagged:
Air Idaho Rescue
Bonneville County Sheriff's Office
Heise
Idaho Falls Ambulance
Jefferson Central Fire
Jefferson County Sheriff's Office
Snake River