Montana Shakepeare in the Parks performance is Friday at 6 p.m. in Thayne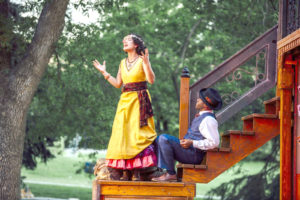 Montana Shakespeare in the Parks is back this summer with "The Merry Wives of Windsor" taking the stage. It will be on Friday, August 30, at 6 p.m. at the Thayne Community Center lawn.
Attendees are encouraged to bring their own chairs, blankets, and snacks. There will be plenty of space for audience members to enjoy a night out with their family.
Montana Shakespeare in the Parks is part of a Shakespeare performing group from Montana State University. According to Shakespeare in the Parks website, the group travels to mostly rural and under-served communities.
Tim Hale, President of the Star Valley Arts Council, said, "I'm really excited about this one. This performing group is top-notch who really knows what they're doing and it'll be on a beautiful set."
Hale said he hardly ever gets direct inquiries about upcoming or recurring events hosted by the Arts Council, but he's had several people since March asking whether or not Montana Shakespeare in the Parks would be happening this year.

"This show has been around long enough and people know how good it is to where a good amount of people attend," he said.
Hale said he's mostly looking forward to one of Shakespeare's stories being shared in a fun and family-friendly way.
"There's a reason Shakespeare is still around roughly 450 years later," he said. "It's because Shakespeare just gets at the raw emotion of who we are as human beings, for better or worse. The fact that his stories are still being told all these years later is a big deal."
This event is also unique in that it is the only Shakespeare performing traveling group to come to such a rural area of Wyoming and put on such a high quality show, Hale said.
Montana Shakespeare in the Parks held its first season of shows in the summer of 1973, according to its website. The group is founded on the hope to bring Shakespeare directly to people who wouldn't have the chance to see it otherwise.
The stage for this event will be set up early and the Blue Sky Band will start performing at 5 p.m. and will play up until the start of the show. Consequently, you are invited to come early to the event and listen to some fun bluegrass music as you wait for the show to start.
"People can come and be comfortable, and have a good time," Hale said. "This is a great event to finish up your summer."
If you have any questions about Montana Shakespeare in the Parks or are interested in other upcoming events hosted by Star Valley Arts Council, you can email Tim Hale at starvalleyarts@gmail.com.
Let us know what you think!
Tagged:
Montana Shakespeare in the Parks
Montana State University
Star Valley Arts Council