Mounted Shooters fire at the LC Fairgrounds this weekend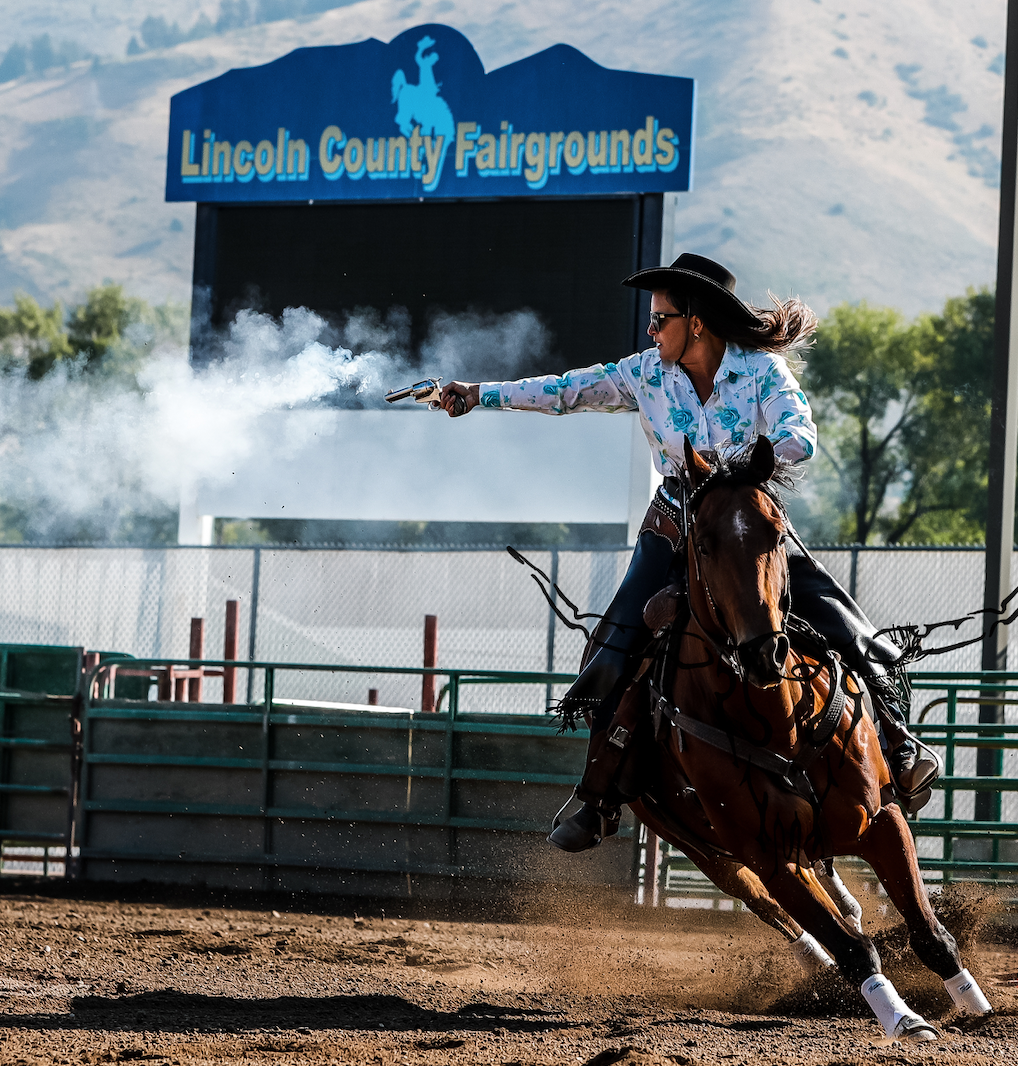 • Wyoming Desperados combining with Utah club as co-hosts.
For the seventh year the Wyoming Desperados Mounted Shooters will be hosting an event at the Lincoln County Fairgrounds in Afton. But this year they will be joined for the first time by a group out of Utah who will be helping them co-host the event which takes place this weekend.
"It's kind of unprecedented to have two clubs co-hosting an event," said Lisa Grimsley, representing the Desperados. "We're sharing responsibilities and costs and payouts. It's a collective effort to produce a quality event. They bring the numbers and they love coming to Afton. It's their favorite shoot of the year."
The event has evolved a bit over the years.
"I feel like when we first started we had to have a tremendous amount of added money to entice people to come," Grimsley continued. "Once we did something well, it spread like wildfire. They loved the arena and the footing. It's important for us to keep our horses healthy and safe and that arena is fabulous."
Grimsley said that the feedback for the Lincoln County Fairgrounds and the event in Afton is glowing.
"Horses are never budget-friendly so being able to have families utilize stalls in a family-friendly event and the RV hookups is very attractive," she added. "We've always had very good prizes and added money. There are two of us locals that shoot and everybody else is traveling to come here so we're pretty honored that they are willing to come that far to come and compete with us. Time and time again we've heard from competitors that they have turned down an event close to them to come here. They feel very welcomed and appreciated."
For those who have never attended a mounted shooter event, the riders break balloons while firing their guns but there are no projectiles. The ammo is comprised of certified loads of black powder with a maximum range of 15-20 feet with the heat and the gas that break the balloons.
Grimsley addressed a few other common questions about the sport.
"People ask a lot about ear plugs for the horses," she said. "Probably 98% of the people have ear plugs for their horses. As a timed event, anything that is going to distract your horse you want to avoid. As far as the patterns, we have about 95 different patterns and we choose them the night before the event. Any breed of horse or mule is acceptable and there is a dress code. You can be of any age, but anyone under 12 doesn't shoot a gun. But there is a class called the Wranglers that will allow those kids to be with a guardian and fire from the ground."
The event begins this Friday, August 25 at 7 p.m. and will then start back up on Saturday at 10 a.m. at the fairgrounds. It also serves as a fundraiser for the Future Farmers of America (FFA) who work as the event balloon setters.
This is a free event and open to the public. "We invite everyone to come and share our passion for mounted shooting," Lisa said.
Let us know what you think!
Tagged:
Afton Wyoming
FFA
Future Farmers of America
Lincoln County Fairgrounds
Lisa Grimsley
Wyoming Desperados Mounted Shooters