Mule Deer Foundation of Wyoming to host annual Ladies Banquet this weekend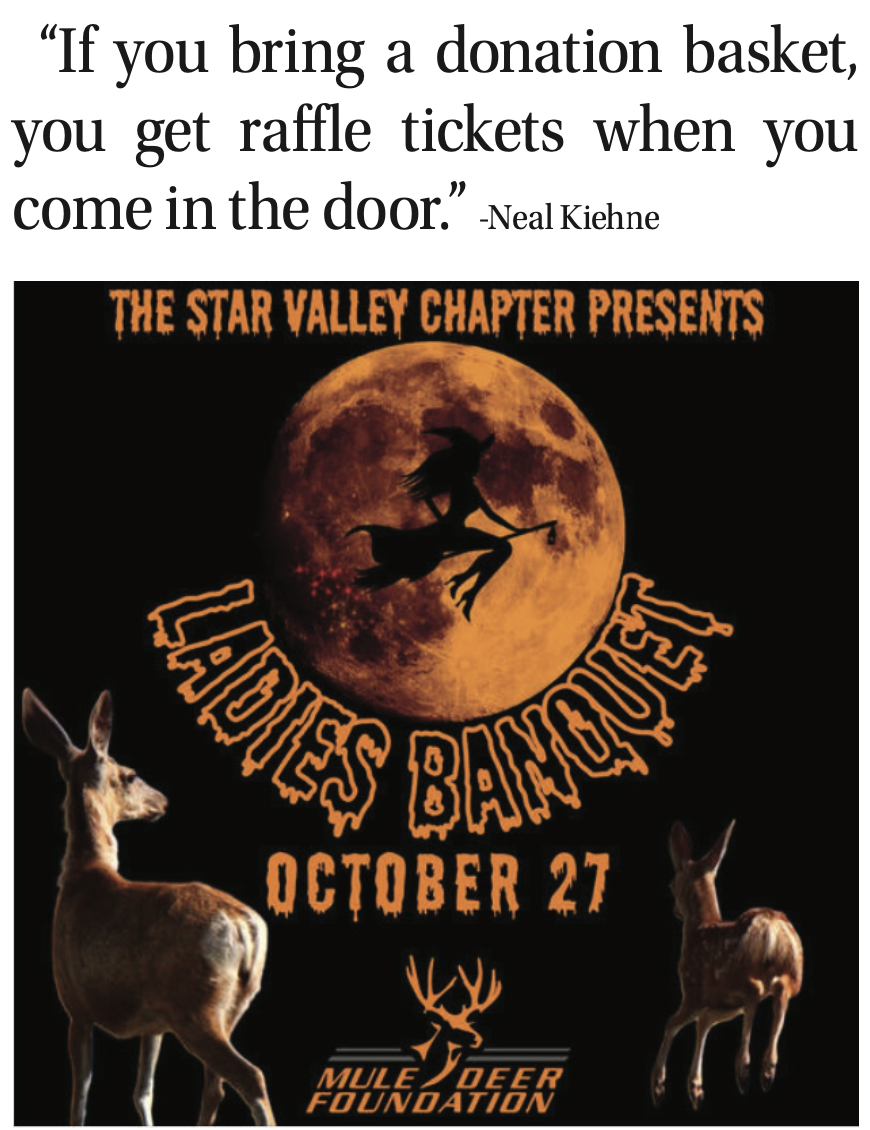 • Ladies, wear your Halloween costumes!
Star Valley's chapter of the Wyoming Mule Deer Foundation is hosting their third annual Ladies Banquet on Friday, October 27 at the Don Wooden Civic Center in Alpine. Doors open at 5 p.m.
According to the Mule Deer Foundation website, "Ladies are encouraged to go celebrate mule deer, wildlife conservation, habitat improvement and the rich hunting heritage of Wyoming with the Mule Deer Foundation. All proceeds go directly to benefit mule deer conservation."
Each year, banquet organizers build the event around a theme. Guests are invited to wear themed clothing and the menu and decor reflect the theme. Prior themes have included "That Little Black Dress," and "The Derby." This year's theme focuses on Halloween. Guests are invited to wear their Halloween costumes.
This year's banquet meal offers steak or chicken with a salad bar and cheesecake for dessert. Charcuterie boards are planned for each table.
"This is for ladies only," said Neal Kiehne, who is one of the event organizers, in an interview with SVI Media. "It's just a big fun event, the ladies need something to do on their own. The only guys there are the ones running the event – myself, the regional director, [Shawn Blajczczak], and the auctioneer.
As a fund raiser, the banquet offers a live and silent auction, as well as a raffle of gift baskets. Guests who bring a donation gift basket receive free tickets for the raffle.
"If you bring a donation basket, you get raffle tickets when you come in the door," said Kiehne. "The baskets have whatever ladies want to include to promote themselves or their businesses. It's a gift basket and helps promote local business. We have a lot of women who bring a basket just because they want to build a basket."
Funds raised at the event help support the MDF mission to support and protect the Wyoming Mule Deer population. Organizers work to keep the money for local conservation projects.
"All the money stays in Wyoming," said Kiehne. "We don't hardly send any of our money away. We've figured out how to keep it here. Our deer need all the help they can get. Hands down, that's why we are doing it."
This year, the Star Valley chapter has contributed $60,000 to the new bridge crossing in Big Piney which just opened. The bridge helps deer get to feed. The Bridger Teton Forest Service has planned a burn from Pack String to Grover, and Kiehne says the chapter is funding most of that work as well.
"Now is when our deer need the most help," Kiehne shared. "We know what they need. It's not a secret. They need a migration path with food on it."
Tickets can be purchased by visiting muledeer.org/wyoming and choosing Events tab. Links can also be found at the Mule Deer Foundation of Wyoming Facebook and Instagram pages.
Let us know what you think!
Tagged:
April Brimmer Kunz
Don Wooden Civic Center
Neal Kiehne
Pack String
Wyoming Mule Deer Foundation