New owners open 'Gameday' barbershop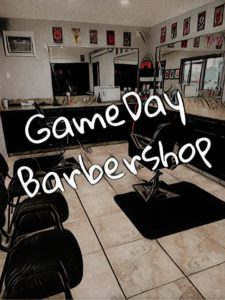 Two new owners have taken over what was formerly Dave's Barbershop and renamed it Gameday Barbershop. Ivy Porter and Savannah Schwab are currently offering barber services in Afton at the previous location of 445 Washington Street. 
Prior to opening the Gameday shop, Porter worked at the Toe Candy Salon in Afton, built a good clientele there and subsequently left on maternity leave, but when she saw the opportunity to open up her own shop, Porter couldn't pass it up.
Porter spoke with SVI media's Duke Dance in an interview this week and confirmed that while she loved being the owner and it was awesome, it was still a little scary and exciting to start on this venture. 
She commented, "Clients have been telling me that we've just really needed a barbershop in the valley, so here I am." About her fellow barber, Savannah Schwab, Porter said, "She's incredible."
Porter was born and raised in Sublette County but moved to Star Valley a year and a half ago after she met her husband. Schwab, Ivy's fellow barber, is from Star Valley. 
With several years of experience in the barbering business, Porter and Schwab will offer basic haircuts but look forward to offering straight razor shaves, hot tap, hot towel, neck shaves and other more exclusive services in the near future. 
Porter elaborated a bit about the cuts Gameday offers: "So we have our basic haircut, which we call the 'Chairman.' We like to ask the clients what they like to get for a haircut. And a lot of Dave's older clientele walk in and say, 'Um, I don't know. Just cut my hair.' And so I always like to say, 'Do you like it short on the sides? Longer on top? Do you like it all the same length?' Whatever my client wants, my client gets."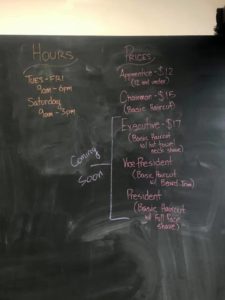 Gameday is a dual-themed barbershop. Porter wanted something a little unique because most of the local salons are country-themed, so she and Schwab opted for an 80s rock theme hoping to attract clients with that idea, but also looks forward to getting a big TV and playing any kind of sports clients want as they get their hair cut.
Currently, Gameday doesn't take reservations. It's strictly a walk-in barbershop. Porter encouraged clients to come and try their barbershop on 445 Washington in Afton, open Tuesday through Friday 9:00-6:00 and Saturday 9:00-3:00. Phone 307-231-6905.
https://www.facebook.com/aftongamedaybarbershop
Let us know what you think!
Tagged:
barbershop
GaemdayBarbershop
Ivy Porter
Savannah Schwab