New pastor shepherds with simple faith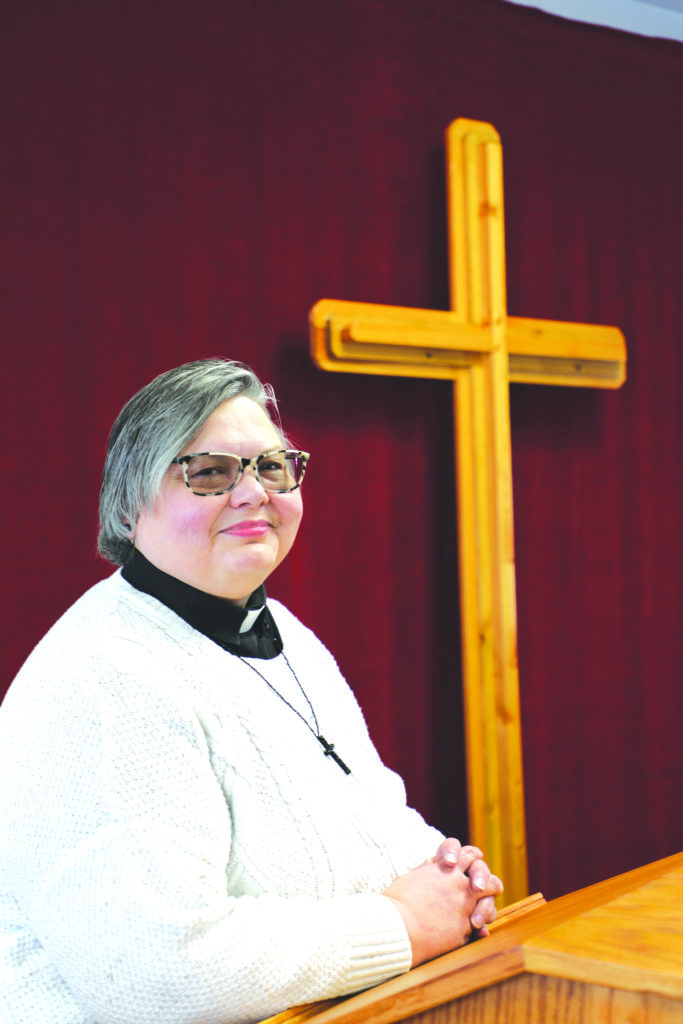 The Easter message from the new pastor of Star Valley United Church was simple – the kind of simple where you forget the question.
"Jesus is waiting for us in the ordinary places of life."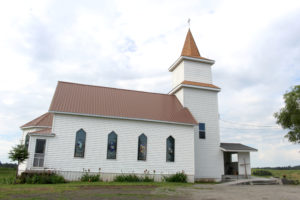 For Pastor Tammy Heimgartner, who shepherds the ELCA Lutheran/Presbyterian congregation of Star Valley, there never was a question of "Where is Jesus?" For the little girl growing up worshipping in the Good Hope Lutheran Church on a hilltop overlooking dry farms in north central Idaho, God was part of daily life.
"I don't remember not having at least a basic faith. It was there," Pastor Tammy, as she is called, told SVI Media on April 2, Good Friday. "The pastor who was there for my confirmation told me later I was his best confirmation student."
Pastor Tammy chuckled, however, when she related that memory. When she was confirmed at age 13 on Easter Sunday, April 14, 1974, she had no thought of going into the ministry. She never imagined she'd go from a career in civilian law enforcement to sitting in the pastor's office at 606 North Main in Thayne, the little church on the east side of Highway 89 with the towering white steeple and rock façade foundation.
"God had to work on me for quite some time – like 20 some years," Pastor Tammy recalled. "Looking back, God was preparing me. He had a plan."

Sitting at her desk the afternoon before conducting the "Taize Service of Song and the Word for Good Friday," the former Idaho dispatcher shared with SVI Media her spiritual journey beginning in a little Idaho town ironically called Culdesac – as in a place to turn around. Some 30 miles outside Lewiston, by the Snake and Clearwater rivers, the tiny town was literally a place where the railroad turned in a circle for returning freight trains.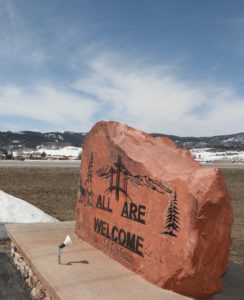 "There was all of 14 in my graduating class [at Culdesac High School]," Pastor Tammy said, laughing. She added that for a short time in 6th grade there were 19.
Her father, Clarence "Toad" Heimgartner, was a wheat farmer, as was his father before him. Her mother was Erma Sampson Heimgartner, and Pastor Tammy was the youngest of three.
Describing her family tree as having "branches, but they're intertwined," Pastor Tammy grew up with cousins and family who all worked the farm. Her job, when not helping her mother in the home, was to drive to town for parts for farm equipment.
And the family – known for longevity with her father living until he was 101 and her grandmother until 102 – taught "basic Christian values of honesty, helpfulness and justice. My dad had a strong sense of right and wrong."
But it was her mother, she said emphatically, who ensured the family was in their pew each Sunday at the white Good Hope Lutheran Church in nearby Gifford. "Farmers had donated land for [the chapel]," she related. "They positioned it purposely on top of the hill in the surrounding countryside. That church was over 125 years old."
After high school and business college, she served a 20-year career with the Idaho State Police, first as a dispatcher, then as a civilian staffer.
And she daily walked the Christian path, serving in congregational ministries, offering the children's messages and serving on the parish council, then with the Northwest Intermountain Senate. In the Lutheran "governing" body, there are congregations, then clusters of congregations, which are part of a senate, then a region and church wide.
"We had a pastor from Norway," Pastor Tammy said, who recognized and nurtured her spiritual gifts. "Before I was ordained, I was called [to small ministries]. We're all called to minister in our type of ministry, but we're not all called to a public ministry."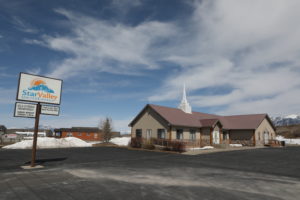 That was about to change. After her pastor moved on, they kept in touch. One day, another congregant urged her to enter what is called TEEM (theological education for emerging ministries). "It's a program that's designed for second career people over 40 who are going into areas of the ministry traditionally underserved by seminary students, such as inner city, or remote rural. We have a lot of remote rural Lutheran congregations."
Pastor Tammy emailed her Norwegian pastor and asked, "Is this is a sign?" The return email was in red capital letters: "YES."
Through TEEM, the pastor-to-be traveled for seminary instruction in Berkeley, California, and was academically mentored by an ordained pastor. She was ordained Dec. 13, 2008, at that little white church on the hill during an Idaho blizzard. After short stints at Gideon Lutheran in Connell, Washington, and at Grace Lutheran in Mountain Home, Idaho, Pastor Tammy was asked to submit her name for Star Valley United Church in Thayne, Wyoming.
Praying about it, Pastor Tammy related: "I got to looking at the paperwork that the church had submitted. [She realized] this is a good match for my skills. It seems a good fit."
Out in front of Star Valley United Church on Highway 89 stands a large red rock on which are inscribed three crosses, an elk against a mountain backdrop and the words "All Are Welcome."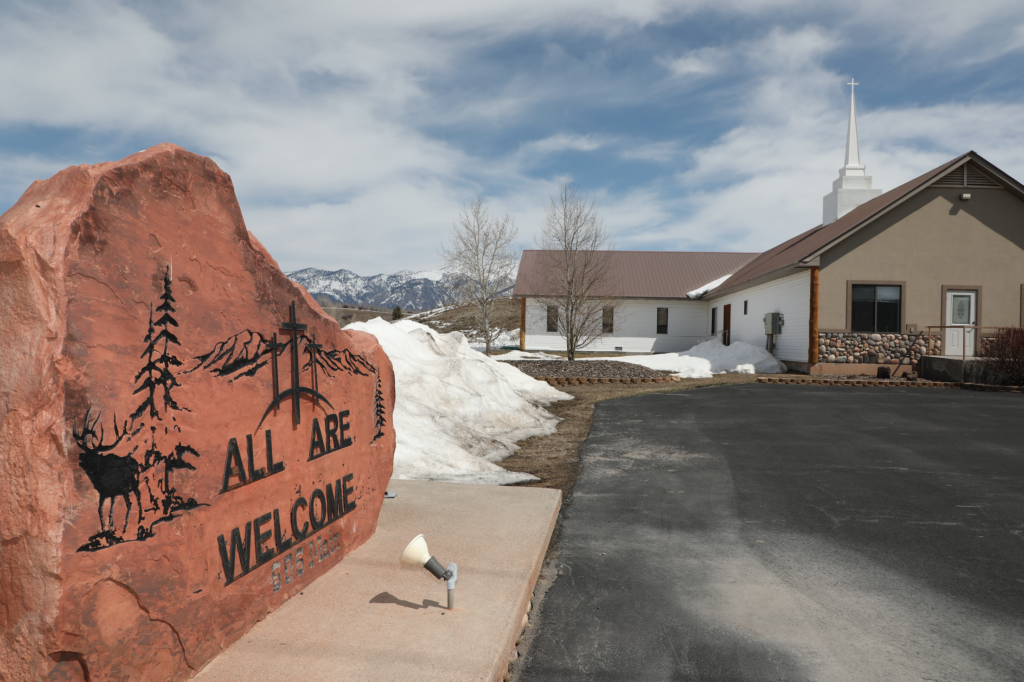 Pastor Tammy feels strongly about making anyone feel welcome coming in the doors of the chapel where the sanctuary bears a wooden hand-wrought pulpit. "All are welcome, and we better darn well mean it.
"I want people to realize they are God's beloved children," said the new pastor, wearing a white sweater with a sparkling cross on a black chain, "We live that by loving our neighbor, which doesn't mean we have to agree with them, but we have to respect them. All are beloved by God."
The new shepherd of Star Valley United Church will be officially installed this summer, as will be announced via the church's Facebook page and SVI Media. Weekly worship services are Sundays at 10:30 a.m.
– For more information and church activities, see See the Star Valley United Church Facebook page.
Let us know what you think!
Tagged:
ELCA Lutheran/Presbyterian congregation of Star Valley
Pastor Tammy Heimgartner
Star Valley United Church